Autel MS906TS VS MS908 review 2021, Which is better suit for you?
Now there are many OBD2 scanners on the market, but when it comes to choosing a suitable product, people don't know which one is better. Today, I choose two products, Autel MS906TS and Autel MS908, for evaluation. Both of these two products are from the Autel brand. Autel is a top brand with lots of exceptional scanners to offer. Although the two items look like flat sheets with a large LED screen on the back, the two items also have some differences. However, the differences between them before can only be apparent after you finish reading this review. In addition, after reading this review, you will know which of the two products is more suitable for you.
Comparison Table: Autel MS906TS VS MS908
| | | |
| --- | --- | --- |
| Features | | |
| Operating System(OS): | Android | Android |
| Memory: | 2 GB RAM & 32 GB ROM | 2 GB RAM & 32 GB ROM |
| ECU Programming: | No | Yes |
| j2534 Compatible: | No | Yes |
| Wifi: | Single Band(2.4 GHz) | Dual Band(2.4 GHz & 5.0 GHz) |
| Connectivity: | Wi-Fi, USB: 2.0, Mini USB 2.0, Wireless BT V2.1+EDR, Class1, HDMI 1.4a | Wi-Fi, USB: 2.0, Mini USB 2.0, Wireless BT V2.1+EDR, Wlan/BT |
| Power and Battery: | 3.7 V/10,000 mAh lithium-polymer battery | 3.7 V/11,000 mAh lithium-polymer battery |
| Processor: | Samsung Exynos T5260 6-Core Processor (1.3 GHz quad-core ARM Cortex-A7 + 1.7 GHz dual-core ARM Cortex-A15) | Samsung Exynos Quad-Core Processor 1.4 GHz Cortex-A9 |
| Display: | 8.0″ LED capacitive touch screen with 1024x768P resolution | 9.7″ LED capacitive touch screen with 1024x768P resolution |
| Camera: | Rear-facing 8.0 Megapixel, AF with Flashlight | Rear-acing 5.0 Megapixel, AF with Flashlight |
| Weight: | 2.43 lb | 3.13 lb |
| Dimension: | 10.0 x 1.4 x 6.9 inches | 11.8 x 2 x 8.7 inches |
| Extra Functions: | No | More than MS906TS |
| Pricing Idea: | Low | High |

Autel MS906TS Diagnostic Scan Tools Detail
Both MS906BT and MS906TS are updated based on MS906. Compared to MS906, MS906TS has some additional features. The difference between MS906TS and MS906BT is that the MS906BT does not have the function of TPMS. The MS906TS's wireless connection is both stable and lightweight. This allows you to walk around the garage instead of standing next to the car. The MS906TS is powered by a powerful Samsung Exynos six-core processor and an Android system for fast startup and multitasking.
This tool has comprehensive OBD2 diagnostics and advanced ECU coding, in addition to TPMS service applications. It improves the display of wireless connections, making wireless connections smoother, allowing for more significant movement and more accessible work.
Its interface is intuitive and straightforward, making it easy for beginners to use, and it can use it on more than 80 models with a scanning tool that automatically updates for free and comes with a one-year warranty, making it an excellent tool for busy auto repair shops.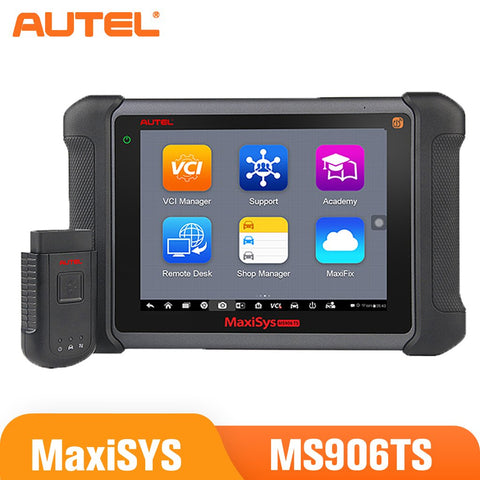 Autel Maxisys MS908 Automotive Diagnostic Scan Tools Detail
This is another high-end Autel scanner. The Autel MS908 professional code reader is a reliable and accurate scanner that provides exceptional OE-level coverage. It has an ultrafast advanced dual-band Wi-Fi that is twice as fast as any former generation of diagnostic systems. It allows the mechanic to easily roam around the garage as they update the device or diagnose a car.
With the AutoVin technology, you will be able to identify CAN vehicles in just a single touch and together with the AutoScan feature, the MS908 scan tool is one of the most intelligent scan tools on the market. The diagnostic scanner is also compatible with more than 80 US, Asian and European vehicle makes and models.
Featuring the unique and fast A9 quad-core processor and open-source Android operating system, this is not only the fastest scanner ever in the market but it also allows you to multitask. The large 9.7-inch LED capacitive touch screen makes interpretation of results to be quick and easy. Get this scan tool if you want to perform basic, special, and advanced functions.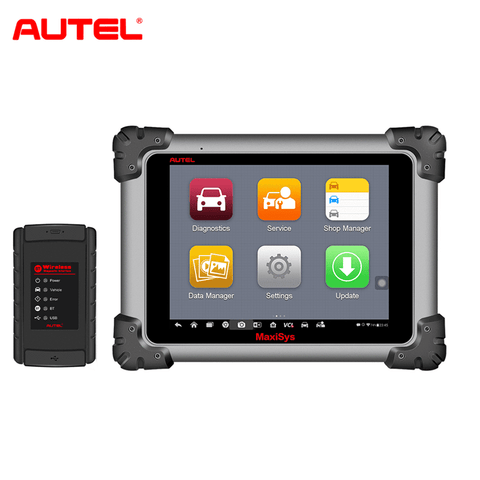 Which is Better suit for you? Autel MS906TS or MS908?
If you are a professional technician or mechanic and want a professional diagnostic scanner, both machines are good choices. They are both wirelessly connected and have lithium-polymer batteries built-in, which helps you work with ease. Do they provide accurate results, and you won't delay knowing why your check engine lights are on because they are swift and allow you to multi-task.
If you are on a tight budget but want a professional OBD scanner, then the Autel MS906TS is a good choice, but if you want advanced features, then the Autel MS908 scanning tool is an excellent tool for you.
[keywords]Autel MS906TS,Autel MS908,Autel scanner review,MS906TS VS MS908,The difference between MS908 and MS906TS,Autel 2021 review,MS906TS Review,MS908 Review