Autel Maxisys MS909 Intelligent Diagnostic Tool with MaxiFlash VCI, Advanced ECU Coding & Programming, Module Topology, Bi-Directional Control, Repair Tips, 36+ Service Function
Fast Free Shipping
Delivery with UPS, USPS, FedEx
30-Day Return
30 Days from Date of Delivery
1-Year Free Warranty
1 YEAR from Date of Activation
Fast Free Shipping
Delivery with UPS, USPS, FedEx
30-Day Return
30 Days from Date of Delivery
1-Year Free Warranty
1 YEAR from Date of Activation
Autel MaxiSys MS909 Intelligent Diagnostic Tool
Autel MaxiSys MS909 is Autel 2023 most affordable intelligent diagnostic scan tool. Just like Autel Ultra, MS919, MS909 also been integrated with original factory TSB, repair assist, repair guide to boost technicians' service level & efficiency. Added with Topology Mapping, you can see all the ECU modules status of the vehicle and connections between them, prioritizing multiple faults to improve the efficiency of troubleshooting by 200%+.
Top Reasons to Choose Autel Maxisys MS909
Advanced Intelligent Diagnostic: Specifically designed to guide the diagnostic process. Intelligent Diagnosis offers various maintenance solutions, including, TSB, DTC analysis, repair assistance, repair tips, related case support, etc.
Topology Mapping 2.0: Displays a system distribution diagram of all the vehicle control modules and colored differently based on the diagnostic scan results.
J2534 ECU Programming & Coding: ECU Programming & Coding on BMW and BENZ after replaced new ECU modules; Coding the adaptive data to on-board systems, improve vehicle performance.
36+ Service Functions: Autel OBD2 diagnostic scan tool MaxiSys MS909 can perform comprehensive vehicle-specific service and special functions like Oil Reset, EPB Reset, SAS Calibration, Battery Registration, Throttle Matching, Suspension Calibration, ABS Bleed, Injector Coding, Power Balance, Crankshaft Position Variation Learn and etc.
OE Level All System Diagnostics: Run deep analysis on all the available systems and list DTC reasons by priority.
Active Tests/ Bi-directional Control: Autel Scanner MS909 the latest automotive diagnostic scan tool comes with bi-directional control capability to control and activate various vehicle systems, sub-systems or components like ABS pump, valves, window, door, roof, lamps and etc to perform active tests to check whether they are functioning well as they should.
15000+ Vehicle Compatibility: Compatible with the most extensive coverage for 80+ American, Asian and European makes, 140+ brands and 15000+ models, support more newer vehicle models with CAN FD/ DoIP protocol for high-speed vehicle diagnostic communication.
More High-End Features: VAG Guided Functions, Power Balance, Component Matching, Online Account Login Service and one year free update service.(Note: Only for US!)
Auto Scan 2.0: 3X faster scanning speed for all vehicles using CAN protocols.
Remote Export: Offering a cloud-based solution for Technicians with module programming requirements a connection to pre-qualified Remote Experts in the field, technicians now have the ability to connect with Experts ready to complete their programming needs (Send 12 digits SN to add authorization).
Upgradeable to Autel MS909EV with EV Diag Box: Expand your business to new energy vehicle diagnostics and EV battery pack analysis with extra purchase of Autel EVDiag Box kit.
Autel Maxisys MS909 Intelligent Diagnosis Improves Work Efficiency
The Autel MaxiSys MS909 bi-directional scan tool being the most advanced scan tool doesn't mean car enthusiasts can't enjoy Autel MaxiSys MS909's juicy feature collection. If you're fairly familiar with scan tools, you can use this one just as easily. Even if you aren't, the scanner is equipped with more than enough instructions to get you started.
With one-stop Intelligent Diagnostics, Autel Scanner MaxiSys MS909 provides technicians and home mechanics with step-by-step repair guidance. It offers multiple repair guidance options: Technical Service Bulletin, DTC Analysis, Repair Assist, Repair Tips, and Relevant Cases, making your work easier than ever.
OEM Technical Bulletin - Paying attention to manufacturer's fault TSBs can save unnecessary repairs.
Manufacturers release public notices for models related to "common problems" for factory vehicles, including model information, fault symptoms, repair methods, program upgrade notices or recall strategies.
In the case of TSB notices, relevant help information can be directly consulted, eliminating unnecessary diagnostic processes for technicians and improving repair efficiency.
Trouble Code Details - Familiarity with trouble code definitions, possible causes of occurrence, and diagnostic methods for quickly locating faults.
Provide accurate explanations for trouble code definitions, analyze in detail the possible causes of faults, and provide diagnostic methods;
According to the diagnostic method, narrow down the diagnostic range and quickly locate the fault point.
One-Stop Solution to Guide You to Solve the Issues Step-by-Step
Vehicle System and Detected DTC(s) - displays the name of the vehicle system(s) and the detected DTC(s)
Technical Service Bulletin - contains DTC-related recalls, TSB, and OEM campaigns.
DTC Analysis - provides repair assistance information related to the fault code.
Repair Assist - intelligently prioritizes DTCs and leads the user to the proper repair.
Component Measurement - provides detailed information and instructional guides on using the oscilloscope to test components for faults.
Relevant Cases - offers relevant fault-clearing cases for reference.
Split Screen Display -View Multiple Functions AT Once
Repair Tips - Intelligent guide
OE-Level Topology Module Map 2.0
This Autel Maxisys MS909 offers a visual representation of relationships elements within a communications network for you.
Instantaneously get a glance of crucial information such as the number of systems, scanned systems, and corresponding scan results
Directly access the current status of each module, including the presence and number of DTCs.
Filter out healthy and faulty systems with distinct colors for easy analysis.
Systematically present the communication structure between each module.
Support over 50 leading car brands, including but not limited to BMW, Ford, Audi, Chrysler, Nissan, Honda, Toyota, Lexus, Land Rover, Jaguar, Benz, VW and More
Professional ECU Programming & ECU Coding
Major Features:
Autel MS909 supports BMW F and E chassis hiding function reveal, Code for BMW F chassis, Ford, Mercedes Benz, Chrysler, Toyota, Hyundai, Land Rover, PSA, Renault, Porsche Ford offline programming, online anti-theft for VW, Audi, etc.
ECU Programming:
Autel MS909 can pass through the blocks to access the ECU package and adjust the ECU module as you like: Program rewriting, ECU upgrade and downgrade, ECU module matching & replacement, Program blank ECUs, Reprogram second-hand ECUs.
Features: Fixing Software-controlled, Improve Fuel Efficiency, Reduce Power Loss, Enhance Durability
ECU Coding: Change replaced model and code into vehicle ECU modules via mod-ify custom para-meter value.
Refresh Hidden Functions
Customize OE-setting
Match Components Control Modules
Enhance Vehicle Performance
Some samples of ECU Coding on vehicle Daily modification
Deactivating the Start/Stop function; Beeping when unlocking and locking; Mirrors automatically folding and unfolding; Closing the windows after locking the car door with the key. Lighting coding; Flashing the brake lights during emergency braking; Activating/ deactivating daytime running lights; Changing the brightness of daytime running lights; Flashing of the headlights when locking or unlocking the doors via the remote control; Dashboard coding; Displaying of the real speed via GPS signal; Displaying the amount of fuel consumption at a given speed
Note: Autel MS909 scan tool has ECU programming is ONLY available for Benz/ BMW.
4. Autel Maxisys MS909 with 36+ Advanced functions
Maxisys MS909 diagnostic scanner comes with 36+ service functions, such as ABS Brake Bleeding( also for VAG cars), SRS Reset, SAS Calibration, Oil Reset, EPB, BMS, injector coding, DPF, Throttle Body, etc to meet your various needs. Check your👉 vehicle coverage
Oil Reset Service: It allows you to perform a reset for a new calculation of the Engine Oil Life system once you changed the oil.
EPB: The service is essential in maintaining the electronic braking system's safety and efficiency.
BMS: The service allows the scan tool to evaluate the battery charge state, monitor the close-circuit current, register the battery replacement, and activate the rest state of the vehicle.
DPF: The service works for the Diesel Particulate Filter system with DPF regeneration, DPF component replacement teach-in, and DPF teach-in after replacing the engine control unit.
SAS: The service helps clear the fault steering angle sensor memories and plays an important role in the steering angle sensor calibration.
TPMS: The service makes sense in displaying sensor IDs from the vehicle's ECU, inputting TPMS sensor replacement IDs, and testing sensors.
ABS Bleeding: ABS brake bleeding to get a firm brake pad after air exhaustion.
Intelligent Autel Scanner MS909 - Advanced MaxiFlash VCI
Autel OBD2 diagnostic tool MS909 car diagnostic computer is able to perform OE level all systems diagnostics on over 80 makes and models to retrieve vehicle ECU information, read and clear codes, view live data stream of multiple sensors.
Supported to D-PDU/J2534/RP1210 OE-Diagnostic Protocols: work with OE factory softwares for ECU Programming and coding
Supported to CAN FD/ DoIP Protocols: work perfectly on GM vehicles produced after 2020, and BMW F G Chassis models, Jaguar & Land Rover after 2017, Volvo after 2018.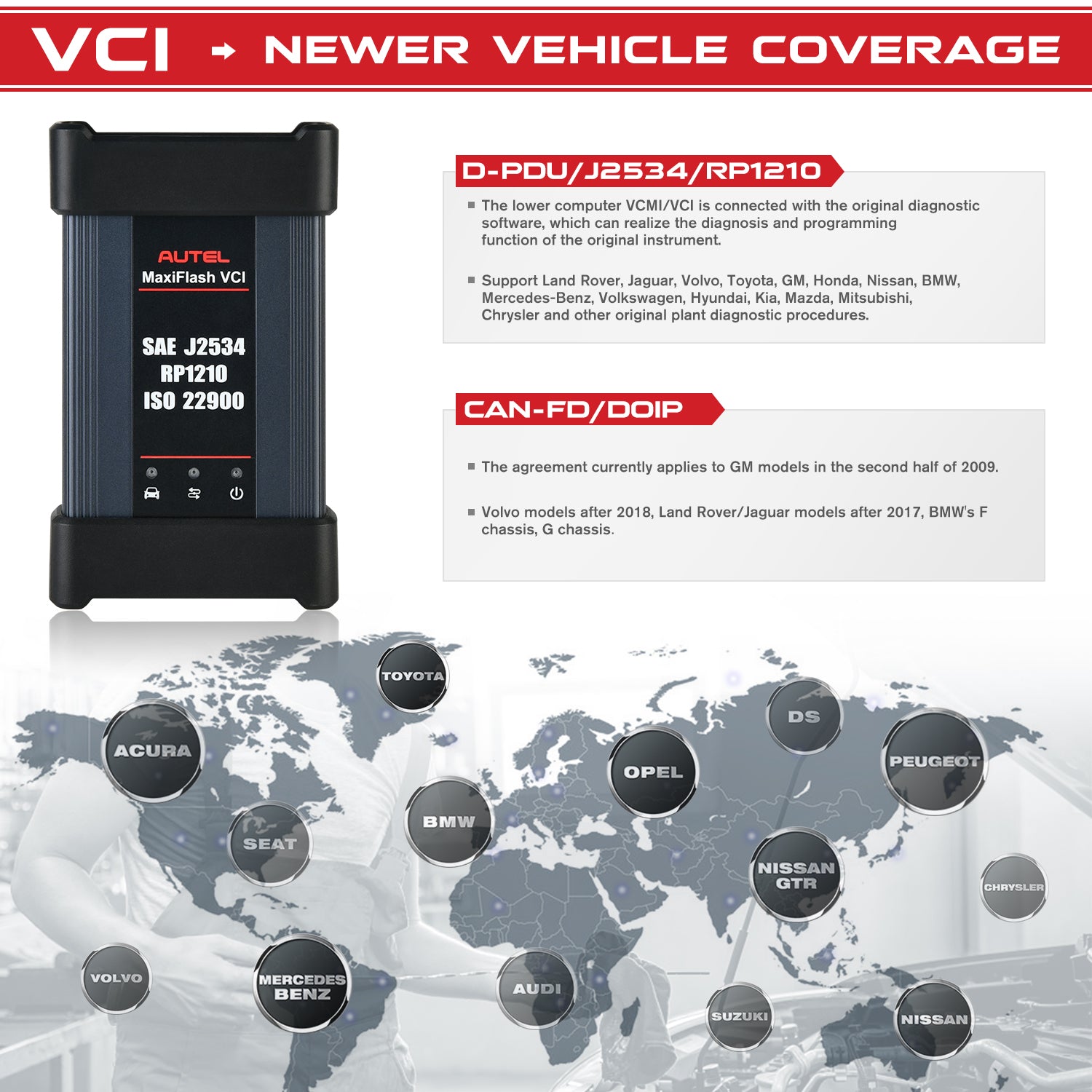 Maxisys MS909 Extensive Functions
VAG Guided Function
Designed for VAG cars!! Autel MaxiSys MS909 with guided functions provides OE-level guidance and allows you just follow the screen instructions step by step to complete some complex operations. For example, if you want to replace brake pads, the MS909 scanner will tell you when to enter Service mode, and when to replace the brake pads, with detailed steps and tips.
New Energy Vehicle Support - Tesla & McLaren
Unlike traditional diagnostic scanners, Autel MaxiSys MS909 supports new energy vehicle - Tesla and McLaren for diagnostic.
Gain More Business - Click to Buy Extra Tesla Diagnostic Cables
Refresh Hidden Features
MS909 can help you activate the hidden features already programmed to car computers to get high-end functions. Such as installing the auto start-stop system, customizing the injector light, changing US-style daytime light, adjust the auto door look at a particular speed. Compatible with VW, Audi, Skoda, etc.
Extensive Vehicle Coverage
Autel MS909 covers over 80 American, European and Asian vehicle makes and models such as Toyota, Honda, Infiniti, Kia, Nissan, Subaru, Suzuki, Mazda, Lexus, Dodge, Bentley, Seat, Skoda, and more.
Remote Tech Support
You shall never work alone. Autel's professional tech support team is always by your side.
MaxiSYS MS909 Specifications
Operating System

Android 7.0

Processor

Samsung Exynos8895V octa-core Processor (2.3GHz Quad-core Mongoose + 1.7GHz Quad-core A53) 

Memory

4GB RAM & 128GB On-board Memory

Display

9.7-inch TFT-LCD with 1536 x 2048 resolution & capacitive touch screen

Connectivity

Dual Wi-Fi(802.11 a/b/g/n/ac 2x2 MIMO)

BT V5.0 + BR/EDR

GPS

USB 2.0 (2 USB TYPE-A ports and a Mini USB port)

HDMI 2.0

SD Card (Support up to 256GB)

Camera

Rear: 16 Megapixel, Autofocus with Flashlight

Front: 16 Megapixel

Sensors

Gravity Accelerometer, Ambient Light Sensor (ALS)

Audio Input/Output

Microphone

Dual Speakers

3-Band 3.5 mm stereo/standard headset jac

Power and Battery

15000mAH 3.8V lithium-polymer battery

Charging via 12V AC/DC power supply with the temperature between 0°C and 45°C

Input Voltage

12V/3A Adapter

Operating Temperature

0 to 50°C (32 to 122°F)

Storage Temperature

-20 to 60°C (-4 to 140°F)

Dimensions(W x H x D)

304.4 mm (11.98") x 227.8 mm (8.97") x 42.5 mm (1.67")

Weight

1.66kg (3.66 lb.)

Protocols

DoIP, PLC J2497, ISO-15765, SAE-J1939, ISO-14229 UDS, SAE-J2411 Single Wire Can(GMLAN), ISO-11898-2, ISO-11898-3, SAE-J2819 (TP20), TP16, ISO-9141, ISO-14230, SAE-J2610 (Chrysler SCI), UART Echo Byte, SAE-J2809 (Honda Diag-H), SAE-J2740 (GM ALDL), SAE-J1567 (CCD BUS), Ford UBP, Nissan DDL UART with Clock, BMW DS2, BMW DS1, SAE J2819 (VAG KW81), KW82, SAE J1708, SAE-J1850 PWM (Ford SCP), SAE-J1850 VPW (GM Class2)
MaxiSYS MS909 Package List:
1x MS909 Main Unit
1x MaxiFlash VCI
1x Main Cable V2.0
1x USB 2.0 Cable V2
1x AC/DC Adapter(12V)
1x Cigarette Lighter
2x Light Fuse 6x30mm
1x Clipper Cable
1x Quick Reference Guide
1x Packing List
1x Soft Cloth
1x Carrying Case (504x133x360)mm
MS909 Product guides and documents
MS909 User Manual (PDF)
Autel MS909 Software Update
Autel MS909 Software Update
Certificate
www.diagmart.com is Autel Authorized Online Agent. Products Created by Autel ® Innovation & Quality You Can Trust.
Shipping
---
Free Shipping on All Orders Without Any Tax.
All orders are processed and shipped out within 24 hours of being placed (excluding weekends and holidays). Once your order has been shipped out, we will provide you with a tracking number so that you can easily track your package and stay updated on its delivery status. With this tracking number, you'll be able to see the expected delivery date and have peace of mind knowing exactly when your package will arrive. Please allow 24-48 hours for the tracking information to update.
Delivered within 3 - 5 Business Days by UPS, USPS, Fedex, or DHL Ship from New Jersey or California, United States
For more details of the Shipping, please visit Shipping Policy
Returns
---
30 calendar days from the date you received it
If, for any reason, you are not satisfied with your purchase or if the product does not meet your expectations, you can return it within 30 calendar days from the date you received it. To qualify for a refund, please ensure that the product is returned in its original packaging along with the original purchase receipt.
Our team will be glad to assist you with the return process and issue a refund once we have received the returned product. Customer satisfaction is our top priority, and we strive to ensure that all of our customers are happy with their purchases from diagmart.com.
For more details of Returns, please visit Return & Refund Policy
Waranty
---
one (1) year limited warranty
At DiagMart, we stand behind the quality of our products and offer a one (1) year limited warranty on all products sold exclusively on diagmart.com.
This limited warranty provides coverage for defective workmanship or materials in your product and is your exclusive remedy. If your product is found to be defective during the warranty period, we will repair or replace it free of charge.
Please note that this warranty only applies to products purchased directly from diagmart.com and does not cover damage caused by misuse, accidents, or normal wear and tear.
We are committed to ensuring our customers have a positive experience with our products and services. If you have any questions or concerns about the warranty or need assistance with a warranty claim, please don't hesitate to contact our customer support team.
Q:Where are my orders shipped from?

A:Your order will be shipped from California or New York. If you want it to be shipped from a specific place, please let us know in advanced.

Q: If the one year free update expires, will it stop working?

A:You can still use your tool as usual even the one year update expires. It will not impact the normal usage of the tool. But if you need the newest vehicle coverage, it's better to update.

Q: How do I know whether this tool cover the vehicles I want?

A:Generally, our tools are compatible with all the OBD2 vehicles, but functions may differ the vehicle makes and models. Please contact us and provide the VIN and vehicle make and model so that we can tell you the functions it supports.

Q: Can I return the item if I realize that it does not fit my purpose?

A:Yes, you can return the item within 30 days from the date you receive the unit.
During the subscription, you will be able to enjoy the latest released function by Autel and can cover the latest vehicle makes and models. If your device expires, you can still use the scanner's all functions without any issues, but we recommend you renew the software to enjoy the latest released function and expand coverage for the latest vehicle makes and models.
Unleash Exclusive Rights with Upgrades
TOOL FUNCTION UPGRADES
Get the latest function from Autel
LATEST VEHICLE COVERAGE
Expanded coverage for the latest vehicle makes and models
Extra 1YR Update
MSRP
Manufacturer's Suggested Retail Price
Our Price
Where to buy
MaxiCheck MX808
$124.50
$80.00
Shop Now
MaxiCheck MX808S
$125.00
$90.00
Shop Now
MaxiCheck MX808TS
$295.00
$210.00
Shop Now
MaxiCheck MX808S-TS
$245.00
$210.00
Shop Now
MaxiCOM MK808
$124.50
$88.00
Shop Now
MaxiCOM MK808BT
$150.00
$104.00
Shop Now
MaxiCOM MK808BT Pro
$150.00
$119.00
Shop Now
MaxiCOM MK808TS
$295.00
$189.00
Shop Now
MaxiPRO MP808
$349.50
$280.00
Shop Now
MaxiPRO MP808S
$349.50
$220.00
Shop Now
MaxiPRO MP808S Kit
$245.00
$220.00
Shop Now
MaxiPRO MP808BT
$349.50
$288.00
Shop Now
MaxiPRO MP808BT Pro
$255.00
$229.00
Shop Now
MaxiPRO MP808TS
$599.50
$399.00
Shop Now
MaxiDAS DS808
$349.50
$229.00
Shop Now
MaxiDAS DS808K
$349.50
$229.00
Shop Now
MaxiDAS DS808S-BT
$255.00
$229.00
Shop Now
MaxiDAS DS808S-TS
$265.00
$180.00
Shop Now
MaxiSys Mini MS905
$699.00
$529.00
Shop Now
MaxiSys MS906
$495.00
$259.00
Shop Now
MaxiSys MS906S
$395.00
$259.00
Shop Now
MaxiSys MS906BT
$695.00
$375.00
Shop Now
MaxiSys MS906 Pro
$595.00
$460.00
Shop Now
MaxiSys MS906TS
$795.00
$600.00
Shop Now
MaxiSys MS906 Pro-TS
$695.00
$599.00
Shop Now
MaxiCOM MK906BT
$695.00
$435.00
Shop Now
MaxiCOM MK906 Pro
$495.00
$439.00
Shop Now
MaxiCOM MK906 Pro-TS
$595.00
$529.00
Shop Now
MaxiCOM MK908
$895.00
$626.00
Shop Now
MaxiCOM MK908 II
$895.00
$729.00
Shop Now
MaxiCOM MK908P
$1,295.00
$600.00
Shop Now
MaxiCOM MK908 Pro II
$1,295.00
$759.00
Shop Now
MaxiSys MS908
$895.00
$650.00
Shop Now
MaxiSys MS908 Pro
$1,295.00
$600.00
Shop Now
MaxiSys MS908S Pro
$1,295.00
$600.00
Shop Now
MaxiSys MS908S Pro II
$1,295.00
$795.00
Shop Now
MaxiSys CV
$1,295.00
$759.00
Shop Now
MaxiSys MS909
$1,295.00
$659.00
Shop Now
MaxiSys MS919
$1,295.00
$899.00
Shop Now
MaxiSys Ultra
$1,695.00
$899.00
Shop Now
MaxiSys Ultra EV
$1,695.00
$1,099.00
Shop Now
MaxiSys Elite
$1,295.00
$600.00
Shop Now
MaxiSys Elite II
$1,295.00
$600.00
Shop Now
MaxiSys Elite II Pro
$1,295.00
$795.00
Shop Now
MaxiCOM Ultra Lite/ Ultra Lite S
$1,235.00
$759.00
Shop Now
MaxiIM IM508
$399.00
$244.00
Shop Now
MaxiIM IM508S
$399.00
$299.00
Shop Now
MaxiIM IM608
$895.00
$600.00
Shop Now
MaxiIM IM608 Pro
$895.00
$600.00
Shop Now
MaxiIM IM608ProII/IM608SII/IM608II
$895.00
$795.00
Shop Now
Does a lot more than originally thought, even just on the scan tool side
I'm very happy with it, plugged it into a few vehicles just to test it out, and now I have since used it to program a new BCM (Body Control Module) in a Ford F250, which the programming capabilities is mostly the reason I wanted it. Definitely recommend
shop now!
I have many scanners, and this one is my favorite tool. It is my highest-level too, for my workshop, it works great. No more words to describe it!