Autel Maxisys MS909 Intelligent Diagnostic Tool with MaxiFlash VCI, Advanced ECU Coding & Programming, Module Topology, Bi-Directional Control, Repair Tips, 30+ Service Function
Free Shipping
Free standard shipping on orders
Hassle Free Returns
30-Day money back guarantee
1-Year Free Warranty
Worry-free purchase backed by 365 days full
Free Shipping
Free standard shipping on orders
Hassle Free Returns
30-Day money back guarantee
1-Year Free Warranty
Worry-free purchase backed by 365 days full
Autel MaxiSYS MS909
The MaxiSys MS909 features a 10-inch touchscreen tablet with Android 7.0 OS powered by an Octa-core processor (2.3GHz Quad + 1.7GHz Quad), substantial 128GB built-in memory to provide diagnostic guidance and test components to confirm repairs. The MS909 features the new MaxiFlash VCI, a combination VCI and vehicle communication tool providing faster dual Wi-Fi vehicle and network communications. The MS909 features front and rear cameras and a rechargeable Lithium battery providing 8 hours of continuous use to ensure you always have the power to scan.
Autel MS909 Features:
1. Autel updates provide the latest OE level coverage for more than 80 US Domestic, Asian and European vehicles, including supercar
2. Exceptional OE-Level functionality from comprehensive OBDII diagnostics & services to advanced ECU coding and programming
3. Automatic system and software updates with real-time push message notifications via the internet
4. Interactive Data Logging sessions enable direct contact with Autel Support for first-hand troubleshooting of diagnostic bugs and error
5. One-stop multitasking designed for ideal management of workshop operations to keep all data files, customer info, and vehicle records well organized
6. Cloud-based Data Manager saves customer and vehicle records, scanner data, and technician notes
Display Module Topology
The new topology module makes code information display more intuitive and systematic by zooming in and out, viewing the communication structure between modules more accurately and quickly. MS909 can display fault codes and enter the system to perform functions directly.
Comprehensive Service Functions
As the Autel TOP scan tool, MS909 comes with 30+ maintenance functions and can be updated constantly for wider vehicle coverage, more functions, and functional optimization, to meets all your needs for various scheduled repairs or maintenance.
The maintenance functions are as follows: Oil Reset, EPB, TPMS, BMS, Brake Bleed, DPF SCR Aftertreatment, IMMO keys, Injector, SAS, Suspension, Throttle, WIN DR ROOF, Seats, Odometer, Lang change, Headlamp, CHG tire size, TEC learn, ABSSRS, Cylinder, VGT learn, Speed & PTO, Clutch, Trans adaptation, Airbag reset, and A/F Setting.
 ECU Programing
Autel MS909 comes with SAE J2534 Pass-Thru (J2534 Programmer) to replace the existing software & firmware and program new ECUs for specific BMW & Benz vehicles to fix software-controlled drivability issues and emission issues.
Bi-directional Active Test
MS909 supports bi-directional or active tests on systems and sub-systems, components and so on. For example, it can do bi-directional on ABS to test its sensitivity and function, on Motor Pump to test the integrity of the system, on fuel pumps, wipers, headlamps, windows, doors, sunroof, and so on to test its functionality.
Repair Assistant
Repair Assist Software displays a list of recommended tests, the completion status and priority for the undertaking. The higher the priority, the earlier the components should be tested.
Newer Vehicle Coverage
The MS909 has the best newer vehicle coverage Autel has yet to offer, covering 95% of post-2000 vehicles, and 85% of post-2019 vehicles, and it's fast-growing with the frequently released software updates.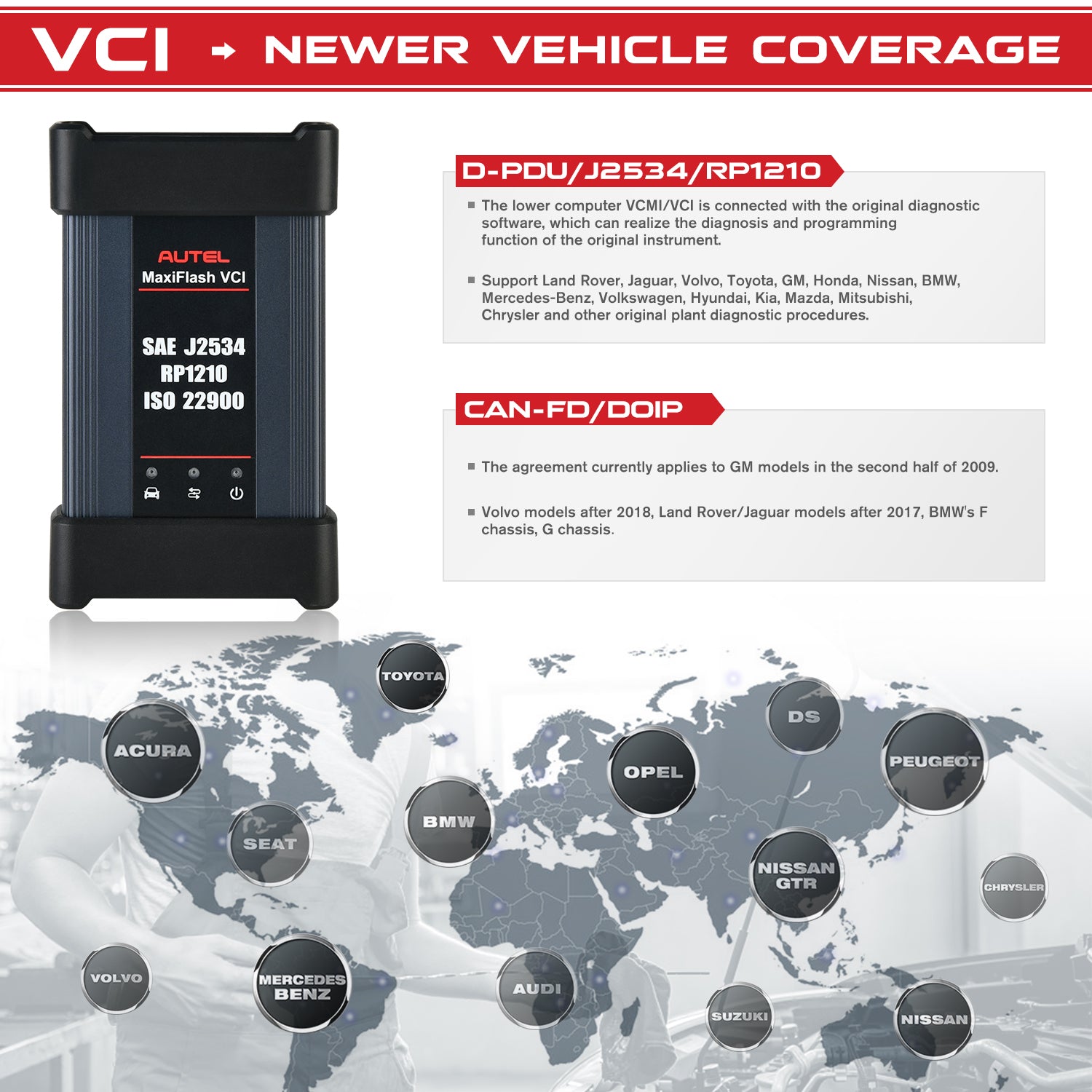 MaxiSYS MS909 Specifications
9.7'' Touchscreen (1536 x 2048)
Android 7.0
2.3GHz + 1.7GHz Octa-core Processor / 256GB Memory
Oscilloscope Preset Guided & Component Tests / Waveform Library (oscilloscope sold separately)
MaxiFLASH VCI with new Protocols: D-PDU, DoIP/CAN FD, Mega CAN
Topology Module Mapping: Color Coded All System Status Screen (on supported vehicles)
Relevant Cases: DTC Troubleshooting / Repair Tips Video Library
Repair Assist: Guided Procedures with DTC Analysis & Fault Code Solutions
Code-Related Technical Service Bulletins (on select vehicles)
License Plate Reader
ScanVIN: Barcodes or Text Recognition with Camera
Secure Gateway Access: Authorized FCA SGM Access with AutoAuth Account (sold separately)
Includes Docking Station, Cables, Scope Connectors, Carrying Case
Enhanced Diagnostic Reports: PreSCAN & PostSCAN
15000mAh - 8hrs Continuous Use
16MP Rear Camera & 5MP Front Camera
1-year Warranty & Software Subscription
MaxiSYS MS909 Package List:
1x MS909 Main Unit
1x MaxiFlash VCI
1x Main Cable V2.0
1x USB 2.0 Cable V2
1x AC/DC Adapter(12V)
1x Cigarette Lighter
2x Light Fuse 6x30mm
1x Clipper Cable
1x Quick Reference Guide
1x Packing List
1x Soft Cloth
1x Carrying Case 504 x 133 x 360 mm
Shipping
Free shipping to America and Canada without any tax. All of our orders are processed and shipped out within 24 hours. After the order is shipped out and received by the carrier, we will update you with a tracking code with which you can follow your package and see the remaining shipping time. We have two warehouses in the US. We will ship your order out from the warehouse wherever is closest to you. Usually, once your package has been picked up by carrier, it will be delivered within 5-7 business days.
Returns
If for any reason you are not completely satisfied with your purchase from diagmart.com or the product does not meet your perspectation, simply return it within 30 calendar days from the date you received it with the original packaging, along with your original purchase receipt , and we will gladly give you a refund.
Return Instructions
If you would like to apply for a return and refund, please contact us within 30 calendar days of receiving your product(s).
1. Contact us at sales@diagmart.com using the email address you purchased on Diagmart Online Store, and then provide the following information: Order Number: Return Product Name & Quantity Return Reason Images or Videos of Products and Intact Packaging We will process your return and refund application within one business day after receiving your email.
2. Package and ship your item. Include all items from your original shipment, including devices, accessories and documents.
Refund Policy
1. Item is Defective or Not Able to Meet Perspectation
When the items you receive have quality problems, you can return it and we will refund to you fully.
If you order the wrong products, please send the whole package back to us, we will refund your money.
If you think the product does not meet your perspectation, you can return it and we will refund you fully.
2. Item is Out of Stock
If the product you ordered is out of stock, we will send email to check if you want to exchange or get refund.
3. Item is Not Received
Usually, we will provide tracking number and tracking link timely. If you don't get item for a long time, please contact us timely. We will confirm with the couriers and get back to you ASAP.
If product gets lost during transportation, we will arrange replacement for you and bear the shipping cost by ourselves. Please contact us if you need more information.
One-Year Limited Warranty Policy
DiagMart offers a one (1) year limited warranty on all products. This Warranty is valid and enforceable only if you purchased a Product from diagmart.com.
Coverage: This Warranty is your exclusive remedy for defective workmanship or materials in your product.
How To Start a Warranty Claim.
To get a Warranty claim started:
① Contact Customer Support.
If you need to cliam your warranty, contact us by email. Please have your order number, and your proof of purchase handy.
② Prepare your Product for Shipment(if needed).
Pack your Product in the shipping materials (e.g., a shipping box or shipping label) we provide you to deliver your Product back to us. Once we receive your Product, we'll determine if it has a defect or malfunction covered by our Warranty.
If we replace your Product, we won't transfer any content or data from your original Product to your replacement Product. You are able to restore the data once you register your replacement Product with your Autel ID account.
Warranty Service:
If you start a warranty claim and we confirm that your product does not perform according to its Warranted Functionality, we'll replace, repair or refund it. If we replace or repair it, we'll make sure it performs substantially in accordance to our Warranted Functionality.
Items Outside of this Warranty:
1. Products not purchased from diagmart.com
2. Misuse of Products, which includes (a) damage to the Product or loss of the Product resulting from an accident, theft, improper storage, misuse or abuse and mishandling, ect.
Q:Where are my orders shipped from?

A:Your order will be shipped from California or New York. If you want it to be shipped from a specific place, please let us know in advanced.

Q: If the one year free update expires, will it stop working?

A:You can still use your tool as usual even the one year update expires. It will not impact the normal usage of the tool. But, if you need the newest vehicle covrage, it's better to update.

Q: How do I know wether this tool cover the vehicles I want?

A:Generally, our tools are compatible with all the OBD2 vehicles, but functions may differ depending on vehicle makes and models. Please let us contact us and provide the VIN and vehicle make and model so that we can tell you the functions it supports.

Q: Can I return the item if I realize that it does not fit my purpose?

A:Yes, you can return the item within 30 days from the date you receive the it.
diagmart.com is a site of UUC Technology Co., Ltd, an Autel authorized online agent. For more details about DIAGMART, please check "About Us" .
DIAGMART --- A Reliable Autel Agent You Can Trust

The Advantages For Software Update:
Take advantage of new features and functions as they roll out from Autel.
Expand coverage for the latest vehicle makes and models.
Reduce out-of-pocket device repair costs as well as shop downtime.
How To Purchase And How Do We process Your Order?
Choose the Update service you needed and Checkout. Once finish your payment, please send your Tablet S/N number and your order number to our email "sales@diagmart.com" . We will authorize your update online and send you a notification. And then, you are able to update the software on the device.
Why Should You Buy From Us?
| | | |
| --- | --- | --- |
| Product | Our Prices | Market Prices |
| MK908 Update | $599 | $999 |
| MS Ultra Update | $899 | $1459 |
| MK906BT Update | $375 | $679 |
| MS919 Update | $810 | $1299 |
| MS909 Update | $729 | $1269 |
| MS908SP Update | $659 | $1,295 |
| MaxiSys Elite Update | $609 | $1,295 |
| MaxiSys CV Update | $989 | $1,295 |
| MS906TS Update | $599 | $795 |
| MS906BT Update | $389 | $695 |
| MS906 Update | $299 | $495 |
| MK908P Update | $639 | $899 |
| DS808/DS808K Update | $299 | $350 |
| MS908 Update | $719 | $999 |
| TS608 Update | $499 | $600 |
| MK808BT Update | $110 | $299 |
| MX808 Update | $80 | $125 |
| MK808TS Update | $210 | $295 |
| MP808K Update | $359 | $439 |
| IM608 Update | $609 | $1299 |
| IM508 Update | $259 | $599 |