Autel Maxicheck Pro In-depth Review 2021
The Autel Maxicheck pro is a good mid-range scanner for mechanics or DIY enthusiasts who want to upgrade from an entry-level scan tool to a better OBD2 scanner. It may not have all the features of the high-end scanners like the Autel Maxicom MK808, but it is very versatile. This Autel scannercan be used to read and erase error codes, rest oil service light, read, clear, and diagnose EPB/SBC, reset service mileage and service intervals, and much more. Read this Autel Maxicheck Pro review article to know more about this Car Diagnostic Tool.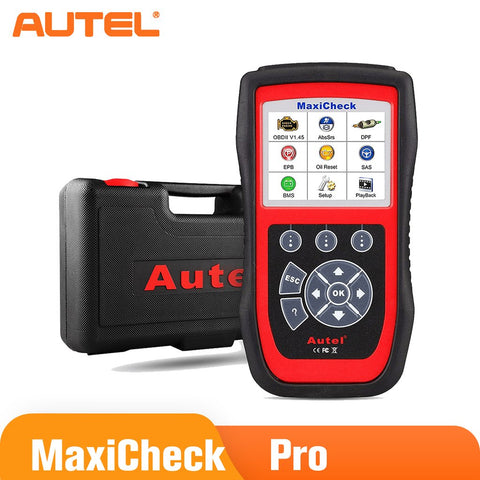 Technical specifications of the Autel MaxiCheck Pro OBD2 Car Diagnostic Tool
| | |
| --- | --- |
| Features | Autel MaxiCheck Pro |
| Works: | under 2013 or older vehicles |
| Display: | TFT color display (320 x 240 dpi ) |
| Check Engine Light(MIL): | Yes, Easily determines the cause |
| Read Data: | Yes |
| EPB/ABS/SRS/SAS/Airbag/BMS/DPF: | Yes |
| Resets the Oil Service Light: | Yes |
| Record and Playback OBD-II live data: | Yes |
| Resets Monitors: | Yes |
| Update option: | One year free online update |
| Mode: | 6 |
| Views freeze frame data: | Yes |
| Turn off the ECU and brake warning light: | Yes |
| Opens and closes electronic brake calipers: | Yes |
| Storage Temperature: | -20to70(-4Hto 158H) |
| External Power: | 12.0 to 18.0 V |
| Get transmission codes: | Yes |
| Vehicle Coverage: | GM, CHRYSLER, FORD, AUDI, ABARTH, ALFA, BENZ, BMW, BENTLEY, BUGATTI, CITROEN, DACIA, EU FORD, FIAT, JAGUAR, LANDROVER, MINI, MAYBACH, OPEL, PEUGEOT, PORSCHE, LANCIA, RENAULT, SAAB, SMART, SEAT, SKODA, SPRINTER, VW, VAUXHALL, AU FORD, HOLDEN, ACURA, DAEWOO, VOLVO, HONDA, HYUNDAI, ISUZU, INFINITI, KIA, LEXUS, MAZDA, MITSUBISHI, NISSAN, SCION, SUBARU, SUZUKI, TOYOTA |
| Warranty: | Limited One Year Warranty |
Benefits of the Autel Maxicheck Pro
Broad Functions
This may be a basic code reader but it performs a wide range of functions. To begin with, it performs various service resets such as service maintenance and oil, inspection, and mileage resets. In addition, it performs electronic brake services such as activate or deactivate brake control system, open or close electronic brake calipers and read or clear EPB/SBC trouble codes. Other functions include read or erase DPF system, resets steering angle sensors, battery management system functionality, and turn off the ECU and brake warning light.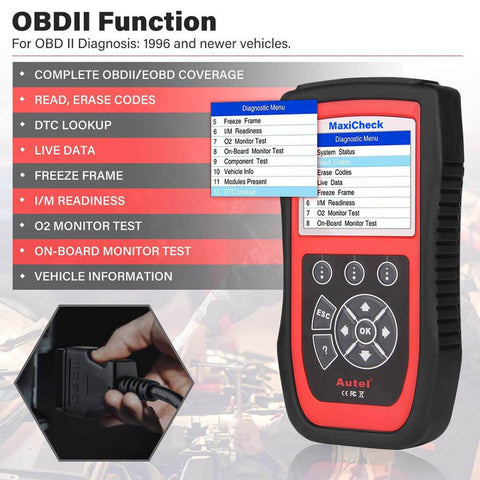 TFT Color Display
When it comes to displaying the info on the device, you won't have any problems reading the fault codes as the device features a large and clear TFT color display. This means that you can read error codes in both poorly lit and brightly lit areas. The scanner operates perfectly between temperatures of 0 to 60 or 32H to 140H.
Extensive Vehicle Coverage
If you handle different car makes and models, the Autel Maxicheck will come to your rescue. It has extensive vehicle coverage of more than 50 vehicles makes from Asia, Europe, and domestic. Also, it is compliant with most 2013 or older vehicle makes. But before buying the code reader, check with the manufacturer to ensure that your car is compatible. Some of the vehicles make that this device is compatible with include GM, Honda, Chrysler, Kia, Subaru, Toyota, Dodge, Benz, BMW, Volvo, Maybach, Bentley, Jaguar, Ford, Lexus, Mitsubishi, Peugeot, Sprinter, etc.
Internet Updateable and Upgradeable
In case you want to update or upgrade the gadget, this can be easily done via the internet or connecting it to a PC. The manufacturer offers one-year of free updates and upgrades. After that, you will be charged a fee to update the code reader. This helps you download the latest software for a perfectly working scanner.
Durable construction
– this code reader from Autel is sturdily built with a strong case. This case prevents the inner parts from being damaged. It is also grease and water-resistant for longevity. So, you can use this device in adverse conditions without worrying about anything.
Easy to read and erase codes
– this gadget is fast and accurate. The fault codes are displayed on the TFT screen and you can research them online to know what they mean.
Updateable software
– this is a device that can be used for over a long period of time as it can function on cars built from 1996 and newer models. It is software updateable, which implies that it can function on even newer car models. Also, the manufacturer offers one-year free software updates.
Limited warranty
– there are few brands that provide a warranty on their products. One of those brands is Autel. If you purchase the Autel Maxicheck diagnostic code reader, you will get a one-year limited warranty. This is a great indication of how Autel trusts their products and are ready to help clients if they face any challenge. So, Autel is a reliable brand.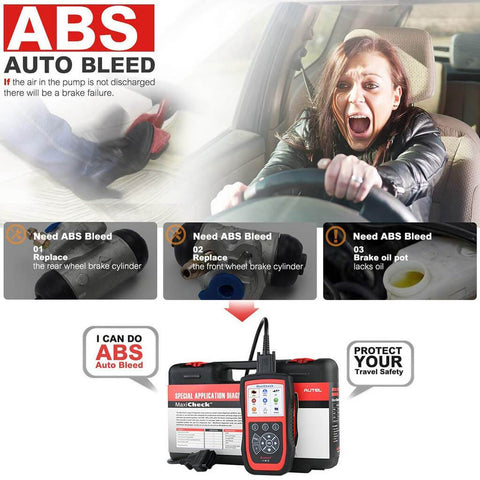 Conclusion
The Autel Maxicheck Pro scanner is a wonderful basic code reader with exceptional features. It has the capability to read and erase error codes, reset steering angle sensors, perform oil light reset, and set inspection mileage. It as well covers more than 50 vehicle makes and can be updated via the internet.
The scanner is suitable for DIYers, car repair shops, and mechanics. At such a great price, you get a device that is easy to use and offers accurate information. Also, it is from a reliable brand and has a warranty. So, in case of any defect in material or workmanship, you can return the device within the one-year warranty period. I have explained everything in this Autel Maxicheck Pro review that you should know.
latest reviews of Autel Maxicheck Pro from ebay
Richardson said "Awesome bit of kit in a nice storage case too. Bit of a phaff to activate as you have to email Autel Customer Support to get a passcode first. After this, it worked on my car without complaint and offers a wide range of diagnostics so I'm very pleased with it. Well worth the money in my opinion. The software period on registration suggested it was only valid for one year but after contacting Autel they claim it now comes with free updates for the product lifetime, which if true is a bonus considering most others time out and you have to re-subscribe annually."
latest reviews of Autel Maxicheck Pro from amazon
Eagle comments "Excellent tool that worked first time out of the box.Comes complete with OBDII & USB cables, instructions & upgrade software that can be installed onto a PC. All this comes packaged within a hard plastic carry case. Used this to diagnose an airbag fault, then fix & clear the dashboard warning light on my V40 Volvo.Would recommend this to anyone who regularly works on their cars."
latest reviews of Autel Maxicheck Pro from Autel
Bayless review "I work in a busy garage and have long been frustrated with there diagnostic equipment. There is the old Delphi based one which was always slow and there new Bosch based one which is installed on an underpowered tablet device (the software is designed for desktops) that is overcomplicated and often unresponsive due to the table being so slow. So I got this and it is absolutely brilliant. Connects to most vehicles with ease and easy to use menu system. There are a few minor frustrations the main ones being my work colleges who keep wanting to use it. Also presenting service lights on VW/Audi vehicles can be tricky. But most functions are carried out with ease. A perfect buy for either DIY or pro mechanics. Oh, I forgot to mention. When updating the software on your device via the desktop app the program may appear to freeze and become unresponsive. This will happen more than once and is quite normal so don't panic just leave it alone and eventually it will work."