Autel MaxiSYS MSOBD2KIT Non-OBDII Adapter Kit for Autel MSUltra, Ultra Lite, MS919, MS909, TS608 and MX808
Fast Free Shipping
Delivery with UPS, USPS, FedEx
30-Day Return
30 Days from Date of Delivery
1-Year Free Warranty
1 YEAR from Date of Activation
Fast Free Shipping
Delivery with UPS, USPS, FedEx
30-Day Return
30 Days from Date of Delivery
1-Year Free Warranty
1 YEAR from Date of Activation
MSOBD2KIT Non-OBDII Adapter Kit
The MSOBD2KIT, compatible with the MSUltra, MS919 and MS909, includes OE-compliant adapters for specific vehicles produced between 1996 and 2002 without the standard OBD2 pin configuration. Connectors Include Nissan-14, Mitsubishi/Hyundai 12+16, Kia-20, BMW-20, Benz-38, VW/Audi-2+2, Mazda-17, Chrysler-16 and Benz-14, within a blow-molded carrying case.
Features:
Includes OE connectors for vehicles 1996 - 2002
For use with the MSULTRA, MS919 or MS909
Connectors Included: Nissan-14, Mitsubishi/Hyundai 12+16, Kia-20, BMW-20, Benz-38, VW/Audi-2+2, Mazda-17, Chrysler-16 and Benz-14
Includes Carrying Case
Includes 1-Year Warranty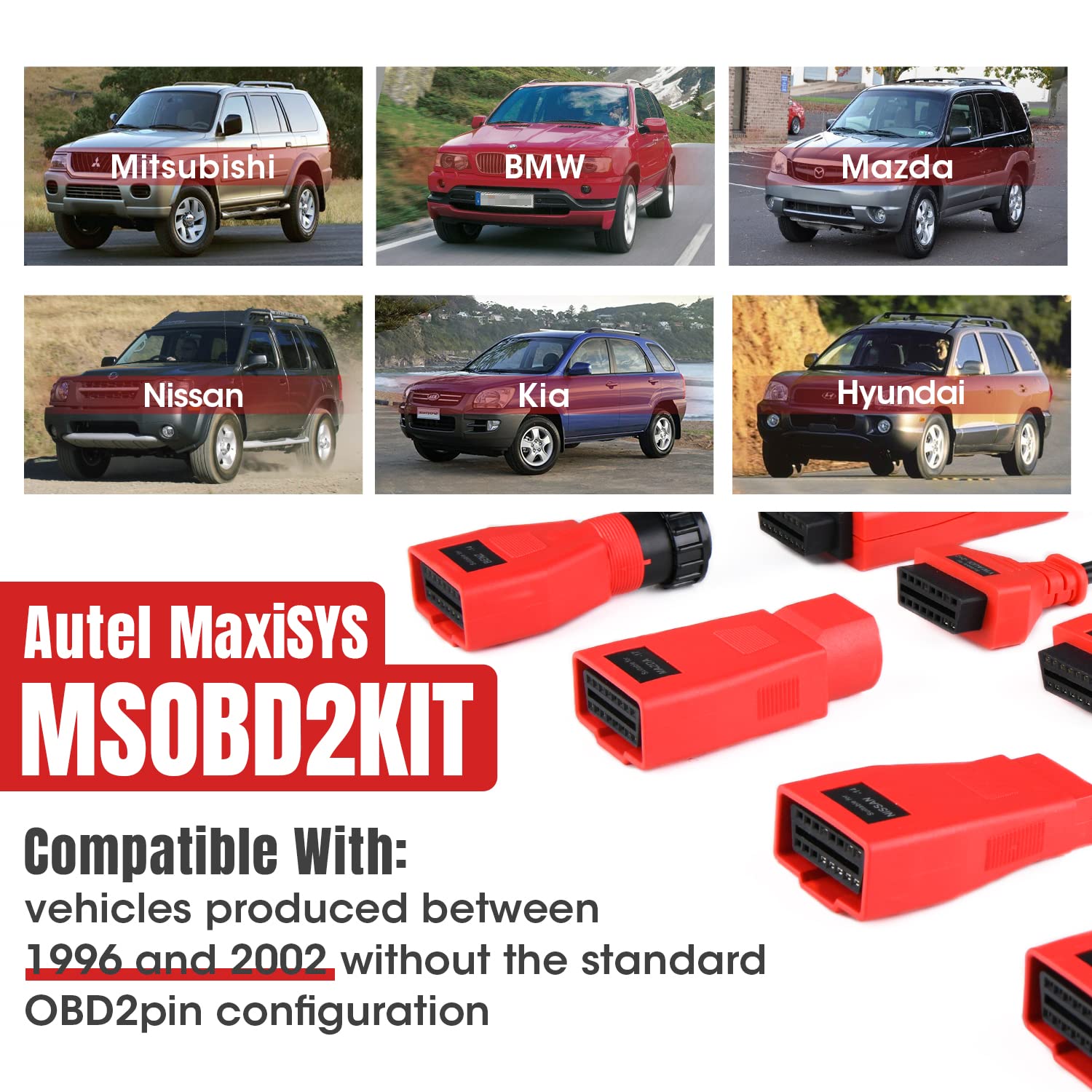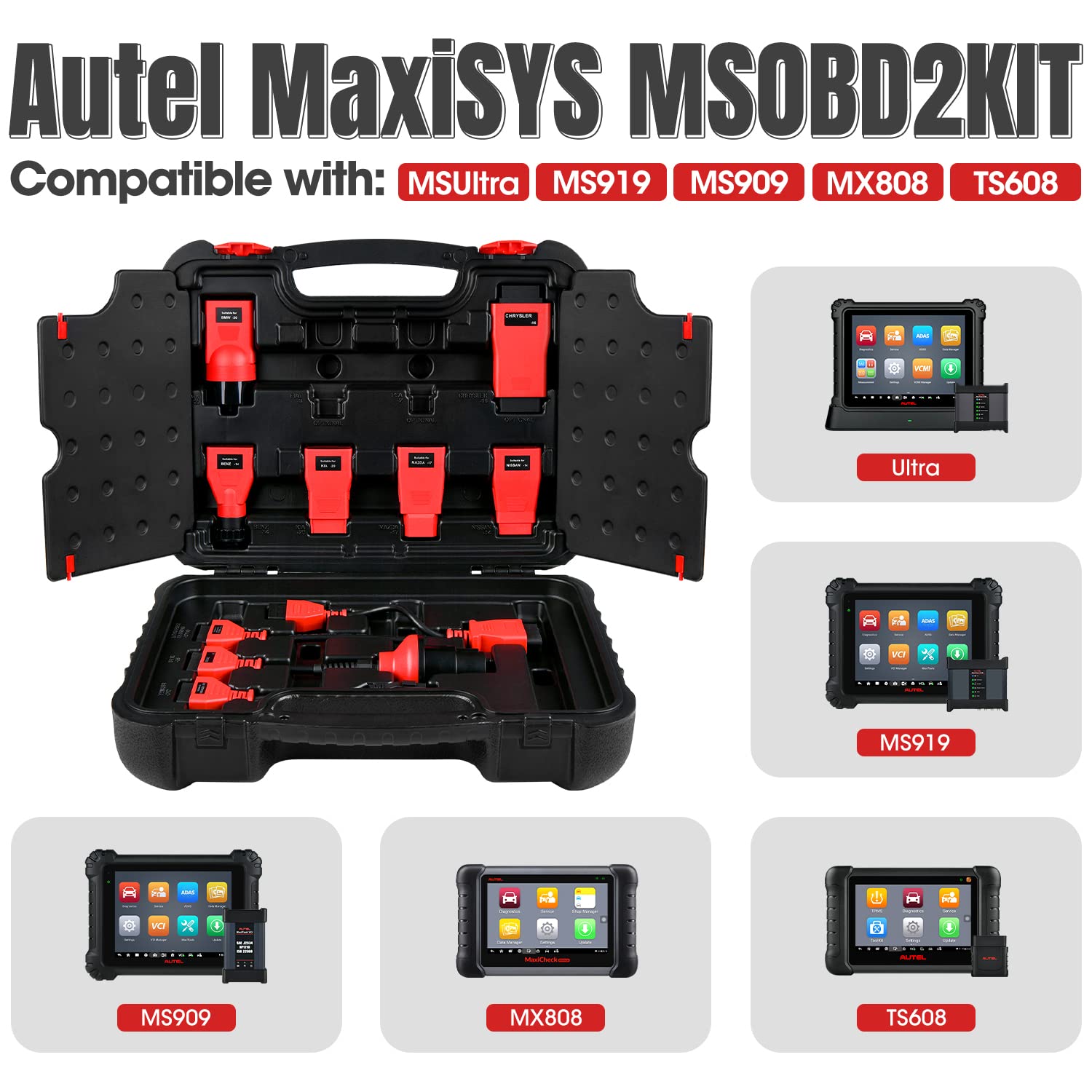 Shipping
---
Free Shipping on All Orders Without Any Tax.
All orders are processed and shipped out within 24 hours of being placed. Once your order has been shipped out, we will provide you with a tracking number so that you can easily track your package and stay updated on its delivery status. With this tracking number, you'll be able to see the expected delivery date and have peace of mind knowing exactly when your package will arrive.
Delivered within 3 - 5 Days by UPS, USPS, Fedex, or DHL Ship from New Jersey or California, United States
Returns
---
30 calendar days from the date you received it
If, for any reason, you are not satisfied with your purchase or if the product does not meet your expectations, you can return it within 30 calendar days from the date you received it. To qualify for a refund, please ensure that the product is returned in its original packaging along with the original purchase receipt.
Our team will be glad to assist you with the return process and issue a refund once we have received the returned product. Customer satisfaction is our top priority, and we strive to ensure that all of our customers are happy with their purchases from diagmart.com.
Waranty
---
one (1) year limited warranty
At DiagMart, we stand behind the quality of our products and offer a one (1) year limited warranty on all products sold exclusively on diagmart.com.
This limited warranty provides coverage for defective workmanship or materials in your product and is your exclusive remedy. If your product is found to be defective during the warranty period, we will repair or replace it free of charge.
Please note that this warranty only applies to products purchased directly from diagmart.com and does not cover damage caused by misuse, accidents, or normal wear and tear.
We are committed to ensuring our customers have a positive experience with our products and services. If you have any questions or concerns about the warranty or need assistance with a warranty claim, please don't hesitate to contact our customer support team.
Q:Where are my orders shipped from?

A:Your order will be shipped from California or New York. If you want it to be shipped from a specific place, please let us know in advanced.

Q: If the one year free update expires, will it stop working?

A:You can still use your tool as usual even the one year update expires. It will not impact the normal usage of the tool. But, if you need the newest vehicle covrage, it's better to update.

Q: How do I know wether this tool cover the vehicles I want?

A:Generally, our tools are compatible with all the OBD2 vehicles, but functions may differ depending on vehicle makes and models. Please let us contact us and provide the VIN and vehicle make and model so that we can tell you the functions it supports.

Q: Can I return the item if I realize that it does not fit my purpose?

A:Yes, you can return the item within 30 days from the date you receive the it.
During the subscription, you will be able to enjoy the latest released function by Autel and can cover the latest vehicle makes and models. If your device expires, you can still use the scanner's all functions without any issues, but we recommend you renew the software to enjoy the latest released function and expand coverage for the latest vehicle makes and models.
Unleash Exclusive Rights with Upgrades
TOOL FUNCTION UPGRADES
Get the latest function from Autel
LATEST VEHICLE COVERAGE
Expanded coverage for the latest vehicle makes and models
Extra 1YR Update
MSRP
Manufacturer's Suggested Retail Price
Our Price
Where to buy
MaxiCheck MX808
$124.50
$80.00
Shop Now
MaxiCheck MX808S
$124.50
$90.00
Shop Now
MaxiCheck MX808TS
$295.00
$210.00
Shop Now
MaxiCheck MX808S-TS
$245.00
$210.00
Shop Now
MaxiCOM MK808
$124.50
$88.00
Shop Now
MaxiCOM MK808BT
$150.00
$104.00
Shop Now
MaxiCOM MK808BT Pro
$150.00
$110.00
Shop Now
MaxiCOM MK808TS
$295.00
$189.00
Shop Now
MaxiPRO MP808
$349.50
$280.00
Shop Now
MaxiPRO MP808S
$349.50
$319.00
Shop Now
MaxiPRO MP808S Kit
$245.00
$210.00
Shop Now
MaxiPRO MP808BT
$349.50
$288.00
Shop Now
MaxiPRO MP808BT Pro
$255.00
$245.00
Shop Now
MaxiPRO MP808TS
$599.50
$399.00
Shop Now
MaxiDAS DS808
$349.50
$229.00
Shop Now
MaxiDAS DS808K
$349.50
$229.00
Shop Now
MaxiDAS DS808S-BT
$255.00
$180.00
Shop Now
MaxiDAS DS808S-TS
$265.00
$180.00
Shop Now
MaxiSys Mini MS905
$699.00
$529.00
Shop Now
MaxiSys MS906
$495.00
$259.00
Shop Now
MaxiSys MS906S
$395.00
$259.00
Shop Now
MaxiSys MS906BT
$695.00
$375.00
Shop Now
MaxiSys MS906 Pro
$595.00
$460.00
Shop Now
MaxiSys MS906TS
$795.00
$600.00
Shop Now
MaxiSys MS906 Pro-TS
$695.00
$589.00
Shop Now
MaxiCOM MK906BT
$695.00
$435.00
Shop Now
MaxiCOM MK906 Pro
$596.00
$439.00
Shop Now
MaxiCOM MK906 Pro-TS
$595.00
$495.00
Shop Now
MaxiCOM MK908
$895.00
$626.00
Shop Now
MaxiCOM MK908 II
$895.00
$695.00
Shop Now
MaxiCOM MK908P
$1,295.00
$600.00
Shop Now
MaxiCOM MK908 Pro II
$1,295.00
$759.00
Shop Now
MaxiSys MS908
$895.00
$650.00
Shop Now
MaxiSys MS908 Pro
$1,295.00
$600.00
Shop Now
MaxiSys MS908S Pro
$1,295.00
$600.00
Shop Now
MaxiSys MS908S Pro II
$1,295.00
$795.00
Shop Now
MaxiSys CV
$1,295.00
$759.00
Shop Now
MaxiSys MS909
$1,295.00
$659.00
Shop Now
MaxiSys MS919
$1,295.00
$899.00
Shop Now
MaxiSys Ultra
$1,695.00
$899.00
Shop Now
MaxiSys Ultra EV
$1,695.00
$1,099.00
Shop Now
MaxiSys Elite
$1,295.00
$600.00
Shop Now
MaxiSys Elite II
$1,295.00
$600.00
Shop Now
MaxiSys Elite II Pro
$1,295.00
$789.00
Shop Now
MaxiCOM Ultra Lite/ Ultra Lite S
$1,235.00
$759.00
Shop Now
MaxiIM IM508
$399.00
$244.00
Shop Now
MaxiIM IM508S
$399.00
$269.00
Shop Now
MaxiIM IM608
$895.00
$600.00
Shop Now
MaxiIM IM608 Pro
$895.00
$600.00
Shop Now
MaxiIM IM608ProII/IM608SII/IM608II
$895.00
$689.00
Shop Now