【Free Gift】Autel Maxisys MS906BT Diagnostic Scanner, 2022 Newest Ver. of MS906 with Advanced ECU Coding & Bi-Directional Control, 31 Service Functions
Free Shipping
Free standard shipping on orders
Hassle Free Returns
30-Day money back guarantee
1-Year Free Warranty
Worry-free purchase backed by 365 days full
Free Shipping
Free standard shipping on orders
Hassle Free Returns
30-Day money back guarantee
1-Year Free Warranty
Worry-free purchase backed by 365 days full
Autel MaxiSys MS906BT
 MS906BT wireless automotive diagnostic scanner enables technicians and home mechanics to access and diagnose all available vehicle modules remotely at OE-level with the best possible coverage.
With ECU coding, complete capability for codes and a series of most commonly used services and special functions, the MS906BT automotive scanner tool covers everyday tasks of automotive repair and DIY, including Key Coding & Programming, Functional tests/Active tests/Bi-Directional Control, ABS brake bleeding, Oil Rest, SAS calibration, DPF Regeneration, Battery Registration, Reset brake pads after replacement, adaptations and etc.
Top 6 Reasons to Buy Autel Maxisys MS906BT
1.
No IP Limit
- Global Version, No IP Blocking Problem.
2.
Advanced Version for MS906
- MS906BT supports both wirelesses via Bluetooth and lined connection for data transmission and wireless OE-Level all modules diagnosis.
2.
Extensive Vehicle Coverage
- The most extensive complete system coverage for more than 80 US, Asian and European makes and models
4.
31+ Service Functions
 - It has 31 service function options, including Oil Reset, EPB service, TPMS ID Relearn, ABS Auto Bleed, SAS Calibration, DPF Regeneration and so on.
5.
High-Quality Hardware Configuration
- 8-inch touch screen easy-to-use comprehensive vehicle diagnostics and analysis scanner, With Android 4.4.2 Operating System for fast boot-up and multitasking, Support OE-Level Vehicle coverage and functions
6.
1 Year Free Update Online
- We provide one-year free software online update( activated from the day you log in to the diagnostic tablet) for Autel MS906BT. When the free update expires, you can still use the last update software to work on your car.
Autel CAN FD Adapter
Autel CAN FD Adapter is designed to support the diagnosis of vehicle models with CAN FD protocol, including the MY2020 GM models.
This CAN FD Adapter is compact, portable, and easy to use.
Step1: Connect the main cable's female adapter to the vehicle Data Link Connector(DLC) on the VCI unit and tighten the captive(thumb) screws.
Step 2: Connect the CAN FD Adapter's 16-PIN female connector to the main cable's male adapter.
Step 3: Connect the attached CAN FD adapter to the vehicle's DLC which is generally located under the vehicle dashboard.
AUTEL MS906BT ADVANTAGES:
31+ Hot Service Functions
If you are a car driver, just by following the regular maintenance schedule, you can keep several vehicle problems at bay. When you are traveling in your vehicle, the last thing you want is a car breakdown. Also, preventive car care reduces wear and tear of the engine and other components that extend the life of your vehicle.
If you are a repair shop owner, Autel Scanner MS906BT helps you win more clients and enormously improves your working efficiency. It is competent to perform more than 31 service functions such as Oil Reset, EPB, ABS Bleed, SAS, DPF, BMS, low graded-IMMO, Injector, Suspension, Throttle, VGT, Trans Adaptation, Win/Dr/Roof, and more.
1. 
IMMO Service:
Disable lost vehicle keys and program the replacement key fob.
2. 
Oil Reset Service:
Reset service mileage and service intervals for the Engine Oil Life system.
3. 
SAS Service:
Perform calibration for the Steering Angle Sensor and automatically cleared the fault memory.
4. 
DPF Regeneration Service:
Clear the blockage through continuous burning of the particulate matter captured in the DPF filter.
5. 
TPMS Service:
Quickly look up the tire sensor IDs from the vehicle's ECU, perform TPMS programming, and reset procedures after tire sensors are replaced.
6. 
EPB Service:
Deactivate and activate the brake control system, assist with brake fluid control, open and close brake pads, and set brakes after disc or pad replacement, etc.
7. 
BMS Service:
Allow the scan tool to evaluate the battery charge state, monitor the close-circuit current, register the battery replacement, and activate the rest state of the vehicle.
8. 
ABS/SRS Services:
Perform various bi-directional tests to check the operating conditions of both the Anti-lock Braking System and the Supplemental Restraint System, such as Automated Bleeding, Pump Motor tests, and checking Module information, etc.
OE-Level All System Diagnosis
MaxiSys MS906BT is a professional diagnostic scanner that can scan available vehicle modules such as SRS(Airbag), Engine, Transmission, Brake Systems, PCM, ECM, EPS, PDM, TPM, BCM, ABS and SCCM. It performs OE-Level wireless diagnosis on all car systems with complete capabilities of reading/clearing codes, live data, active test, ECU information, adaptation, ECU coding, etc.
Autel MS906BT Vehicle List
MS906BT has the most extensive complete system coverage for more than 80 US, Asian and European makes and models, including BMW, Chrysler, Dodge, JEEP, Benz, Ford, VW, Fiat, Volvo, Ferrari, Toyota, Mazda, Land Rover, Porsche, etc 80+ Vehicle Makes. 
For Asian: Acura, Daihatsu, Hyundai, Infinit, Kiat, Mazda, Nissan, Scion, Subaru, Toyota, Manhindra, Proton, Daewoo, Honda, HyundaiCV, Isuzu, Lexus, Mitsubishi, Samsung, Ssang Yong, Suzuki, Fuso, Perodua, Tata

For European: VW, Abarth, AstonMartin, MINI, Sprinter, SKODA, Citroen, Fiat, Lancia, Maserati, Opel, Porsche, SAAB, Vauxhall, Seat, Bugatti, Audi, ForEU, BMW, Alfa, Benz, Maybach, Ferrari, Jaguar, Land Rover, Peugeot, Renault, Smart, Volvo, Lamborghini, Bentley, Rolls-Royce, VW CV, Dacia, LT3

For USA: Chrysler, Dodge, Ford, GM, JEEP
Autel MS906BT Add-on Functions:
Maxisys MS906BT is a diagnostic scanner with various interfaces that can access more Add-on like Inspection Camera, HDMI Projector, Phone, PC, USB Memory Stock, Headset, Oscilloscope, Extend SD Card, etc.
MS906BT connects to an MV108 / MV105 inspection camera turning into an inspection scope, allowing you to examine difficult-to-reach areas normally hidden from sight. It is capable of recording digital still images and videos, which offers you an economical solution to inspect machinery, facilities, and infrastructure in a safe and quick way.
MS906BT works with Autel MP408 oscilloscope providing you an insight into the inner workings of a vehicle's electronic circuits. Featuring the user-friendly UI design combined with the unrivaled hardware specs is able to measure and test virtually all the electrical and electronic components and circuits in any modern vehicle.
Bi-directional control
MS906BT automotive diagnostic scanner comes with bi-directional control capability to perform active tests to determine the integrity of a system or parts like ABS, window, door, roof, by reading the ECU data, or by monitoring the operation of the actuators, such as by switching a solenoid, relay.This function is quite practical in determining whether the ECM responds to commands well.
Advanced ECU Coding
Autel MS906BT professional auto scanner comes with an advanced ECU coding function. This function allows you to establish a data link to the electronic control system of the test vehicle via the VCI device for vehicle diagnosis, service, or coding. You can operate functional tests, retrieve vehicle diagnostic information such as trouble codes, event codes and live data, and perform ECU coding, for various vehicle control systems, such as engine, transmission, ABS and more.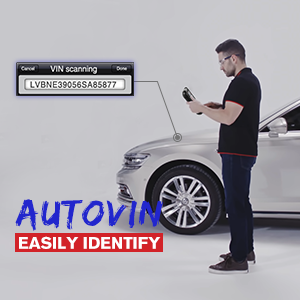 Auto VIN Scan
The MaxiSys MS906BT scanner tool features the latest VIN-based Auto VIN Scan function to identify vehicles in just one touch, which allows the technician to quickly detect vehicles, and scan all the diagnosable ECUs on every vehicle and run diagnostics on the selected system.
Coding functions are usually used by advanced specialists. Coding is conditionally divided into two types:
The first is the computer coding during replacement, commissioning, used to install a new computer in the car. When performing the procedure, the computer is informed of the vehicle's VIN, the configuration, and other information necessary for correct operation.
The second is the coding of the computer for tuning the body electronics to the user, usually the BCM. The procedure will allow you to offer the customer individual customization of the car for him, locking the doors, setting alarms, the function "lead to home", setting the salon and outdoor lighting, etc.
Digital and Graphical Display of Parameters 
Using MaxiSys you can display the parameters of the system conveniently. Some parameters are more likely to be monitored in analog form, for example, pressure. Some parameters are more conveniently viewed in graphical form, by observing their change in time (potentiometers, oxygen sensors). Some parameters must be displayed in the graph to observe changes relative to each other (for example, air mass flow and engine speed). Only in MaxiSys, all these ways of displaying are available for all parameters and all components, regardless of the makes and models of the car.
Special Tests
The actuators are not always visually visible or too complex to assess their performance with organoleptic (eyes, ears) methods through normal activation. That's why the test components are implemented in MaxiSys scanners. Test components will allow you to include special test modes in the computer, in which the electronic system itself creates conditions for verification and evaluates its results with further recommendations to the expert

Adaptation and Initialization
After replacement, for repair or cleaning of some sensors and many actuators of electronic systems, an adaptation or initialization procedure is required. When performing this procedure, the basic values of their work, the reference point, are established. In a modern car, there are many such elements that require similar procedures, which makes these functions vital for the service. In MaxiSys systems, these procedures are presented at the dealer level.
New Features Added in 2022 latest Software Version of Autel Maxisys MS906BT:
New Version: V10.00 for Hyundai;
Adds diagnostic support for 13 models including 2020 – 2021 NEXO (FE), 2021 G70 (IK), 2020 – 2021 GV80 (JX1), 2020 – 2021 Palisade (LX2), 2021 G80 (RG3), 2021 Elantra (CN7), 2021 Elantra (CN7A), 2021 Elantra Hybrid (CN7 HEV), 2021 Veloster N (JSN) and 2021 Santa Fe Hybrid .
Upgrades the functions below for all models in 2019 – 2021: Basic functions (including ECU Information, Read Codes, Erase Codes, Live Data and Active Test) and Service functions (including Oil Reset, EPB, Throttle, Brake Bleed, Tire Pressure Monitor, Steering Angle Sensor, and Odometer).
Adds 109 Special functions including CVVD Intake Adaptation, BLE Learning function, High Voltage Battery Diagnosis, Check Brake Judder Detection Result, Initialize Brake Judder Detection Result, Pressure-Sensor Characteristics Input, Variant Coding, SVM Automatic Tolerance Compensation while Driving, Engine Clutch Learning (when Exchanging the Engine Clutch Set), SVM Tolerance compensation - Auto, and SVM Calibration.
New Version: V10.00 for Kia;
Adds diagnostic support for 24 models including 2021 Ceed (CD), 2021 Xceed PHEV (CD CUV PHEV), 2021 Ceed PHEV (CD PHEV), 2021 Ceed (CD) - ProCeed (Shooting Brake), 2021 Ceed (CD) - Sportswagon, 2021 Stinger (CK), 2021 Niro (DE EV), 2021 Niro (DE HEV), 2021 Niro (DE PHEV), 2021 Mohave/Borrego (HM), 2021 Carnival (KA4), 2021 Sorento (MQ4A), 2021 Sorento PHEV (MQ4 PHEV), 2021 Stonic (QE), 2020 – 2021 Sonet (QY), 2021 Rio (SC), 2021 Sorento (MQ4A), 2021 Sorento HEV (MQ4 HEV), 2021 Rio (SC), 2021 Cadenza (YG).
Upgrades the functions below for all models in 2019 – 2021: Basic functions (including ECU Information, Read Codes, Erase Codes, Live Data and Active Test) and Service functions (including Oil Reset, EPB, Throttle, Brake Bleed, Tire Pressure Monitor, Steering Angle Sensor, and Odometer).
Adds 140 Special functions including CVVD Intake Adaptation, BLE Learning function, High Voltage Battery Diagnosis, Check Brake Judder Detection Result, Initialize Brake Judder Detection Result, Pressure-Sensor Characteristics Input, Variant Coding, SVM Automatic Tolerance Compensation while Driving, Engine Clutch Learning (when Exchanging the Engine Clutch Set), SVM Tolerance compensation - Auto, SVM Calibration, Setting Mileage (when Replacing with a New Cluster), OBC Region Code, and Coolant Discharging Mode of Electric Thermostat.
New Version: V10.00 for Yueda Kia;
Adds diagnostic support for the 2020 K5 (DLC3C) Model.
Upgrades the functions below for all models in 2019 – 2021: Basic functions (including ECU Information, Read Codes, Erase Codes, Live Data, and Active Test) and Service functions (including Oil Reset, EPB, Throttle, Brake Bleed, Tire Pressure Monitor, Steering Angle Sensor, and Odometer).
Adds 29 Special functions including CVVD Intake Adaptation, BLE Learning function, Pressure-Sensor Characteristics Input, and Variant Coding.
New Version: V9.20 for Chrysler;
Adds Basic functions and Special functions for 2020 – 2021 B1-Renegade, BV-Renegade, D2-Ram 3500 Pickup, DD-3500 Cab Chassis Pickup, DF-RAM 3500 Cab Chassis 10K, DJ-Ram 2500 Pickup, DP-4500/5500 Pickup, DT-Ram 1500 Pickup, DX-Ram (Mexico) Pickup, JL-Wrangler, JT-Gladiator, KL-Cherokee, K8-Grand Commander, LA-Challenger, LD-Charger, LX-300, Charger, Magnum, M1-Compass (Brazil), M4-Compass (China), M6-Compass (India) MP-Compass, RU-Chrysler Pacifica, VF-ProMaster, WD-Durango, and WK-Grand Cherokee.
Upgrades Basic functions including ECU Information, Read Codes, Erase Codes, Live Data, Active Test and Configuration Information.
Upgrades Special functions including Oil Reset, EPB, Aftertreatment, Throttle and Brake Control.
New Version: V7.80 for PSA;
1. Adds diagnostic support for 8 models (up to 2021) including 208 (P21), 2008 (P24), 508L (R83), Landtrek, AMI, C41, DS 3 Crossback and DS 9.
2. Supporting Basic functions including ECU Information, Live Data, Read Codes, Erase Codes, Freeze Frame and Active Tests.
3. Adds 134 Special functions such as Oil Reset, EPB, BMS, Brake Bleed, Aftertreatment, Immo Keys, Injector, SAS and Throttle.
Autel MS906BT Features:
 • Extraordinarily powerful Samsung Exynos Hexa-core processor
• 8.0" 1024x768 LED-backlit glossy Multi-Touch capacitive display with IPS technology for ultra-mobility
• 802.11b/g/n Wi-Fi to access your favorite web resources
• Built-in rechargeable lithium-polymer battery for up to 14 hours of continuous operation
• Open source Android Operating System for fast boot-up and multitasking
• Easy and intuitive navigation makes finding what you need simple and fast
• The most extensive complete system coverage for more than 80 US, Asian and European makes and models
• Exceptional OE-Level functionality from comprehensive OBDII diagnostics & services to advanced ECU coding
• Complete capabilities for codes, live data, active test, ECU information, adaptation, matching and coding, etc.
• Smart AutoVIN technology for identifying vehicles easily
• Automatic system and software updates with real-time push message notifications via the internet.
• Cloud-based MaxiFix online community provides a vast database of diagnostic and repair tips and proven filed fixes.
• Interactive Data Logging sessions enable direct contact with Autel Technical Support for first-hand troubleshooting of diagnostic bugs and errors.
• One-stop multitasking designed for ideal management of workshop operations to keep all data files, customer info, and vehicle record well organized.
• Enhanced wireless BT connectivity between the display tablet and VCI device allows greater mobility and ease at work.
• Convenient data management system for managing internal program applications and reviewing data.
Comparison of MS906BT, MK906BT, and MS906
Comparison
MS906BT
MK906BT
MS906
Price
$1149
$1195
$1049
Software
All Systems DTC Scan
√
√
√
Bi-Directional Control
√
√
√
Service Function
√
√
√
Data Manager
√
√
√
Auto VIN Technology
√
√
√
ECU Coding
√
√
/
ECU Programming
/
/
/
Multilanguage
/
√
/
Wireless Connection
√
√
/
Hardware
Display Size
9.7"
8"
8"
Wireless VCI
MaxiFlash Elite
MaxiVCI V100
/
Battery Life
10000 mAh 3.7 V
10000 mAh 3.7 V
5000 mAh 3.7 V
Memory Storage
64GB
64GB
32GB
Autel MS906BT Specifications:
Operating System
Android™ 4.4.2, KitKat
Processor
Samsung Exynos T5260 6-Core Processor (1.3 GHz quad-core ARM Cortex-A7 + 1.7 GHz dual-core ARM Cortex-A15)
Memory
2 GB RAM & 32 GB ROM
Display
8.0" LED capacitive touch screen with 1024x768P resolution
Connectivity
Wi-Fi (802.11 b/g/n) USB: 2.0, Mini USB 2.0
Wireless BT V2.1+EDR, Class1, HDMI 1.4a
SD Card (support up to 32 GB)
Camera (rear)
Built-in 8-Megapixel Rear Camera
Autofocus & Flashlight
Sensors
Gravity Accelerometer
Ambient Light Sensor (ALS)
Audio Input/Output
Microphone
Single Speaker
3-Band 3.5 mm stereo/standard headset jack
Power and Battery
10,000 mAh 3.7 V lithium-polymer battery 
(up to 14 hours of continuous operation)
Charging via 12 V AC/DC power supply
Input Voltage
12 V (9-35 V)
Power Consumption
5 W
Operating Temperature
-10 to 55°C (14 to 131°F)
Storage Temperature
-20 to 70°C (-4 to 158°F)
Dimension
(W x H x D) 270.8 mm (10.0") x 176.0 mm (6.9") x 36.0 mm (1.4")
Weight
NW: 1.05 kg (2.3lb.)
Downloads
Autel MS906BT User Manual
Autel MS906BT Package List:
Maxisys MS906BT main unit
AC/DC Adapter (12V)
Adapter for Chrysler-16 (America Only)
Adapter for GM/Daewoo-12
Adapter for Benz-38
Adapter for Mitsubishi/Hyundai-12+16
Adapter for Honda-3
Adapter for BMW-20
Adapter for Kia-20
Adapter for Nissan-14
Adapter for VW/AUDI-2+2
Cigarette Lighter
MaxiVCI V100
Lighter Fuse
Soft Cloth
Mini USB Cable
User Manual
Packing List
Carrying Case
Quick Reference Guide
 Product Display
[keywords]MS906BT,Autel MS906BT,Autel Maxisys MS906BT,OBD2 TOOLS,Diagnostic tool,scanner OBD2,bluetooth scan tools
Shipping
Free shipping to America and Canada without any tax. All of our orders are processed and shipped out within 24 hours. After the order is shipped out and received by the carrier, we will update you with a tracking code with which you can follow your package and see the remaining shipping time. We have two warehouses in the US. We will ship your order out from the warehouse wherever is closest to you. Usually, once your package has been picked up by carrier, it will be delivered within 5-7 business days.
Returns
If for any reason you are not completely satisfied with your purchase from diagmart.com or the product does not meet your perspectation, simply return it within 30 calendar days from the date you received it with the original packaging, along with your original purchase receipt , and we will gladly give you a refund.
Return Instructions
If you would like to apply for a return and refund, please contact us within 30 calendar days of receiving your product(s).
1. Contact us at sales@diagmart.com using the email address you purchased on Diagmart Online Store, and then provide the following information: Order Number: Return Product Name & Quantity Return Reason Images or Videos of Products and Intact Packaging We will process your return and refund application within one business day after receiving your email.
2. Package and ship your item. Include all items from your original shipment, including devices, accessories and documents.
Refund Policy
1. Item is Defective or Not Able to Meet Perspectation When the items you receive have quality problems, you can return it and we will refund to you fully. If you order the wrong products, please send the whole package back to us, we will refund your money. If you think the product does not meet your perspectation, you can return it and we will refund you fully.
2. Item is Out of Stock If the product you ordered is out of stock, we will send email to check if you want to exchange or get refund.
3. Item is Not Received Usually, we will provide tracking number and tracking link timely. If you don't get item for a long time, please contact us timely. We will confirm with the couriers and get back to you ASAP. If product gets lost during transportation, we will arrange replacement for you and bear the shipping cost by ourselves. Please contact us if you need more information.
One-Year Limited Warranty Policy
DiagMart offers a one (1) year limited warranty on all products. This Warranty is valid and enforceable only if you purchased a Product from diagmart.com.
Coverage: This Warranty is your exclusive remedy for defective workmanship or materials in your product.
How To Start a Warranty Claim.
To get a Warranty claim started:
1. Contact Customer Support.
If you need to cliam your warranty, contact us by email. Please have your order number, and your proof of purchase handy.
2. Prepare your Product for Shipment(if needed).
Pack your Product in the shipping materials (e.g., a shipping box or shipping label) we provide you to deliver your Product back to us. Once we receive your Product, we'll determine if it has a defect or malfunction covered by our Warranty.
If we replace your Product, we won't transfer any content or data from your original Product to your replacement Product. You are able to restore the data once you register your replacement Product with your Autel ID account.
Warranty Service:
If you start a warranty claim and we confirm that your product does not perform according to its Warranted Functionality, we'll replace, repair or refund it. If we replace or repair it, we'll make sure it performs substantially in accordance to our Warranted Functionality.
Transfer:
This Warranty is solely for you as the end-user of your Product. You cannot assign or transfer this Warranty to anyone, including a subsequent purchaser, friend, or family member.
Items Outside of this Warranty:
1. Products not purchased from diagmart.com
2. Misuse of Products, which includes (a) damage to the Product or loss of the Product resulting from an accident, theft, improper storage, misuse or abuse and mishandling, ect.
Q:Where are my orders shipped from?

A:Your order will be shipped from California or New York. If you want it to be shipped from a specific place, please let us know in advanced.

Q: If the one year free update expires, will it stop working?

A:You can still use your tool as usual even the one year update expires. It will not impact the normal usage of the tool. But, if you need the newest vehicle covrage, it's better to update.

Q: How do I know wether this tool cover the vehicles I want?

A:Generally, our tools are compatible with all the OBD2 vehicles, but functions may differ depending on vehicle makes and models. Please let us contact us and provide the VIN and vehicle make and model so that we can tell you the functions it supports.

Q: Can I return the item if I realize that it does not fit my purpose?

A:Yes, you can return the item within 30 days from the date you receive the it.
Autel Maxisys MS906BT Kit OBD2 Scanner Complete Automotive Diagnostic System with Advanced ECU Coding, +TS501 Kit same as MS906TS
VERY good for the price
I'm a Mobile Mechanic, and do a fair amount of diagnostics. This tool enables me to do them faster than I could with my old Autel 803. The methods for some features take awhile to figure out (fuel trim live data, etc) is a little different from what I am used to "the PIDs are in the eOBD Generic section, rather than the OEM section", but once I got past that, it became extremely useful. This tool literally paid for itself in a few weeks. I love the Ford Power Balance Test, and use it almost weekly while riding with customers, and reproducing issues. It also saves me time when doing calibrations. I love the large touch-screen, and the ability to carry it to a customer while it is reading live data, to explain what I'm seeing.
I've used it for years.
It's a great scanner. I have used it a lot. I finally have my own personal one now. I registered it on Autels website no problem. The seller is a good source for autel products.
Best tool for price/function
This is an exceptional tool when compared to price and function. I've used several big name scanners from Snapon and Mac as well as oem such as Witech. This tool has numerous vehicle coverage and functions. You're able to perform many bidirectional test as well as reset maintenance options. Also, it reads the majority of PIDS on the vehicle. That in itself is worth the price. Overall I'm very pleased and impressed with this product so far. Autel has done an exceptional job.