---
Autel MaxiSys MS906BT
Autel Maxisys MS906BT is one of the best Profesional Automotive Diagnostic Tools in the market for technicians and professional mechanics.
Based on the Android operating system, Exynos 6-core processor and Bluetooth MaxiVCI, MS906BT featured with the best possible coverage of OE-level all system diagnostics and ECU coding capability.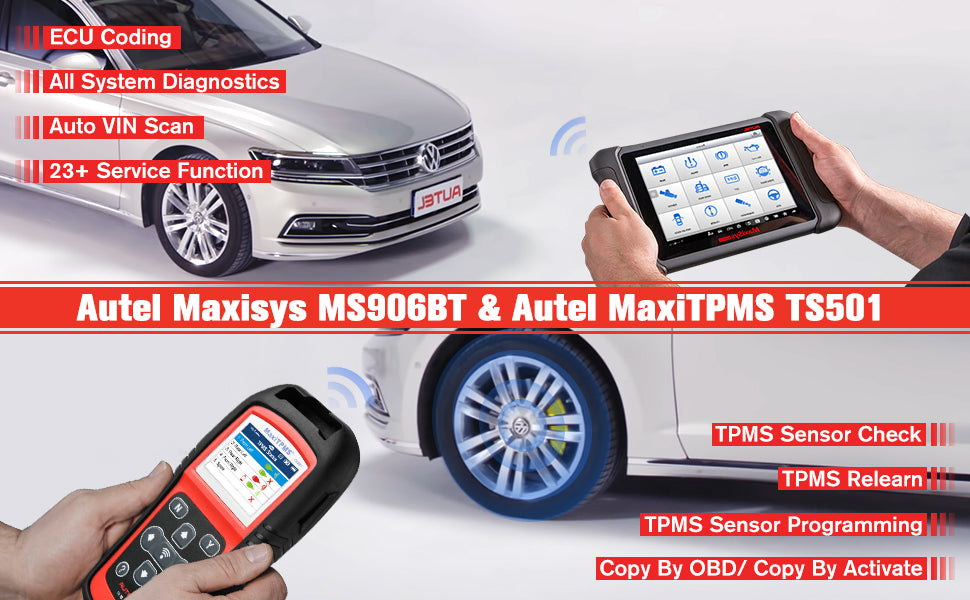 Wireless all modules OE-level OBD2 diagnostic:
Connecting to the vehicle through the VCI Bluetooth device, the ms906bt scanner can access all available modules and perform OE-level OBD2 diagnostic tasks. That includes reading/erasing codes, live data, freeze frame data, active tests, ECU information retrieve & coding, matching, adaptation, data logging, ABS Bleeding, Oil Reset, TPMS Programming, and so much more.
Additional, The Smart AutoVIN technology makes it so easy to identify a car and perform more service like:
Oil Reset: Reset service mileage & service intervals after engine oil is changed.
EPB Service: Resetting brakes after disc or pad replacement and etc.
TPMS Relearn: Quickly look up the tire sensor IDs from vehicle's ECU and perform TPMS Relearn.
SAS Calibration: Adaptation of the sensor to the angular position of the steering wheel.
DPF Regeneration: Clear the blockage through continuous burning of the particulate matter captured in the DPF filter and turn off DPF light.
ABS/SRS Services: Perform various active/functional tests to check ABS and SRS (Airbag) systems like ABS Brake Bleeding.

More Highlights of MS906BT
Bi-directional control
This service enables bi-directional control of the ECM so that the diagnostic tool is able to transmit control commands to operate the vehicle systems. This function is useful in determining whether the ECM responds to command well.
Advanced ECU Coding
MS906BT scanner comes with advanced ECU Coding capability, which can upgrade the ECU when a new version is issued by the manufacturer.
Different from ECU programming, ECU programming can reprogram the ECU with whatever data you want.
50 m Bluetooth Diagnostics
The working range for BT Diagnostics Operations Establishing Vehicle Communication is about 164 feet (about 50 m); this means you can perform vehicle diagnosis freely around the workshop with greater convenience.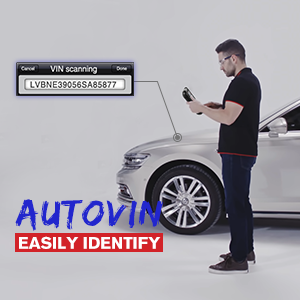 Auto VIN Scan
The MaxiSys MS906BT scanner tool features the latest VIN-based Auto VIN Scan function to identify vehicles in just one touch, which allows the technician to quickly detect vehicles, scan all the diagnosable ECUs on every vehicle and run diagnostics on the selected system
Advanced Hardware Support
8-Megapixel Rear Camera & 32G memory, Android OS and Exynos 6-core processor with amazing multitasking abilities. built-in 1000Amh battery allows you up to 14 hours of continuous use without charging.
Upgrade Ver. of MS906 DS808 MK808
As upgrade Ver. of MS906 DS808 MK808, MS906BT has the same functions as MS908 but is more portable and has twice of MS906's battery life and supports oscilloscope and digital inspection camera add-ons while MS906 does not.
Autel MS906BT vehicle list

MS906BT has the most extensive complete system coverage for more than 80 US, Asian and European makes and models. include BMW, Chrysler, Dodge, JEEP, Benz, Ford, VW, Fiat, Volvo, Ferrari, Toyota, Mazda, Land Rover, Porsche, etc 80+ Vehicle Makes. Detailed coverage list (select MS906BT from the drop-down).
With 9 OBDI adapters included in the package, MaxiSys MS906BT has much wider vehicle coverage than other scan tools in the market
This Maxisys MS906BT comes with one-year free Update & Warranty, after that we can provide you update service. of course, You can still use the ms906bt scanner when the free updates period expires, but Update will smoother.
Relate: Maxisys MS906 VS MS906BT VS MS906TS Comparison
Autel Maxisys MS906BT Specifications:
Operating System
Android™ 4.4.2, KitKat
Processor
Samsung Exynos T5260 6-Core Processor (1.3 GHz quad-core ARM Cortex-A7 + 1.7 GHz dual-core ARM Cortex-A15)
Memory
2 GB RAM & 32 GB ROM
Display
8.0" LED capacitive touch screen with 1024x768P resolution
Connectivity
Wi-Fi (802.11 b/g/n) USB: 2.0, Mini USB 2.0
Wireless BT V2.1+EDR, Class1, HDMI 1.4a
SD Card (support up to 32 GB)
Camera (rear)
Built-in 8-Megapixel Rear Camera
Autofocus & Flashlight
Sensors
Gravity Accelerometer
Ambient Light Sensor (ALS)
Audio Input/Output
Microphone
Single Speaker
3-Band 3.5 mm stereo/standard headset jack
Power and Battery
10,000 mAh 3.7 V lithium-polymer battery 
(up to 14 hours of continuous operation)
Charging via 12 V AC/DC power supply
Input Voltage
12 V (9-35 V)
Power Consumption
5 W
Operating Temperature
-10 to 55°C (14 to 131°F)
Storage Temperature
-20 to 70°C (-4 to 158°F)
Dimension
(W x H x D) 270.8 mm (10.0") x 176.0 mm (6.9") x 36.0 mm (1.4")
Weight
NW: 1.05 kg (2.3lb.)
Downloads
Autel MS906BT User Manual
Autel MS906BT Package List:
Maxisys MS906BT main unit
AC/DC Adapter (12V)
Adapter for Chrysler-16 (America Only)
Adapter for GM/Daewoo-12
Adapter for Benz-38
Adapter for Mitsubishi/Hyundai-12+16
Adapter for Honda-3
Adapter for BMW-20
Adapter for Kia-20
Adapter for Nissan-14
Adapter for VW/AUDI-2+2
Cigarette Lighter
MaxiVCI V100
Lighter Fuse
Soft Cloth
Mini USB Cable
User Manual
Packing List
Carrying Case
Quick Reference Guide
---