Autel MaxiCOM MK908 Professional Diagnostic Scanner, 2022 Auto Sacn Tool With ECU Coding, VAG Guided Functions, Wireless Full System, 30+ Maintenance Service
Free Shipping
Free standard shipping on orders
Hassle Free Returns
30-Day money back guarantee
1-Year Free Warranty
Worry-free purchase backed by 365 days full
Free Shipping
Free standard shipping on orders
Hassle Free Returns
30-Day money back guarantee
1-Year Free Warranty
Worry-free purchase backed by 365 days full
Autel MaxiCOM MK908
The Autel MK908 is a top-of-the-line scan tool that does everything you could ever dream of.
As an advanced version of MS908, Autel MaxiCom MK908 wireless professional scan tool is one of the most reliable automotive diagnostic scanners of Autel.
Utilizing the powerful A7 quad-core 1.30GHz processor,and a 10.1-inch capacities touch screen, combined with the best possible coverage of OE-level diagnostics and 30+ maintenance services,  based on the revolutionary multitask-capable Android Operating system, the MaxiCOM MK908 can help you diagnose malfunctions, read and clear fault codes, and handle customer complaints easily, quickly and efficiently.
6 Top Reasons to Buy Autel Maxicom MK908
Multiple languages supported

 

-

 

English, Spanish, French, German, Polish, Italian, Japanese, Korean, Dutch, Portuguese, Swedish, Russian.
NO IP Limit- MK908 can be used everywhere without IP limit.

ADAS Function for Safer Driving

-

 

MK908 is equipped with

ADAS function to help

 drivers either through passive alerts or by active control of the vehicle to drive safer and with greater awareness and precision.
All System Diagnosis- MK908 scanner can access all available vehicle modules and perform OE-Level diagnosis on all car systems.
Wireless Connection- With the VCI dongle, data transmission between the vehicle and the MK908 could be wireless.

Free Software Update

- Diagmart provides a one-year free software update online for the Autel MK908.
AUTEL MK908 ADVANTAGES:
All Systems OE-Level Diagnosis 
--- Diagnosis Expert
The Autel MK908 scanner can access all available vehicle modules such as PCM, ECM, EPS, PDM, BCM, TPM, SCCM and perform OE-Level diagnosis on all car systems like ABS, SRS, Engine, Transmission, Brake System, etc. It can also perform OE-Level diagnosis to read/clear fault codes, perform active tests, matchings, adaptations, etc. Moreover, it gives you the ability to live stream data from various sensors and freeze-frame that data for easier troubleshooting.

Generic OBD II operations for retrieving OBD2 vehicle diagnostic information;
- Read Codes - displays detailed information of DTC records retrieved from the vehicle control module.
- Erase Codes - erases DTC records and other data from the ECM.
- Live Data - retrieves and displays live data and parameters from the vehicle's ECU.
- And so on …
Advanced ECU Coding Capability
--- A High-End ScanTool  
Auel MK908 ECU coding function allows you to establish a data link to the electronic control system of the test vehicle via the VCI device for vehicle diagnosis, service or programming. You can operate functional tests, retrieve vehicle diagnostic information such as trouble codes, event codes and live data, and perform ECU reprogramming, for various vehicle control systems, such as engine, transmission, ABS and more.
What's the difference between Coding and Reprogramming:
Coding - also known as Teach-in Program, Component Adaptation or something similar, is used to reprogram adaptive data for vehicle control modules after repairs or replacements of vehicle parts.
Reprogramming Operations - downloads a new version of software subscription from the online server database through internet access (this procedure is done automatically when the MaxiSys display tablet is connected to the internet, so there is no need to check for software subscriptions yourself), and reprograms the newest software version to the vehicle's ECU
30+ Maintenance Services
--- Got All You Need
MaxiCOM MK908 professional OBD2 scan tool boats over 30 maintenance services such as ABS Auto Bleed( also for VAG cars), SRS Reset, SAS Calibration, Oil Reset, EPB, BMS, injector coding, DPF, Throttle Body to meet various car maintenance needs of dealerships/ home mechanics.
1) Oil reset to close the oil service light and reset service mileage & service interval after you replace engine oil;
2) EPB reset to brake reset the new electronic parking brake for braking wheels safely again;
3) SAS reset to clear memories of the previous steering angle sensor and store the replaced one;
4) DPF service supports forced fuel injector regeneration and adjustment;
5) BMS service to reset battery management system;
6) ABS brake bleeding to get a firm brake pad after air exhaustion;
7) TPMS service to relearn TPMS sensors so that new sensors can be recognized by ECU;
8) IMMO service enables you to disable the lost vehicle keys and program the replacement key fob. It could be one replacement key fob or more, depending on your needs.
Full Bi-Directional Control/Active Tests
Autel MK908 allows you to perform various bi-directional tests to check the operating conditions of both the Anti-lock Braking System and the Supplemental Restraint System, such as Automated Bleeding, Pump Motor Test and checking Module information, etc. And it enables bi-directional control of the ECM so that the MK908 is able to transmit control commands to operate the vehicle systems. This function is useful in determining whether the ECM responds to command well.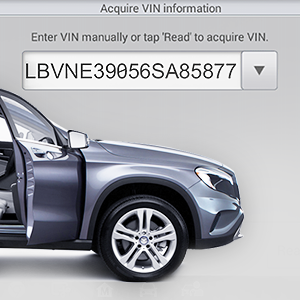 Smart Auto VIN technolog
Autel MK908 diagnostic scan tool features the latest VIN-based Auto VIN Technology that allows professionals and home mechanics to identify vehicle brand, year, make, model and etc at one touch.
Autel OBD II Adapters
Autel MK908 comes with OBD II adapters for more extensive vehicles coverage.  The most common adapters are shown below:
Benz-38

Chrysler-16, BMW-20

Kia-20, Nissan-14

GM/Daewoo-12

Honda-3, VW/Audi-2+2

Mitsubishi/Hyund ai-12+16
Wireless Bluetooth Connection
The Autel MaxiCOM MK908 works wirelessly from up to 210 feet(65m) away. Whether you're working on the other side of the shop or in the driver's seat, this scan tool can handle it.
Key Fob Programming
The function allows you to program the replaced key fob once the original one was lost or non-functional. The MK908 acquires the vehicle VIN and anti-thief module info automatically, once the info has been gathered, you can erase or program all key fobs as you need.
Autel MaxiCOM MK908 Vehicle Coverage:
for Chrysler, for Dodge, for Ford, for GM, for Jeep, for Abarth, for Alfa, for Citroen, for Fiat, for Lancia, for Opel, for Peugeot, for Porsche, for Renault, for Saab, for Vauxhall, for Volvo, for Aston Martin, for Audi, for Bentley, for Benz, for Sprinter, for BMW, for Bugatti, for Ferrari, for Jaguar, for Lamborghini, for Land Rover, for Maserati, forMaybach, for Mini, for Rolls-Royce, for Seat, for Skoda, for Smart, for VW, for VW CV, for Dacia, for Ford EU, for LT3, for Acura, for Daewoo, for Daihatsu, for Honda, for Hyundai, for Hyundai CV, for Infiniti, for Kia, for Lexus, for Maruti Suzuki, for Mazda, for Mitsubishi, for Nissan, for Nissan GTR, for Samsung, for Scion, for SsangYong, for Subaru, for Suzuki, for Toyota, for Isuzu, for Mahindra, for Perodua, for Proton, for TATA, for HINO, for UD, for Fuso.
Protocols Supported:
ISO 9142-2, ISO 14230-2, ISO 15765-4, K/L-Line, Flashing Code, SAE-J1850 VPW, SAE-J1850 PWM, CAN ISO 11898, High-speed, Middle speed, Low speed and Singlewide CAN, GM UART, UART Echo Byte Protocol, Honda Diag-H Protocol, TP 2.0, TP 1.6, SAE J1939, SAE J1708, Fault-Tolerant CAN
Autel Maxicom MK908 Add-On Functions:
To better serve the users, the diagnostic tool is equipped with a rich array of features and functions in addition to the Diagnostic and Service functions, including Remote Desk, MaxiFix, Shop Manager, etc.
Remote Desk:

 

With the simple, fast and secure remote control interface, you can receive ad-hoc remote support from Autel' s support center, colleagues, or friends, by allowing them to control your MaxiCOM tablet on their PC via the TeamViewer software.
MaxiFix:

 

This is an additional feature in the cloud that enables users to network and access a database of procedures, repair and diagnostic tools. You are able to interact with fellow technicians and share knowledge via MaxiFix.
Shop Manager: It allows you to well manage the workshop information with 3 available functions within this application: Vehicle History, Workshop Information, and Customer Manager. Intuitively look up the summarized details.
Academy: It provides lots of technical tutorial training videos for beginners.
AUTEL MK908 Features:
• Powerful A7 quad-core 1.30GHz processor
• 10.1-inch capacitive touch screen
• Open source Android Operating System for fast boot-up and multitasking
• Easy and intuitive navigation makes finding what you need simple and fast
• Complete capabilities for codes, live data, actuation tests, adaptations and ECU coding
• Displays live data in text, graph, analog and digital gauge for easy data review and analysis
• Configures display options, sets triggers, records and playbacks results with one touch
• Records and playbacks live data to pinpoint troubles of sensors and components
• Cloud-based Data Manager saves customer and vehicle records, scanner data and technician notes
• Remote technical support for convenient demonstration, training and increased customer satisfaction
• Prints out recorded data anytime and anywhere with Wi-Fi technology
• Automatic Wi-Fi updates available in new software releases


Autel MK908 Specification:
Operating System
AndroidTM 4.4.2, KitKat
Processor
Samsung Exynos hexa-core Processor
(1.3GHz Quad-core ARM Cortex-A7 + 1.7GHz Dual-core ARM Cortex-A15)
Memory
2GB RAM & 64GB On-board Memory
Display
10.1-inch LED screen with 1920x1200 resolutions
Connectivity
Wi-Fi (802.11 a/b/g/n/ac)
USB: 2.0
BT v.2.1 + EDR
SD Card (Support up to 32GB)
Camera (rear)
8.0 Megapixel, AF with Flashlight
Sensors
Gravity Accelerometer, Ambient Light Sensor (ALS)
Input Voltage
12 V (9-24 V)
Power Consumption
6.5 W
Operating Temp.
0 to 50°C (32 to 122°F)
Storage Temp.
-20 to 60°C (-4 to 140°F)
Housing
Strong plastic housing with protective rubber boot
Dimensions (WxHxD)
312mm (12.28") x 208mm (8.18") x 36mm (1.41")
Weight (NW)
1.48kg (3.26 lb)
warranty
1 Year
Updates
1 Year free updates online
Language Support
English, Spanish, French, German, Polish, Italian, Japanese, Dutch, Portuguese, Russian
Autel MK908 Packing List:
MaxiCOM MK908 Unit
Bluetooth Diagnostic Interface
AC/DC Adapter (12V)
Adapter for Benz-14 (Europe Only)
Adapter for Chrysler-16 (America Only)
User Manual
Carrying Case
Quick Reference Guide
Lighter Fuse
Main cable
Adapter for GM/Daewoo-12
Adapter for Audi-2+2
Adapter for BMW-20
Adapter for Benz-38
Adapter for Kia-20
Adapter for Mitsubishi/Hyundai-12+16
Adapter for Nissan-14
Adapter for Honda-3
USB Cable
Cigarette Lighter
Soft Cloth
Packing List
Mini USB Cable
Shipping
Free shipping to America and Canada without any tax. All of our orders are processed and shipped out within 24 hours. After the order is shipped out and received by the carrier, we will update you with a tracking code with which you can follow your package and see the remaining shipping time. We have two warehouses in the US. We will ship your order out from the warehouse wherever is closest to you. Usually, once your package has been picked up by carrier, it will be delivered within 5-7 business days.
Returns
If for any reason you are not completely satisfied with your purchase from diagmart.com or the product does not meet your perspectation, simply return it within 30 calendar days from the date you received it with the original packaging, along with your original purchase receipt , and we will gladly give you a refund.
Return Instructions
If you would like to apply for a return and refund, please contact us within 30 calendar days of receiving your product(s).
1. Contact us at sales@diagmart.com using the email address you purchased on Diagmart Online Store, and then provide the following information: Order Number: Return Product Name & Quantity Return Reason Images or Videos of Products and Intact Packaging We will process your return and refund application within one business day after receiving your email.
2. Package and ship your item. Include all items from your original shipment, including devices, accessories and documents.
Refund Policy
1. Item is Defective or Not Able to Meet Perspectation
When the items you receive have quality problems, you can return it and we will refund to you fully.
If you order the wrong products, please send the whole package back to us, we will refund your money.
If you think the product does not meet your perspectation, you can return it and we will refund you fully.
2. Item is Out of Stock
If the product you ordered is out of stock, we will send email to check if you want to exchange or get refund.
3. Item is Not Received
Usually, we will provide tracking number and tracking link timely. If you don't get item for a long time, please contact us timely. We will confirm with the couriers and get back to you ASAP.
If product gets lost during transportation, we will arrange replacement for you and bear the shipping cost by ourselves. Please contact us if you need more information.
One-Year Limited Warranty Policy
DiagMart offers a one (1) year limited warranty on all products. This Warranty is valid and enforceable only if you purchased a Product from diagmart.com.
Coverage: This Warranty is your exclusive remedy for defective workmanship or materials in your product.
How To Start a Warranty Claim.
To get a Warranty claim started:
① Contact Customer Support.
If you need to cliam your warranty, contact us by email. Please have your order number, and your proof of purchase handy.
② Prepare your Product for Shipment(if needed).
Pack your Product in the shipping materials (e.g., a shipping box or shipping label) we provide you to deliver your Product back to us. Once we receive your Product, we'll determine if it has a defect or malfunction covered by our Warranty.
If we replace your Product, we won't transfer any content or data from your original Product to your replacement Product. You are able to restore the data once you register your replacement Product with your Autel ID account.
Warranty Service:
If you start a warranty claim and we confirm that your product does not perform according to its Warranted Functionality, we'll replace, repair or refund it. If we replace or repair it, we'll make sure it performs substantially in accordance to our Warranted Functionality.
Items Outside of this Warranty:
1. Products not purchased from diagmart.com
2. Misuse of Products, which includes (a) damage to the Product or loss of the Product resulting from an accident, theft, improper storage, misuse or abuse and mishandling, ect.
Q:Where are my orders shipped from?

A:Your order will be shipped from California or New York. If you want it to be shipped from a specific place, please let us know in advanced.

Q: If the one year free update expires, will it stop working?

A:You can still use your tool as usual even the one year update expires. It will not impact the normal usage of the tool. But, if you need the newest vehicle covrage, it's better to update.

Q: How do I know wether this tool cover the vehicles I want?

A:Generally, our tools are compatible with all the OBD2 vehicles, but functions may differ depending on vehicle makes and models. Please let us contact us and provide the VIN and vehicle make and model so that we can tell you the functions it supports.

Q: Can I return the item if I realize that it does not fit my purpose?

A:Yes, you can return the item within 30 days from the date you receive the it.
diagmart.com is a site of UUC Technology Co., Ltd, an Autel authorized online agent. For more details about DIAGMART, please check "About Us" .
DIAGMART --- A Reliable Autel Agent You Can Trust

The Advantages For Software Update:
Take advantage of new features and functions as they roll out from Autel.
Expand coverage for the latest vehicle makes and models.
Reduce out-of-pocket device repair costs as well as shop downtime.
How To Purchase And How Do We process Your Order?
Choose the Update service you needed and Checkout. Once finish your payment, please send your Tablet S/N number and your order number to our email "sales@diagmart.com" . We will authorize your update online and send you a notification. And then, you are able to update the software on the device.
Why Should You Buy From Us?
| | | |
| --- | --- | --- |
| Product | Our Prices | Market Prices |
| MK908 Update | $599 | $999 |
| MS Ultra Update | $899 | $1459 |
| MK906BT Update | $375 | $679 |
| MS919 Update | $810 | $1299 |
| MS909 Update | $729 | $1269 |
| MS908SP Update | $659 | $1,295 |
| MaxiSys Elite Update | $609 | $1,295 |
| MaxiSys CV Update | $989 | $1,295 |
| MS906TS Update | $599 | $795 |
| MS906BT Update | $389 | $695 |
| MS906 Update | $299 | $495 |
| MK908P Update | $639 | $899 |
| DS808/DS808K Update | $299 | $350 |
| MS908 Update | $719 | $999 |
| TS608 Update | $499 | $600 |
| MK808BT Update | $110 | $299 |
| MX808 Update | $80 | $125 |
| MK808TS Update | $210 | $295 |
| MP808K Update | $359 | $439 |
| IM608 Update | $609 | $1299 |
| IM508 Update | $259 | $599 |
So far everything is sweet
Everything cool. I used it on transmission work for bmw, key programming for Nissan pathfinder, steering angle sensor recalibration and so on. Very nice scan tool. At some point even beat my shop snap on scan tool.
Hi. Thanks for the review!
Great machine
Great machine use every day for Diagnostics on cars
Does exactly what it supposed to do!!!
Does exactly what it is supposed to do.! Easy to use. It gives you a code and you love it up in book ( or dvd) . We used it on our Azteks and Sonoma. Very happy with my purchase.
Excellent large touchscreen scanner
Well, very impressed with the large touchscreen which is incredibly the largest I've ever purchased. very professional for BMW and Benz. An advanced diagnostic tool.