---
Autel MaxiCOM MK906BT
The MaxiCOM MK906BT Diagnostic Platform is an evolutionary smart solution for specialized automotive diagnosis. MK906BT comes with MaxiVCI V100 Bluetooth Box which can communicate with vehicles wirelessly. And it combined with the best possible coverage of OE-level diagnostics, and based on the revolutionary multitask-capable Android Operating system, the MaxiCOM organizes information with test instrumentation to help you diagnose symptoms, codes, and customer complaints easily, quickly and efficiently.
Autel MaxiCOM MK906BT Highlights:
Extensive complete system coverage for more than 80 US, Asian and European makes and models;
Complete capabilities for codes, live data, active test, ECU information, adaptation, matching, coding etc.
Auto VIN technology can automatically identify the vehicle's make, model, and year information;
Instant remote control tech support anytime, anywhere;
Cloud-based MaxiFix online community provides a vast database of diagnostic and repair tips and proven filed fixes;
Interactive Data Logging sessions enable direct contact with Autel Technical Support for first-hand troubleshooting of diagnostic bugs and errors;
One-stop multitasking designed for ideal management of workshop operations to keep all data files, customer info, and vehicle records well organized;
Convenient data management system for managing internal program applications and reviewing data.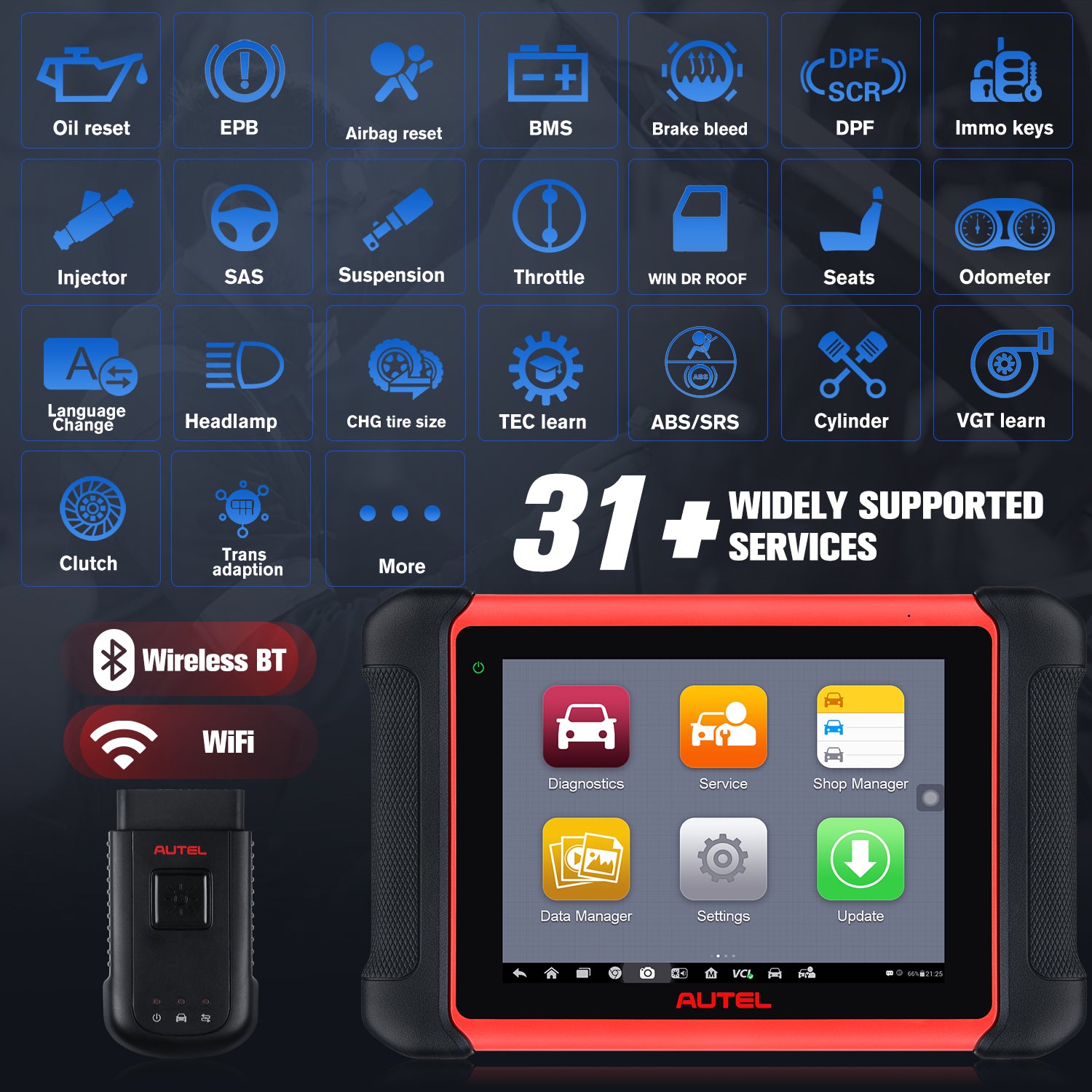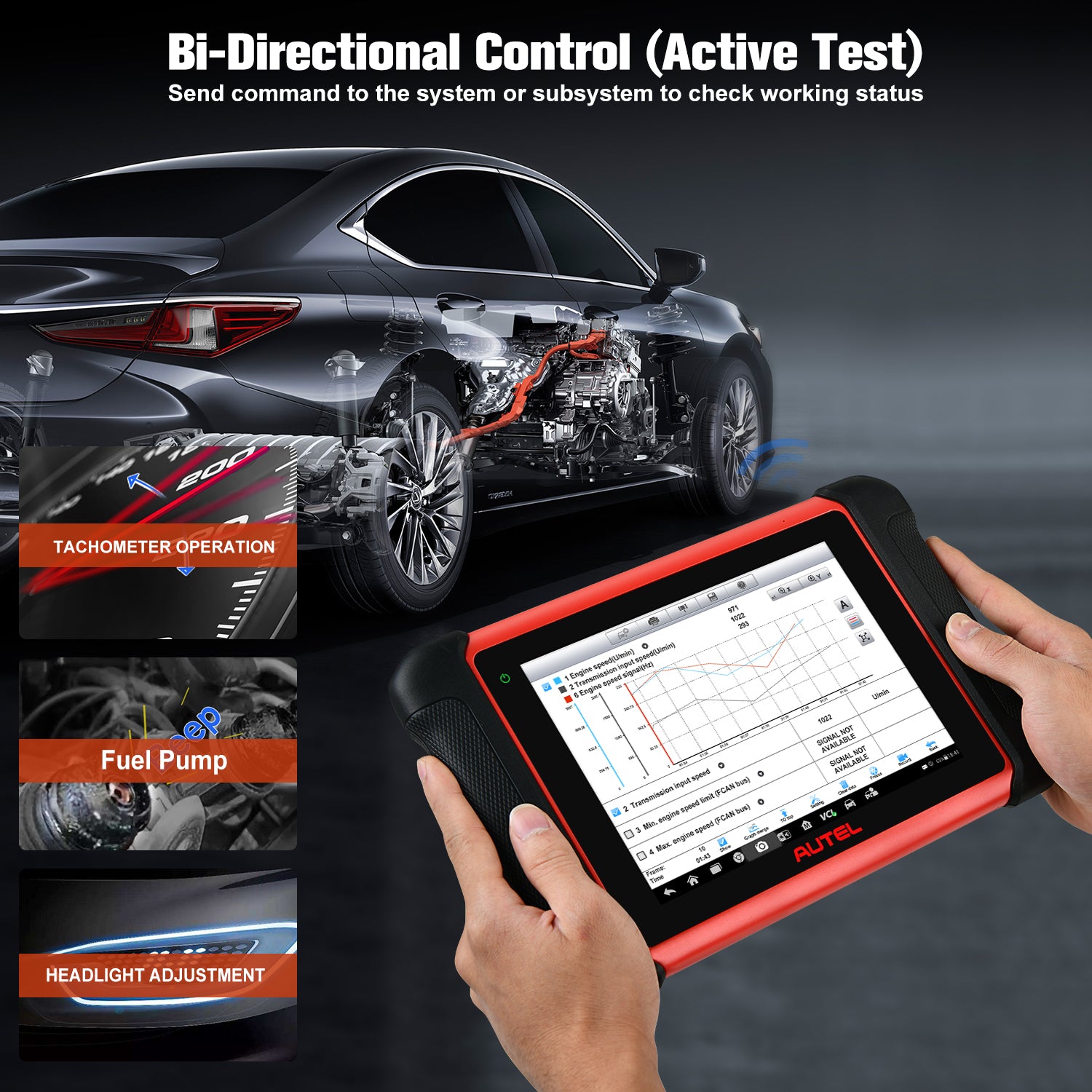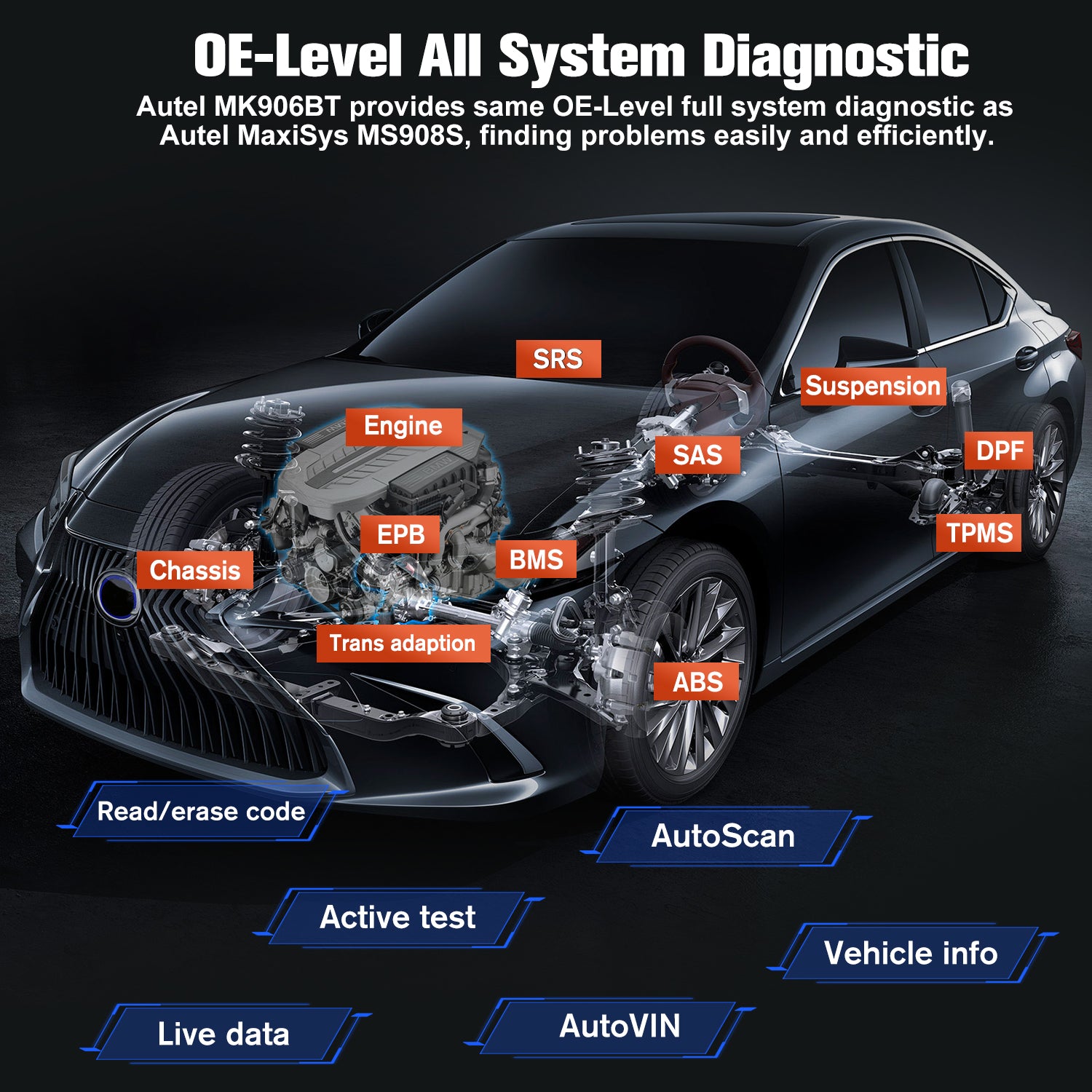 MK906BT Enhanced ECU Coding:
With the advanced ECU coding function, the MK906BT professional diagnostic scanner empowers you to establish full data links with electronic control units via VCI for vehicle diagnosis, repairs, or coding. It also features online coding and personalization for high-end vehicles:

1) Support online coding for BMW;
2) Support online coding, guided function, modifications for Volkswagen;
3) Support ECU coding, ECU online coding, and guided function of providing repair tips after
4) Reading DTCs for Porsche;
5) Support ECU online coding for Renault;
6) Support customized configuration for Toyota, Nissan, Peugeot, and more.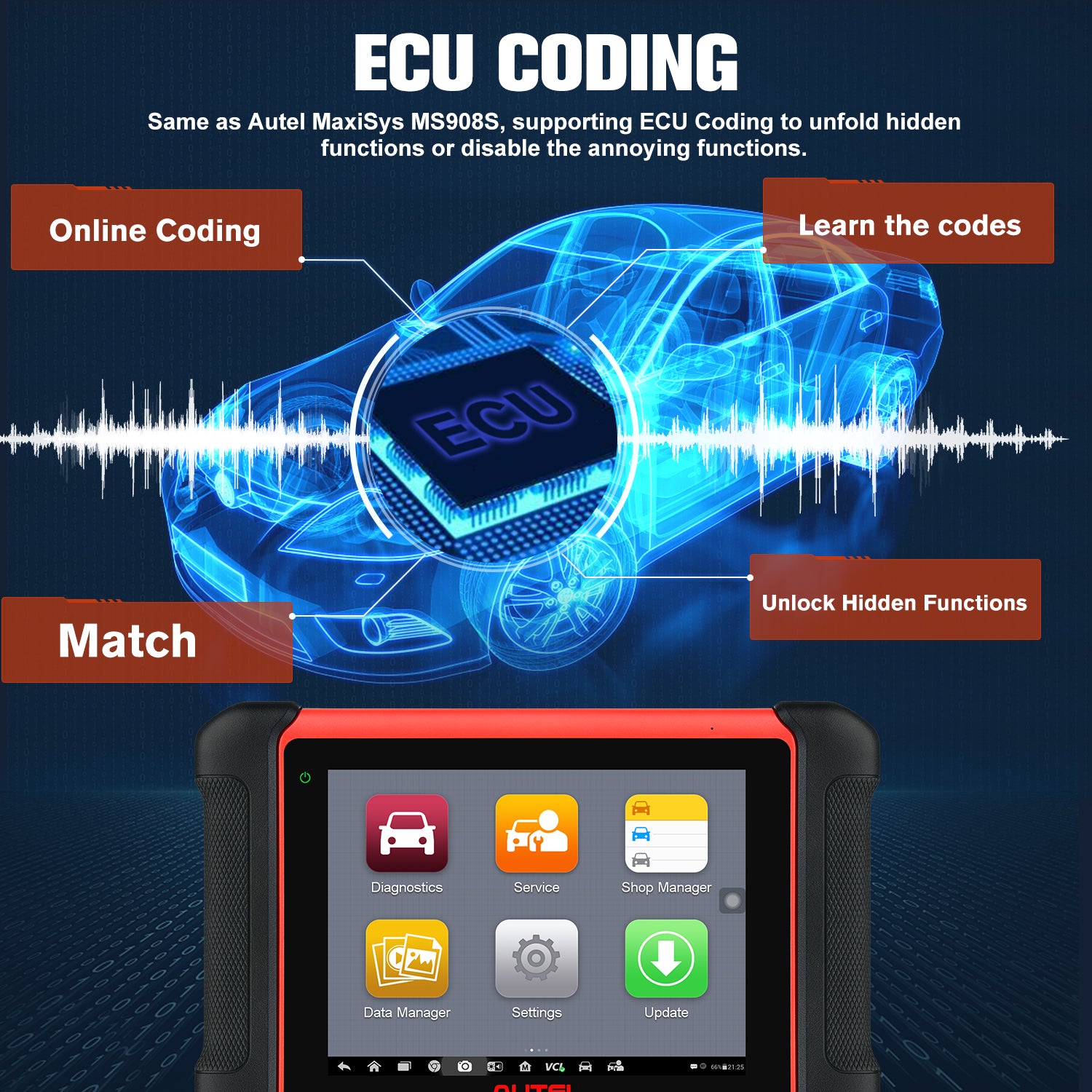 Autel MaxiCOM MK906BT Specifications:
Operating System: AndroidTM 4.4.2, KitKat
Processor: Samsung Exynos T5260 6-Core Processor  (1.3 GHz quad-core ARM Cortex-A7 + 1.7 GHz dual-core ARM Cortex-A15)
Memory: 2 GB RAM & 64 GB ROM
Display: 8.0 inch LED capacitive touch screen with 1024x768P resolution
Connectivity: Wi-Fi (802.11 b/g/n); USB: 2.0; Mini USB 2.0; Wireless BT V2.1+EDR, Class1; HDMI 1.4a
SD Card: (support up to 32GB)
Camera (rear): Rear-facing, 8.0 Megapixel, AF with Flashlight Sensors Gravity Accelerometer, Ambient Light Sensor (ALS)
Audio Input/Output: Microphone; Single Speakers; 3-Band 3.5 mm stereo/standard headset j
Power and Battery: 10,000 mAh 3.7 V lithium-polymer battery; Charging via 12 V AC/DC power supply
Input Voltage: 12 V (9-35 V)
Power Consumption: 5 W
Autel MK906BT Package Content:
1x MK906BT main unit
1x MaxiVCI V100
1x Lighter Fuse
1x Mini USB Cable
1x Cigarette Lighter
1x Soft Cloth
1x User Manual
1x Carrying Case
1x Quick Reference Guide
1x AC/DC Adapter (12V)
1x Adapter for Chrysler-16 (America Version Only)
1x Adapter for GM/Daewoo-12
1x Adapter for Benz-38
1x Adapter for Mitsubishi/Hyundai-12+16
1x Adapter for Honda-3
1x Adapter for BMW-20
1x Adapter for Kia-20
1x Adapter for Nissan-14
1x Adapter for VW/AUDI-2+2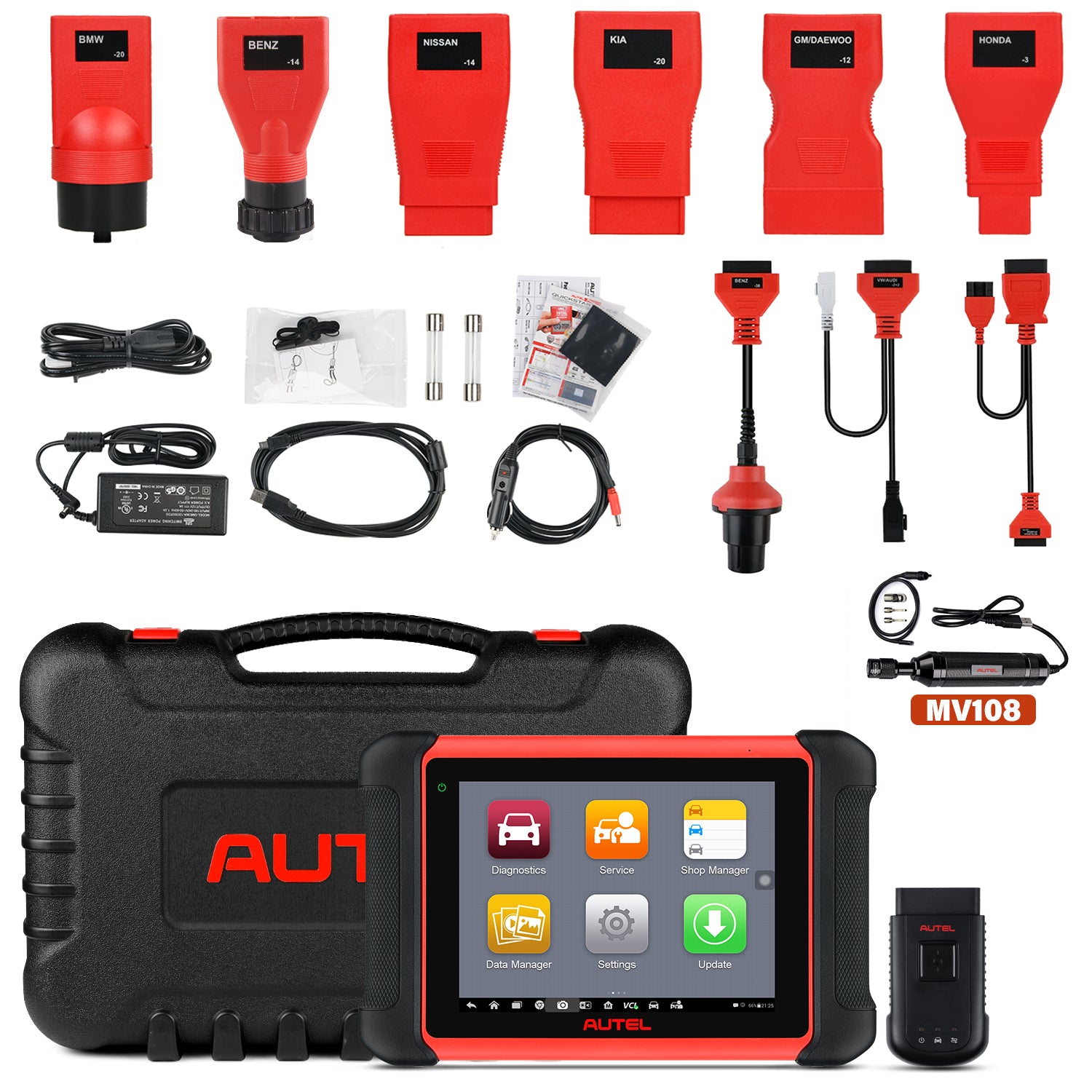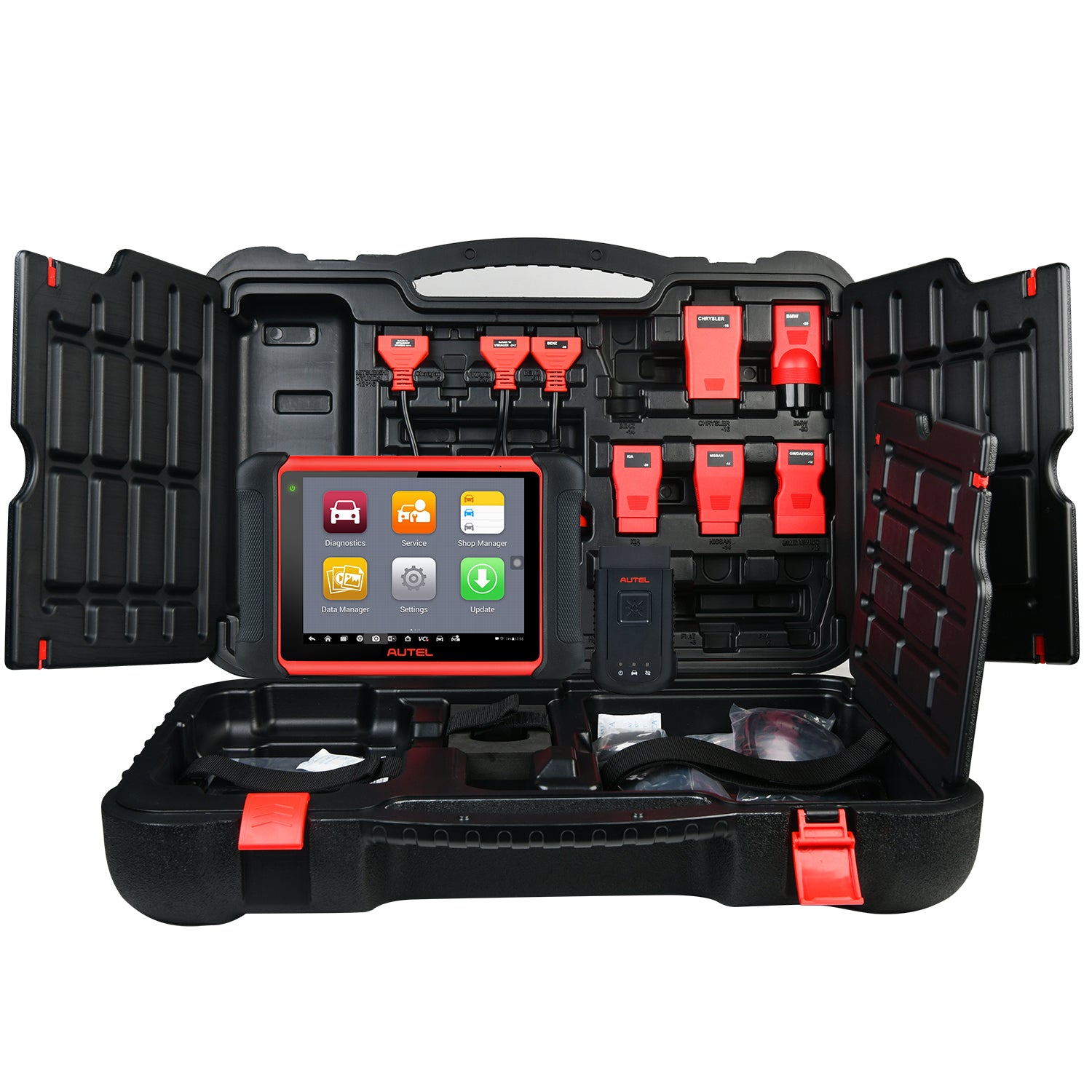 ---