Autel MaxiBAS BT608 Car Battery Tester Vehicle Battery & Electrical System Analyzer Circuit Tester
Fast Free Shipping
Delivery with UPS, USPS, FedEx
30-Day Return
30 Days from Date of Delivery
1-Year Free Warranty
1 YEAR from Date of Activation
Fast Free Shipping
Delivery with UPS, USPS, FedEx
30-Day Return
30 Days from Date of Delivery
1-Year Free Warranty
1 YEAR from Date of Activation
Autel MaxiBAS BT608
Autel MaxiBAS BT608 is a touchscreen Battery & Electrical System analyzer that applies Adaptive Conductance, an advanced battery analysis method that produces a more accurate examination of the battery's cold cranking ability and reserve capacity, vital to determining a battery's true health. The BT608 can display a quick health status of the existing battery, register a new battery and perform advanced battery and electrical system diagnostics. The BT608's VINscan function enables quick identification of the vehicle and battery specifications. Read/Clear codes on all available vehicles systems. Print or share customized reports via Wi-Fi or print test reports via the built-in thermal printer.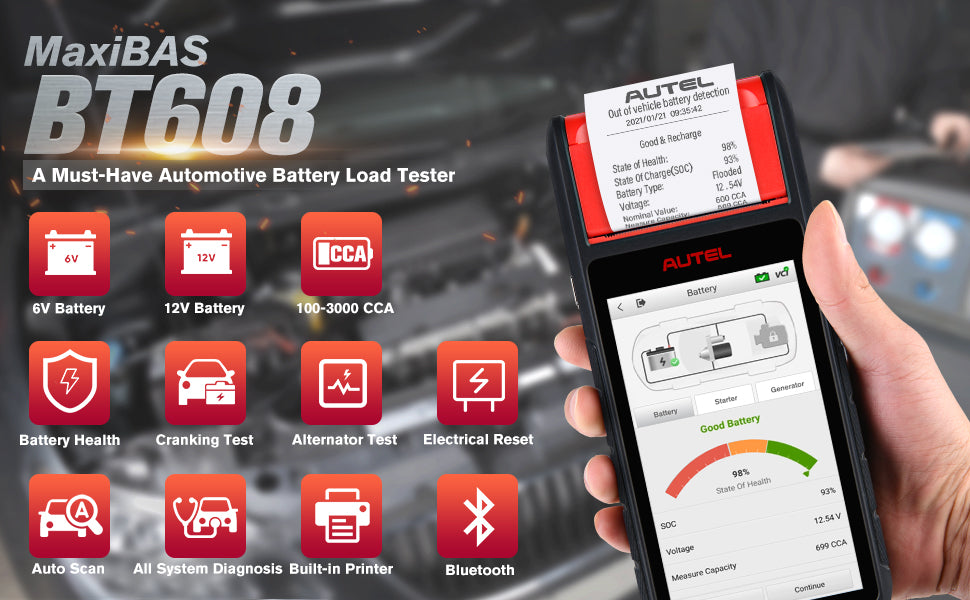 Autel MaxiBAS BT608 Features
Support in-vehicle and out-of-vehicle testing of passenger vehicle batteries
Test 6- and 12-volt batteries: 100 - 3000 CCA
Test 12- and 24-volt cranking/charging systems
Test Flooded, AGM, AGM Spiral, EFB and GEL batteries
Compatible with CCA, CA, SAE, EN, IEC, DIN, JIS and MCA
One-touch Battery registration
Quick display of battery specifications through battery barcode scan, Auto and manual VIN entry
Illustration instruction guides for battery positioning and testing
Print test reports via built-in thermal printer
Read and erase codes of all available systems
Why Choose Autel BT608?
State-Of-The-Art Auto Battery Test
Autel BT608 car load tester is designed to test 6V/12V Flooded, AGM, AGM Spiral, EFB and GEL batteries with CCA(100 to 3000 CCA), CA, SAE, EN, IEC, DIN, JIS and MCA standards. BT608 can test the battery state of health, offers illustration instruction guides for battery positioning and testing.
State of Charge: The amount of energy stored in the battery relative to its capacity.
Voltage: The difference in electric potential between the positive and the negative terminals of a battery.
Measure Capacity: Battery energy storage capacity measured in Cold Crank Amps.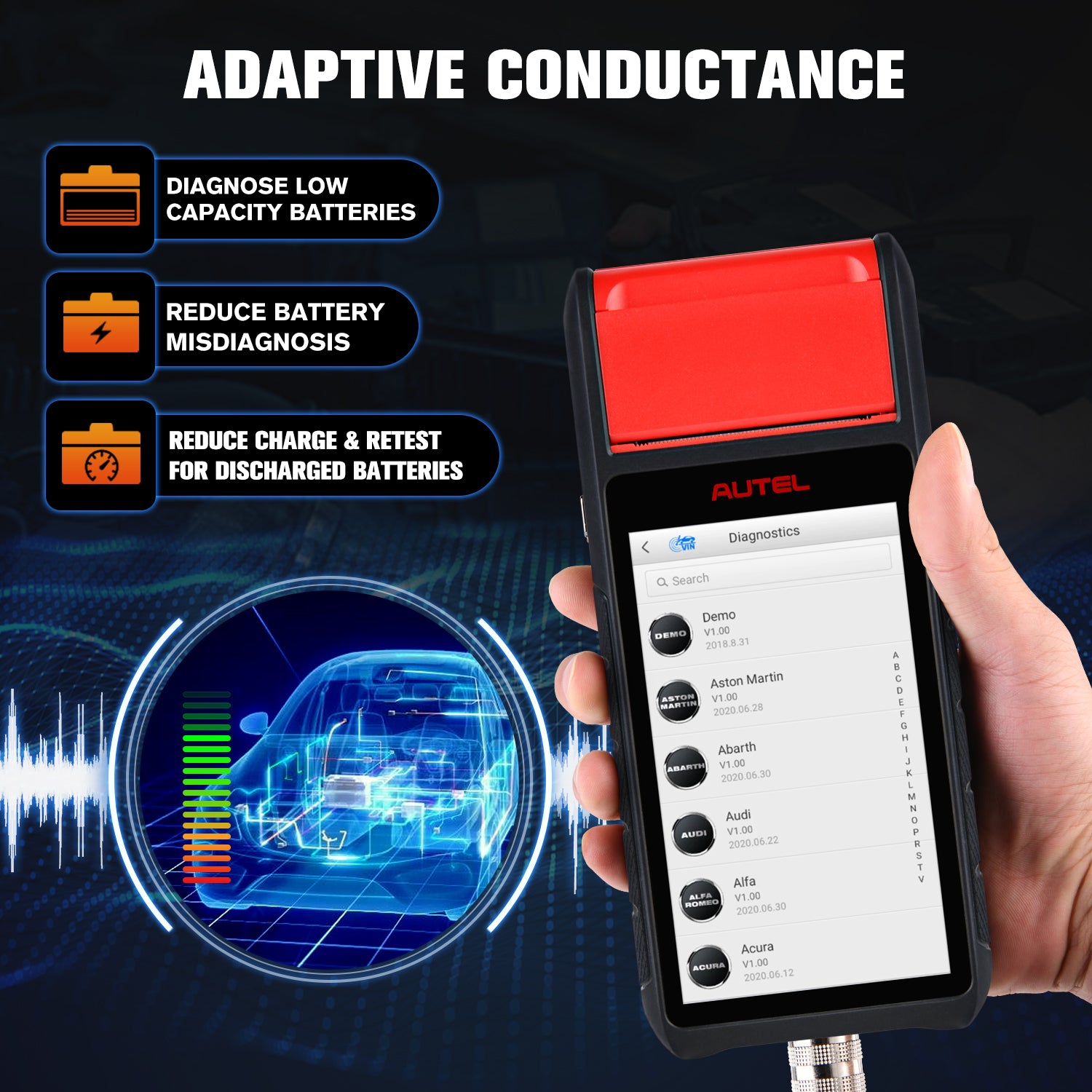 One-Touch Battery Replacement / Registration with Illustration Guides
BT608 can perform battery registration/replacement at a single touch of the screen. It offers illustration guides to show the whole battery replacement process.
After registration of the new battery, it can perform vehicle systems initialization to reset the components.
Re-Initialize Vehicle Systems to Make Them Work Properly Again
After battery replacement/registration, some vehicle systems may not work properly after a complete power loss. Autel MaciBAS BT608 battery test scanner comes with an "Electric Appliance Reset" feature to enable mechanics and DIYers to re-initialize or restore learned values critical to both safety and convenience-related vehicle systems like sunroof reset, lane-departure warning system, and Pre-Collision system and Emission Inspection and Maintenance program.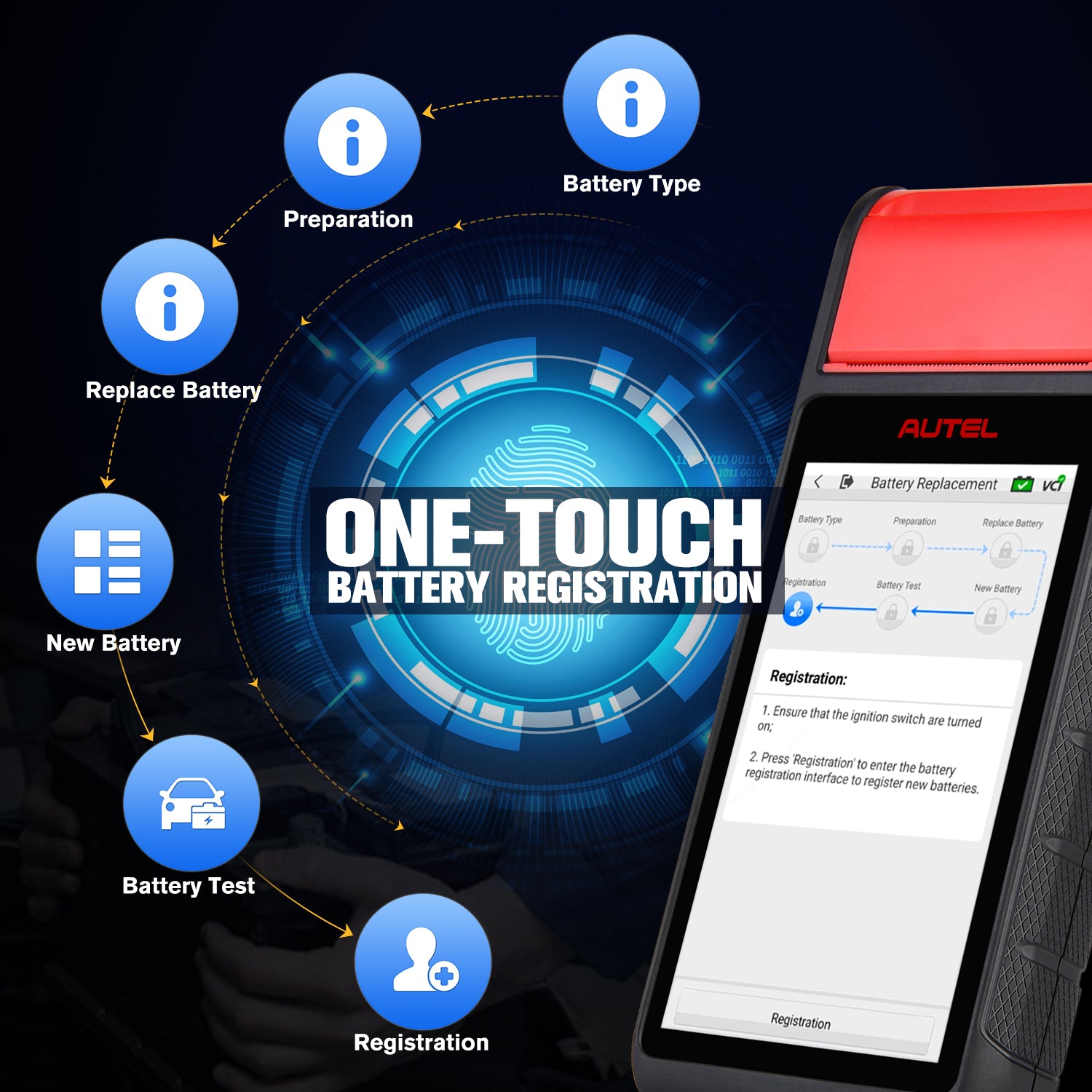 Cranking Charging System Test
BT608 Battery Tester can test battery and also 12- and 24-volt Cranking/Charging Systems( starter and alternator).
In-Vehicle Test
Cranking Voltage
Cranking Amps
Engine cranking speed before the start
Out-Vehicle Test
BT608 can test the health of a battery when it's not installed in the vehicle, just input the correct battery specifications based on the information printed on the battery's label, verify battery type, battery standard and battery capacity.
Even when a battery is in a poor state of charge, it can accurately test its potential for stored energy without necessitating a recharge prior to test. This can expedite diagnosis and more quickly achieve the sales of a replacement unit.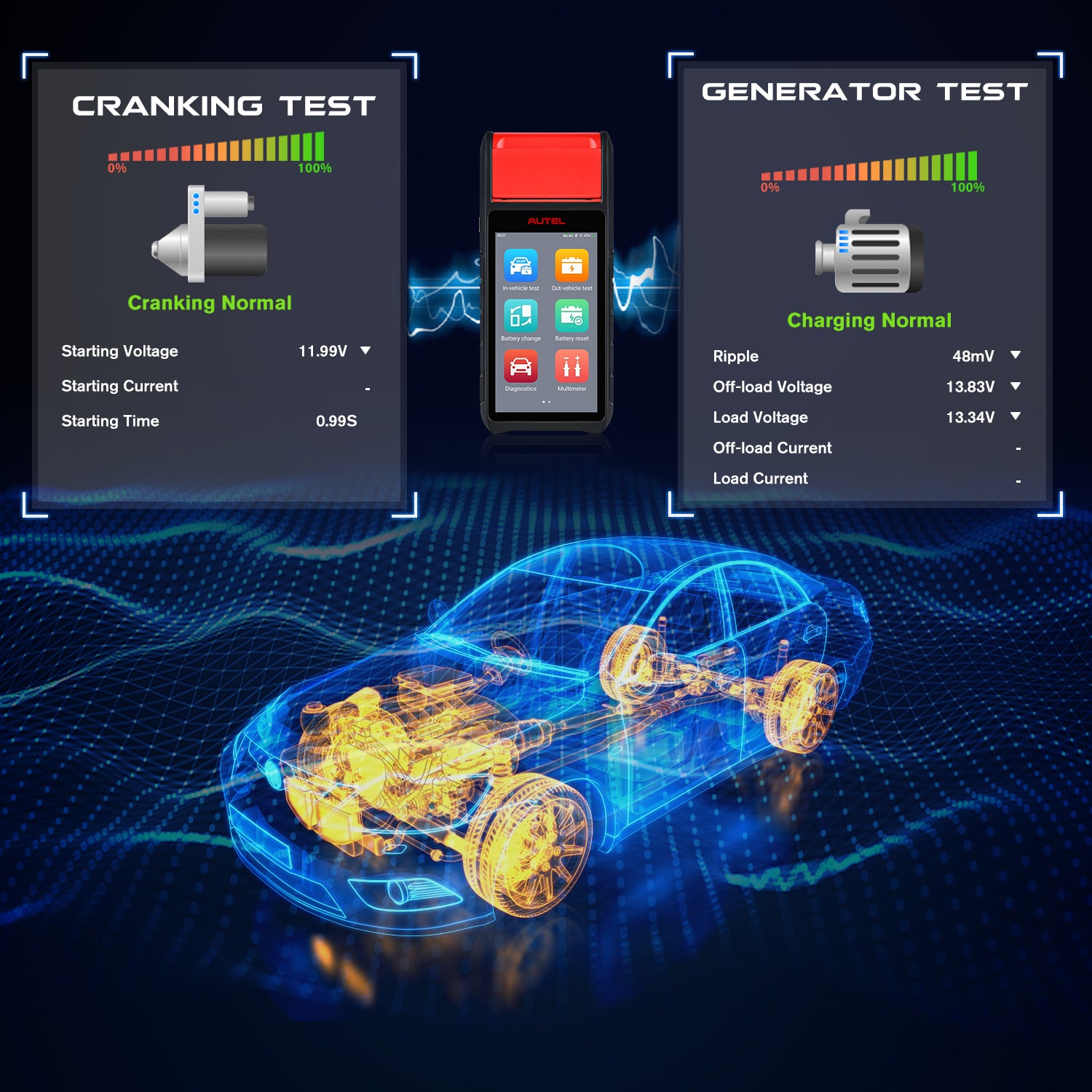 BT608 Wireless All Systems Diagnosis
Autel BT608 is not only a professional battery tester, but also an ideal wireless OBD2 FULL SYSTEMS scan tool, which has the same vehicle/year coverage as autel MX808/ MK808/ MK808BT. It can read/ clear full system fault codes/ view DTC descriptions, live data and freeze frame data for 80+ US, EU and Asian cars, up to 2019/2020, and a few 2021. With lifetime free updates, supporting newer cars, BT608 is an ideal full systems scan tool.
Extensive Vehicle Coverage
Compared with MaxiBAS BT506/ BT508, Autel BT608 has the Largest Vehicle Coverage and supports 53+ vehicle makes to ensure the ultimate repair experience. Check your 👉vehicle coverage
Autel BT608 Specifications
Operating System: Android 9.0
Screen Display: 5.5'' LCD touch screen with 720*1280 resolution
Storage: 32GB
Connectivity: Wi-Fi (802.11 a/b/g/n/ac), USB 2.0 Type C, BT5.0+EDR
Camera: 8 Megapixel
Input Voltage: SV DC
Working Current: < 450 mA at 7.7 V DC
Internal Battery: 7.7 V, 3000 mAh
CCA Range: 100 to 3000 A
Voltage Range: 1.5 to 36 V
Working Temperature: 0° to 50° C (32° to 122° F)
Storage Temperature: -10° to 60° C (14° to 140° F )
Dimension (L x W x H): 204 mm (8.03") x 90 mm (3.54") x 32 mm (1.25")
Weight: 510 g (1.12 lb.)
Comparison between BT608 & BT508 & BT506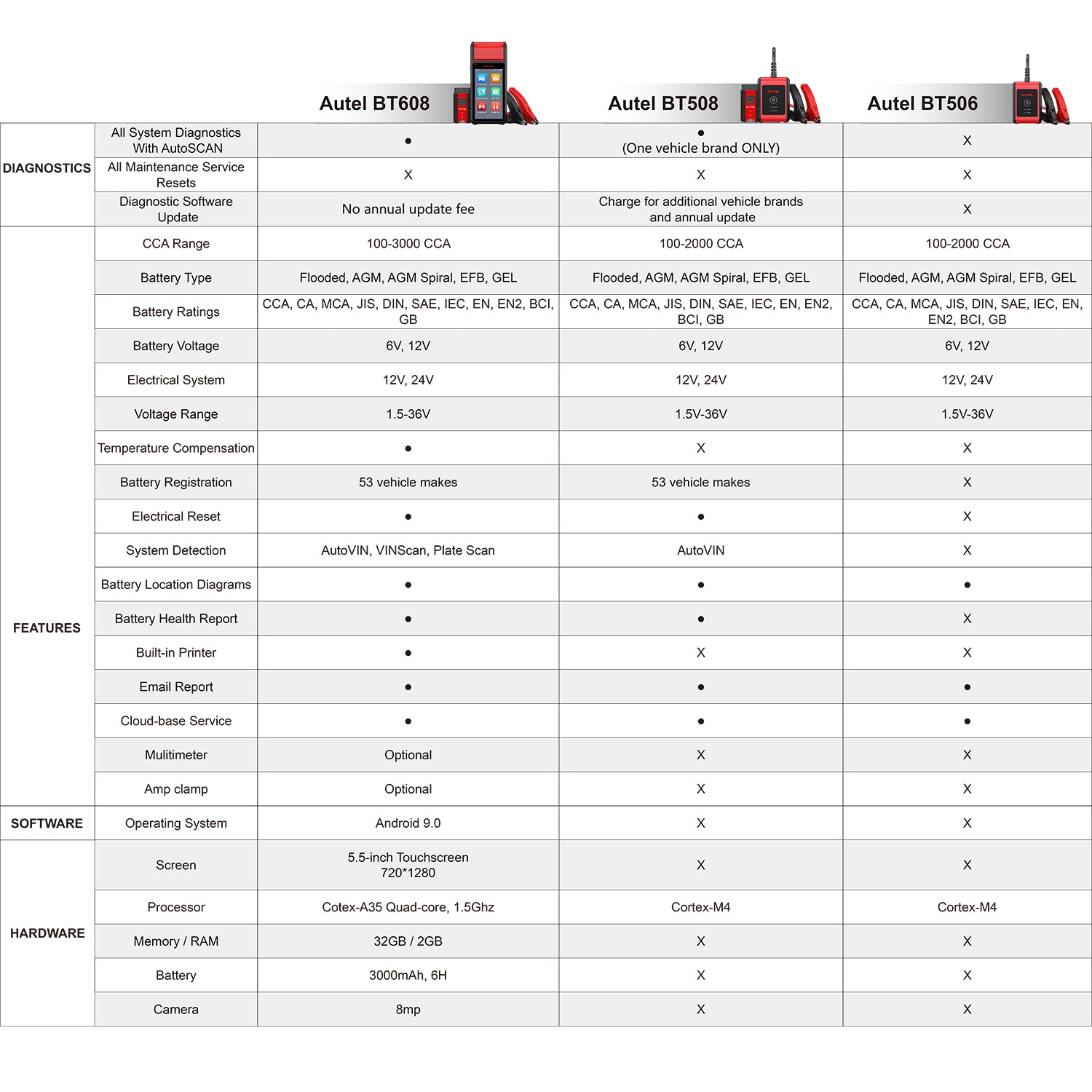 Autel BT608 Package Content
1x BT608 Main Unit
1x MaxiCVI MV200 Series
1x Battery Clamp Cable
2x Paper Roll
2x Battery Side Post Terminal TYPE T
2x Battery Side Post Terminal TYPE S
1x Power Adapter
1x USB Cable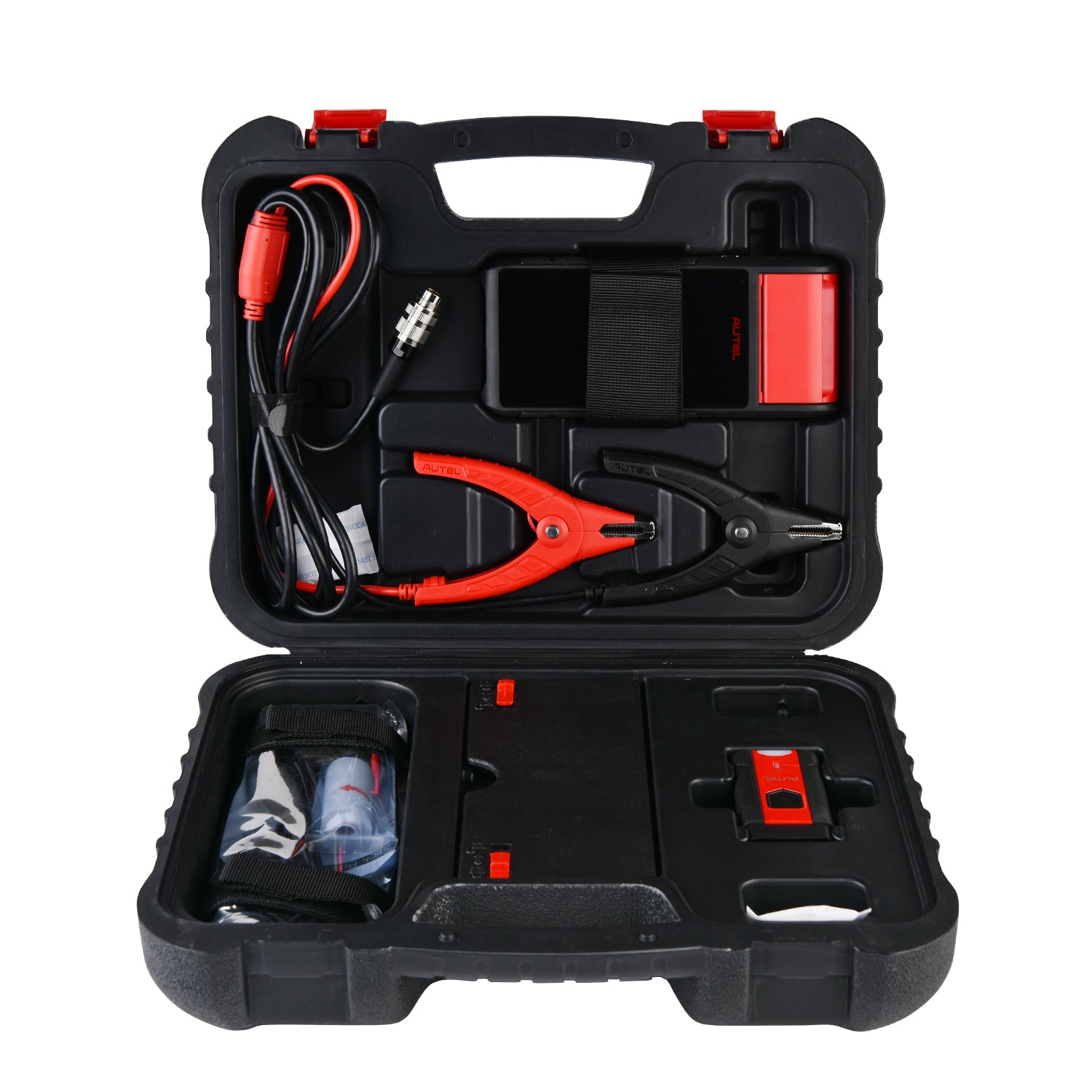 BT608 Product guides and documents
BT608 User Manual (PDF)
BT608 Quick Guide (PDF)
Certificate
www.diagmart.com is Autel Authorized Online Agent. Products Created by Autel ® Innovation & Quality You Can Trust.
Shipping
Free Shipping on All Orders Without Any Tax.
All orders are processed and shipped out within 24 hours of being placed. Once your order has been shipped out, we will provide you with a tracking number so that you can easily track your package and stay updated on its delivery status. With this tracking number, you'll be able to see the expected delivery date and have peace of mind knowing exactly when your package will arrive.
Fast Shipping from Local Warehouse: Receive Your Order in 5-7 Days!
Returns
30 calendar days from the date you received it
If, for any reason, you are not satisfied with your purchase or if the product does not meet your expectations, you can return it within 30 calendar days from the date you received it. To qualify for a refund, please ensure that the product is returned in its original packaging along with the original purchase receipt.
Our team will be glad to assist you with the return process and issue a refund once we have received the returned product. Customer satisfaction is our top priority, and we strive to ensure that all of our customers are happy with their purchases from diagmart.com.
Waranty
one (1) year limited warranty
At DiagMart, we stand behind the quality of our products and offer a one (1) year limited warranty on all products sold exclusively on diagmart.com.
This limited warranty provides coverage for defective workmanship or materials in your product and is your exclusive remedy. If your product is found to be defective during the warranty period, we will repair or replace it free of charge.
Please note that this warranty only applies to products purchased directly from diagmart.com and does not cover damage caused by misuse, accidents, or normal wear and tear.
We are committed to ensuring our customers have a positive experience with our products and services. If you have any questions or concerns about the warranty or need assistance with a warranty claim, please don't hesitate to contact our customer support team.
Q:Where are my orders shipped from?

A:Your order will be shipped from California or New York. If you want it to be shipped from a specific place, please let us know in advanced.

Q: If the one year free update expires, will it stop working?

A:You can still use your tool as usual even the one year update expires. It will not impact the normal usage of the tool. But, if you need the newest vehicle covrage, it's better to update.

Q: How do I know wether this tool cover the vehicles I want?

A:Generally, our tools are compatible with all the OBD2 vehicles, but functions may differ depending on vehicle makes and models. Please let us contact us and provide the VIN and vehicle make and model so that we can tell you the functions it supports.

Q: Can I return the item if I realize that it does not fit my purpose?

A:Yes, you can return the item within 30 days from the date you receive the it.
During the subscription, you will be able to enjoy the latest released function by Autel and can cover the latest vehicle makes and models. If your device expires, you can still use the scanner's all functions without any issues, but we recommend you renew the software to enjoy the latest released function and expand coverage for the latest vehicle makes and models.
Unleash Exclusive Rights with Upgrades
TOOL FUNCTION UPGRADES
Get the latest function from Autel
LATEST VEHICLE COVERAGE
Expanded coverage for the latest vehicle makes and models
Extra 1YR Update
MSRP
Manufacturer's Suggested Retail Price
Our Price
Where to buy
MaxiCheck MX808
$124.50
$90.00
Shop Now
MaxiCheck MX808TS
$295.00
$210.00
Shop Now
MaxiCheck MX808S-TS
$245.00
$210.00
Shop Now
MaxiCOM MK808
$124.50
$98.00
Shop Now
MaxiCOM MK808BT
$150.00
$110.00
Shop Now
MaxiCOM MK808BT Pro
$150.00
$110.00
Shop Now
MaxiCOM MK808TS
$295.00
$210.00
Shop Now
MaxiPRO MP808
$349.50
$288.00
Shop Now
MaxiPRO MP808K
$349.50
$288.00
Shop Now
MaxiPRO MP808BT
$349.50
$288.00
Shop Now
MaxiPRO MP808BT Pro
$255.00
$168.00
Shop Now
MaxiPRO MP808TS
$599.50
$469.00
Shop Now
MaxiDAS DS708
$699.00
$609.00
Shop Now
MaxiDAS DS808
$349.50
$288.00
Shop Now
MaxiDAS DS808K
$349.50
$288.00
Shop Now
MaxiDAS DS808TS
$599.00
$449.00
Shop Now
MaxiDAS DS808S-BT
$255.00
$180.00
Shop Now
MaxiDAS DS808S-TS
$265.00
$180.00
Shop Now
MaxiSys Mini MS905
$699.00
$529.00
Shop Now
MaxiSys MS906
$495.00
$349.00
Shop Now
MaxiSys MS906S
$395.00
$295.00
Shop Now
MaxiSys MS906 Pro
$595.00
$495.00
Shop Now
MaxiSys MS906BT
$695.00
$488.00
Shop Now
MaxiSys MS906TS
$795.00
$629.00
Shop Now
MaxiSys MS906 Pro-TS
$695.00
$589.00
Shop Now
MaxiCOM MK906BT
$695.00
$488.00
Shop Now
MaxiCOM MK906 Pro
$596.00
$489.00
Shop Now
MaxiCOM MK906 Pro-TS
$595.00
$495.00
Shop Now
MaxiCOM MK908
$895.00
$695.00
Shop Now
MaxiCOM MK908 Pro
$1,295.00
$969.00
Shop Now
MaxiSys MS908
$895.00
$659.00
Shop Now
MaxiSys MS908S Pro
$1,295.00
$969.00
Shop Now
MaxiSys CV
$1,295.00
$959.00
Shop Now
MaxiSys MS909
$1,295.00
$959.00
Shop Now
MaxiSys MS919
$1,295.00
$989.00
Shop Now
MaxiSys Ultra
$1,695.00
$1,199.00
Shop Now
MaxiSys Elite
$1,295.00
$959.00
Shop Now
MaxiCOM Ultra Lite
$1,235.00
$949.00
Shop Now
MaxiIM IM508
$399.00
$269.00
Shop Now
MaxiIM IM608
$895.00
$709.00
Shop Now
MaxiIM IM608 Pro
$895.00
$709.00
Shop Now
MaxiTPMS TS608
$295.00
$209.00
Shop Now