---
Autel MaxiIM IM608
Autel MaxiIM IM608 is the most advanced and comprehensive all-in-one car key programming and diagnostic tool that integrates professional key programming, all system diagnostic, Bi-directional control and 31+ reset services. Equipped with XP400 Key Programmer and MaxiFlash J-2534 VCI, it offers complete IMMO coverage and programming functions and works efficiently.
IM608 provides you with all special functions to quickly diagnose all modules for the majority of the makes and models on the market. It is the unprecedented key programming and diagnostic tool that you ever wanted.
Top 8 Reasons to Buy Autel MaxiIM IM608: 
NO IP Blocking - IM608 can be used everywhere.
Multi-Language Supported - Default Language is English; it can be switched to German, Swedish, Italian, Portuguese, French, etc.
Able to Upgrade - IM608 can be upgraded to IM608 Pro by combining with XP400 Pro
Professional IMMO & Key Programming Tool - IM608 is a comprehensive immobilizer and key programming tool which is ideal for auto technicians and locksmiths
Advanced Autel Diagnostic Tablet - Powerful combination of advanced key programming/ all system diagnostics/ advanced 30+ maintenance services
Comes with XP400 - It adds more functionality for BMW, Mercedes-Benz, as well as EEPROM Reading
Adapt to Many situations - Smart Mode for guided and automated key learning, Expert Mode for advanced key learning
Bluetooth Wireless Connection - With the BT working range of 210 feet(70m), you don't have to stay in the car.
Autel IM608 Advantages:
Autel IM608 Advanced IMMO & Key Programming
Autel IM608 comes with the most advanced IMMO and key programming function, which brings you great convenience. With XP400 programmer, Autel IM608 can perform various key programming functions including read & write EEPROM, read & write transponder, Read & Write MCU, Read & Write IMMO ECU, Read & Write MC9S12 Encryption Chip and etc.
Autel IM608 With 20+ Services
---Work like a Champ
The IM608 offers more than 20 services such as ABS auto bleed, Oil Reset, SRS, SAS, DPF, BMS, EPB, Injector Coding, Throttle, Crankshaft Position Variation Learn, etc. 

Oil Reset: Reset the oil change calculator in the engine and automatic transmission
EPB: Replacement of brake pads on vehicles with an electric parking brake
SAS: Adaptation of the sensor to the angular position of the steering wheel
DPF: Regeneration of diesel particulate filter
Brake Bleed: ABS Brake Bleeding
BMS Battery registration and reset
Autel IM608 All System Diagnosis 
--- Also a diagnostic expert
Autel IM608 features the same competence as MS908S/ Elite in terms of all system diagnosis, able to access all modules with bi-directional control ability to control subsystem, actuators or component to test its working status and confirm if certain parts need to be repaired or replaced.
Complete IMMO Functions
--- Protect Your Car From Being Stolen
Autel IM608 comes with complete IMMO functions like reading PIN, key learning, remote learning, key generation, all-key-lost, IMMO data backup/restore, IMMO ECU Reset/Adaptation/Refresh/Coding, Key Learning and ECU Adaptation for Benz FEM/BDC, Key Learning for BMW CAS4/3/2 key, Add Key, All-Key-Lost for VW/Audi/Skoda/Seat IMMO III/IV/V, Add Key for VW/Audi MQB(VDD & JCI), Key Learning for IMMO V A4/A5/Q5 2015+. 
Auto VIN Scan & Shop Manager
--- Check Vehicle Info
IM608 diagnostic scanner computer incorporates the latest Auto VIN technology that allows technicians or repairmen to easily identify vehicle information such as manufacturer, model, year and place of manufacture, etc.  
Shop manager allows you to well manage the workshop information with 3 available functions within this application: Vehicle History, Workshop Information, and Customer Manager. Intuitively look up the summarized details.
2021 XP400 Key Programmer
--- Car key programming assistant 
The XP400 is specially designed to read transponder data (including Mercedes Benz infrared smart key), clone and generate exclusive keys, read/write on-board EEPROM data, and read/write Freescale 9S12 MCUs. By working with diagnostic tool and PC that are both loaded with programmer software, the XP400 can read/write transponder data quickly and accurately.
The Programming application requires a connection between the tablet and the XP400, and no vehicle connection is required. This application can access the key chip, read, retrieve and write key information, as well as other key related functions.
1 Year Free Update Online + Lifetime Tech Support
Offering thoughtful Service for customers is one of our commissions. We provide one-year free software online update for Autel IM608, and when the free update period expires, you can still use the last update software to work on your car.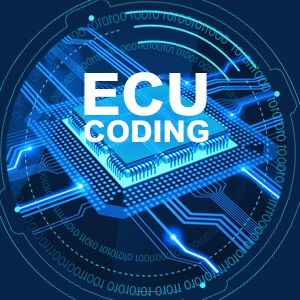 ECU Coding

This function allows you to establish a data link to the electronic control system of the tested vehicle via the VCI device for vehicle diagnosis, service or programming. You can operate functional tests, retrieve vehicle diagnostic information such as trouble codes, event codes and live data, and perform ECU coding, for various vehicle control systems, such as engine, transmission, ABS and more.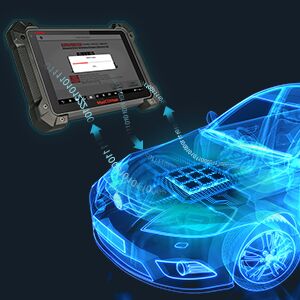 Bi-Directional Control/Active Tests
As a professional-grade car scan tool, IM608 has full Bi-Directional Control over vehicles with specific subsystems and components like ABS, SRS, window, door and roof.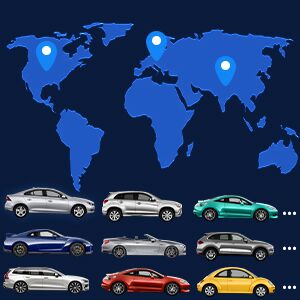 Comprehensive Vehicle Coverage
Autel IM608 is one of Autel's most advanced professional scan tools and it covers over 80 American, European and Asian vehicle makes and models, including 12 sedans, light trucks and SUVs.
Autel IM608 Features:
• Samsung Exynos 5260(2GB ROM)
• 10.1"1024x768 LCD capacitive touchscreen
• Internal reliable 64GB Memory
• Android Operating System for fast boot-up and multitasking
• Powerful combination of key programming/all system diagnostics/advanced maintenance services   
• Smart Mode for guided and automated key learning 
• Expert Mode for advanced key learning
• Read PIN/CS (all key lost) , key generation, key learning, remote learning  
• IMMO ECU reset/adaptation, refresh/coding  
• Transpronder read/write, EEPROM/MCU read/write  
• Powerful OE level diagnostics for more than 80 US, Asian and European makes and models 
• Advanced maintenance services including EPB, DPF, SAS, Oil reset, and BMS
What Can G-BOX2 Do For You?
Supports Mercedes Benz All Key Lost, faster calculate password
Supports IM608 or IM508 with XP400
Used for Faster Mercedes ECU data and EIS password calculation
Mercedes DAS3 can EIS/EZS all keys lost
Reduces reading time of W204 ECU data W207 EIS by over 85%
No need to remove and reinsert the key for W221 W164 after 2009 Models
What Can APB112 Do For You?
Smart key simulator
Compatible with IM608, IM508, and MX808IM
Compact but would need to be used with the XP400/XP400Pro
Cannot be used with the XP200
46, 4D data collection
46 smart key password calculation
46 chip simulation
Toyota 4D (94/ D4, 98) smart key simulation
Toyota H (88/ A8, A9, 39) smart key simulation
Collects data from the ignition coil
Identify ignition coil troubles
Decode vehicle key chip data
Simulate vehicle key chip (ex - 4D chip)
Must be used with an Autel diagnostic tool
Toyota/ Lexus smart key all key lost
Chip decoding (Hyundai 46)
Notice: 
IM608 can't do ECU Programming. If you need to do ECU Programming, please go for the Autel MS908S PRO.
New Key Programming/IMMO Tools: IM608 & IM508
Autel IM608 Specification
| | |
| --- | --- |
| Operation System | Android 4.4.2, KitKat |
| Processor | Samsung Exynos hex-core Processor(1.3GHz Quad-core ARM Cortex-A7+1.7GHz Dual-core ARM Cortex-A15) |
| Memory | 2GB RAM & 64 GB On-board Memory |
| Display | 10.1-inch LED capacitive touch screen with 1920*1200 resolution;  |
| Connectivity | Wi-Fi:(802.11 a/b/g/n/ac); USB 2.0; BT v.2.1+EDR; SD Card (Support up to 32GB); HDMI |
| Camera(rear) | 8.0 Megapixel, AF with Flashlight |
| Sensors | Gravity Accelerometer, Ambient Light Sensor (ALS) |
| Audio | Microphone; Dual Speakers |
| Input/output | 3-Band 3.5mm stereo / standard headset jack |
| Power and Battery | Charging via 12V AC/DC power supply with the temperature between 0℃ to 45℃ |
| Input Voltage | 12V (9-24V) |
| Power Consumption | 6.5W |
| Operating Temp | 0℃ to 50℃ (32 to 122℉) |
| Storage Temp | -20℃ to 60℃ (-4 to 140℉) |
| Dimensions(W*H*D) | 300mm (11.81") x 220.0mm (8.66") x 50.0mm (1.97") |
| Weight NW | 1.42kg (3.13lb.) |
| GW | 8.655kg(19.08lb) |
| Protocols | ISO9141-2, ISO14230-2, ISO15765-4, K/L-line, Flashing code, SAE-J1850 VPW, SAE-J1850PWN, CAN ISO11898, Highspeed, Middlespeed, Low-speed and Singlewire CAN, GM, GM UART, UART Echo Byte Protocol, Honda Diag-H Protocol, TP2.0, TP1.6SAE J1939, SAE J1708, Fault-Tolerant CAN |
Autel MaxiIM IM608 Package List:
1x Autel MaxiIM IM608 Main Unit
1x APC101 USB Cable
1x APA101 Signal Cable
1x MaxiFlash JVCI
1x APB101+ APD101 (EEPROM Adaptor + EEPROM Adapter Shell)
1x APA103 (EEPROM Clamp)
1x XP400
1x APB102 MB IR Cable
1x APA104 ECU Clamp
1x Main Cable
1x APB104 (MCU_FQFP64)
1x APA105 (MCU Clamp)
1x USB Cable (2m)
1x APB105 MCU_FQFP80
1x APA106 (MC9S12 Clamp)
1x Mini USB Cable
1x APB106 (MCU_FQFP144)
1x APA107 (Connect Cable)
1x AC/DC 12V Adapter
1x APB107 (MCU_FQFP144)
1x Quick Reference Guide
2x Light Fuse 6*30mm
1x APB108 (MCU_FQFP176)
1x Packing List
1x Cigarette Lighter
1x APA002 (EEPROM Socket)
1x Carrying Case 634*170*404mm
1x AAC001
---
Shipping Time:
Your orders will be shipped out in 5 hours from US/CA/UK Warehouse whichever is closer to you, and it takes about 3 to 5 days(US local address) to deliver - check more shipping details
Return Policy:
 If for any reason you are not completely satisfied with your purchase from Diagmart.com, simply return it in brand-new condition with the original packaging, along with your original purchase receipt within 30 days, and we will gladly give you a refund. - check who pays for the return shipping
Contact Us:  Quick Contact Form
Email: sales@diagmart.com    
Phone: +86 19129541097
Whatsapp: +86 18378704424  
Our professional support team will help you online 24/7.
---
A-Must-Have tool is the one to get.
Living in remote Alaska is hard to get keys programmed as nearest city is 100 miles away where mechanics can never travel. Bought this tool and programmed 2 keys easily as it has easy to follow steps. Saved me over $15k as shipping truck would have cost over $18k. Very easy tool to use. Thanks DiagMart.
Hi, Frank
Thanks for the review!
Diagmart has always been trying its best to provide best products and service for customers.
Thank you. Everything fine.
worked on my camry 2018
Im608 program a Keyless to my Toyota Camry 2018 success
Great tool for adding new transponder key on honda
I decided to buy the IM608 to reprogram a new key for my 2003 Honda Pilot. Luckily this scanner tool was on lightning deal and was able to get at a discount. I wasn't sure if it will be able to reprogram the key but it worked on the first try. So now I have a professional level scan tool and a reprogrammed key. I'm a DIY home mechanic so with this tool i'll be able to diagnose my cars more extensively.
It works on all cars!
It works on all cars! Overall, money well spent.
choosing a selection results in a full page refresh