---
Autel MaxiSys MS908S Pro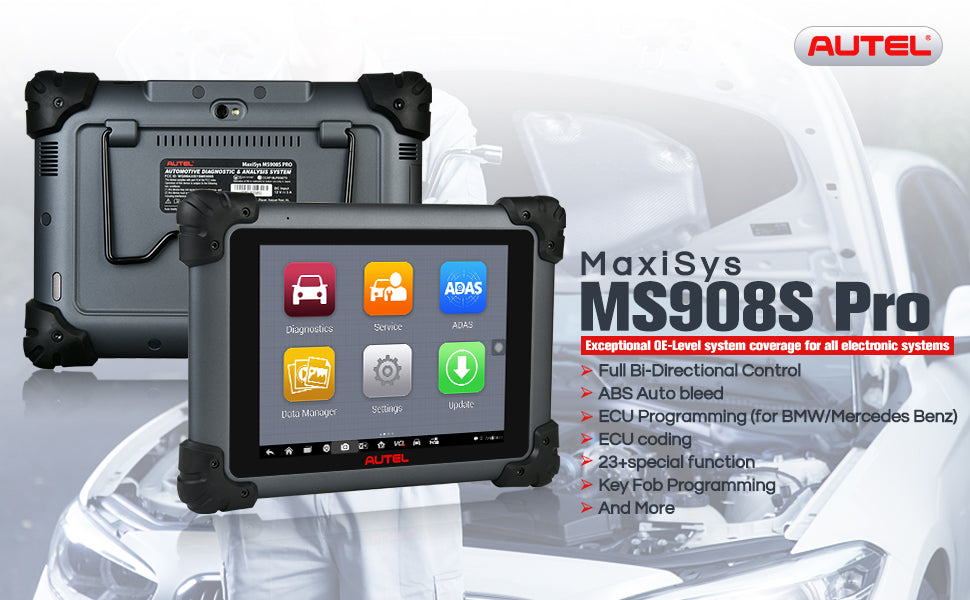 Same Funstions as Maxisys Elite/MK908P
Programming and Coding
Coding–also known as Teach-in Program, Component Adaptation, or something similar, is used to reprogram adaptive data for vehicle control modules after repairs or replacements of vehicle parts.

Reprogramming Operations–downloads new version of software subscription from the online server database through Internet access (this procedure is done automatically when the tablet is connected to the Internet, so there is no need to check for software subscriptions yourself), and reprograms the newest software version to the vehicle's ECU.
NOTE:
Ensure that the tablet is connected to the Internet before applying the ECU programming function so that the tablet is able to obtain access to the manufacturer's server for update service.

ECU Programming only for BMW/Mercedes Benz.

The programming function can only be applied through connection with the J2534 programming device, which serves as a PassThru interface to establish communication with and transfer data to the vehicle's ECU. Available programming or coding operations vary by the test vehicle, and only the available operations display in the menu.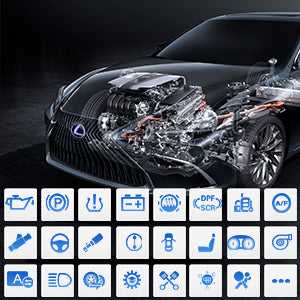 30+ Special Services & Full System Diagnostics
Various scheduled service and maintenance tasks includes: Brake Bleed, Oil Reset, EPB, BMS, DPF, Immo Keys, Injector, SAS, Suspension, Throttle, WIN DR ROOF, Seats, Odometer, Lang Change, CHG Tire Size, TEC Learn, ABS/SRS, Cylinder, Turbocharging, Limit, Clutch, Trans Adaption, Airbag Reset, Headlamp
Transmission Adaptation: Reset the adaptive shifting points in your automatic Transmission Control Unit.
Suspension Calibration: Calibrate the suspension height.
Crankshaft Variation Learn: Enables the computer to compensate for part manufacturing tolerances. To accurately detect an engine misfire throughout the engine RPM range. 
Updated Version of MS908P, Same with MaxiSys Pro MK908P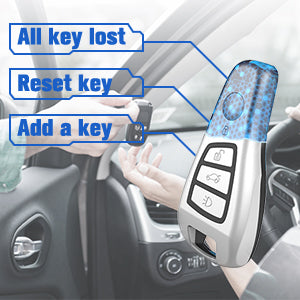 Key Fob Programming
IMMO is mainly used to disable the lost vehicle keys and program a new replacement key fob for special vehicles.
Note: The Key Fob Programming of MK808BT is LIMITED, please make sure your car is supported if you focus on this function before order. Only designed for Asian vehicles with low-grade anti-theft systems, can not compatibility for BMW, Benz, AUDI or VW
Add A Key: Add On An Extra Key To The Vehicle

Reset Key: Relearn The Key

All Keys Lost: Both Key Missing, Create New Key To the Vehicle
One-to-one after-sales consultation
Important Information to Autel Customers:
We are always here if you need any help, we answer most case in 24 hours.
Check compatibility before make your order

Follow your order shipping once order

Get Tech support or ask for solution when you're facing questions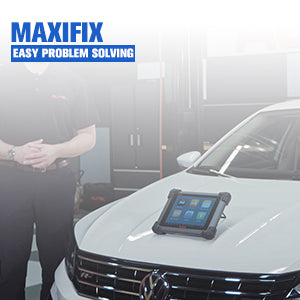 Direct dialogue with engineers to provide the most accurate solution
The engineer support enables you to network with other professional technicians and accesses a huge database of repair, diagnostic tips and procedures, you can have data feedback and management through this platform, upload data log when you are having issues. The engineer will analyze and offer solutions and help your repair work done.
The Data Logging section keeps records of all sent or unsent (saved) data logging on the diagnostic system. The support personnel will receive and process the submitted reports through the Support platform. The solution will be sent back within 48 hours. You may continue to correspond with Support until the issue is resolved.
 Autel MS908S PRO PACKING LIST:

Maxisys MS908SP Coverage:
Vehicle List: Audi, Benz, BMW, Dacia, Eu Ford, Ford, Landrover, Mini, Opel, Peugeot, Renault, Seat, Skoda, VW, Volvo, Smart, Jaguar, Benz Sprinter, Saab, Fiat, Abarth, Lancia, Alfa Romeo, Vauxhall, Maybach, Bentley, Bugatti, Porsche, GM, Chrysler, Ford, Suzuki, Kia, Daewoo, Isuzu, Toyota, Subaru, Scion, Nissan, Mitsubishi, Lexus, Infiniti, Hyundai, Honda, Accura, Mazda.etc 80+ Vehicle Makes. Detailed coverage list (select MS908SPRO from the drop-down)
ECU Programming:  Only compatible with BMW and Mercedes Benz
Diagnosis & ECU Coding:  on most of 1996 and newer vehicles
Maxisys MS908S Pro Specification:
Operating System
AndroidTM 4.4.2, KitKat
Processor
Samsung Exynos Six-core Processor
(1.3GHz Quad-core ARM Cortex-A7 + 1.7GHz Dual-core ARM Cortex-A15)
Memory
2GB RAM & 64GB On-board Memory
Display
9.7 inch LED capacitive touch screen with 1024x768 resolution
Connectivity
Wi-Fi (802.11 a/b/g/n/ac)
USB: 2.0
BT v.2.1 + EDR
SD Card (Support up to 32GB)
HDMI
Camera (rear)
8.0 Megapixel, AF with Flashlight
Sensors
Gravity Accelerometer, Ambient Light Sensor (ALS)
Audio Input/Output
Microphone
Dual Speakers
3-Band 3.5 mm stereo/standard headset jack
Power and Battery
11000 mAh 3.7 V lithium-polymer battery
Charging via 12 V AC/DC power supply with the temperature between 0°C and 45°C
Input Voltage
12 V (9-24 V)
Power Consumption
6.5 W
Operating Temp.
0 to 50°C (32 to 122°F)
Storage Temp.
-20 to 60°C (-4 to 140°F)
Dimensions (WxHxD)
300 mm (11.81") x 220 mm (8.66") x 50 mm (1.97")
Weight
NW: 1.42 kg (3.13 lb.)
GW: 8.052 kg (17.75 lb.)


---
Customer Reviews
12/03/2019
wahid
United States
Great product for a professional repair shop
Our shop has the MS908 with VCI and it does everything and more than the snapon ... so we decided to purchase the MS908S pro this one come with a pass thru device so you can program pcm's ... again a great product and at 1/4 of the cost of a snapon!
09/06/2019
Chelsie C.
United States
Excellent product
Well, very impressed with the large touchscreen which is incredibly the largest I've ever purchased. Came with a J2534 ECU programming device, very professional for BMW and Benz. Capable of replacing the existing software in the ECU, programming new ECUs and fixing the software-controlled drivability issues. An advanced ECU diagnostic tool.