---
Autel MaxiSys MS906TS TPMS TOOL: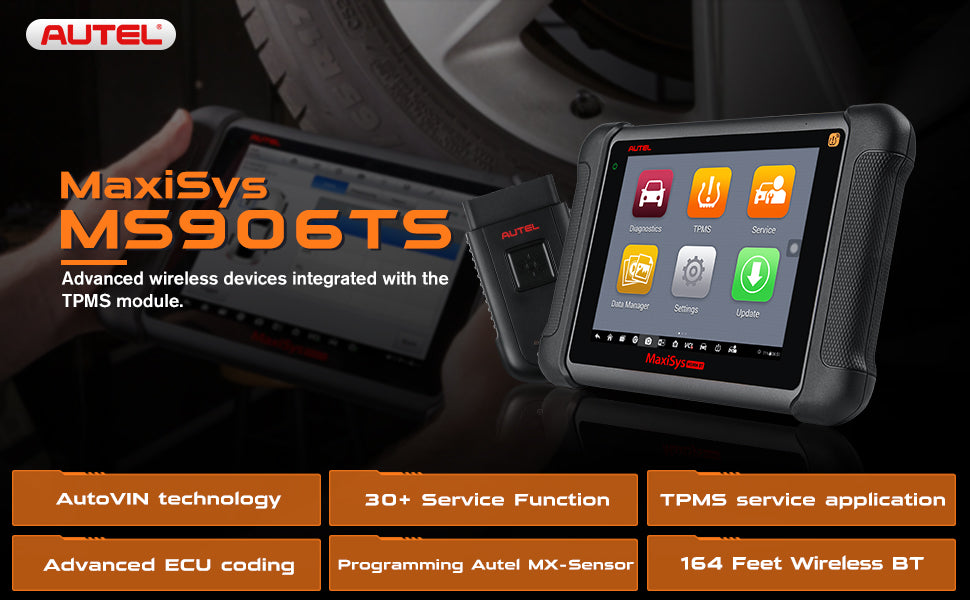 Autel MaxiSys MS906TS Diagnostic Tool:
1. Extraordinarily powerful Samsung Exynos Hexa-core processor
2. 8.0" 1024x768 LED-backlit glossy Multi-Touch capacitive display with IPS technology for ultra-mobility
3. Internal reliable 32GB SSD for better performance
4. Integrated TPMS antenna module for performing comprehensive TPMS service
5. Unique ergonomic design with rubberized outer protection and a rugged internal housing
6. Open source Android Operating System for fast boot-up and multitasking
7. Easy and intuitive navigation makes finding what you need simple and fast
8. The most extensive complete system coverage for more than 80 US, Asian and European makes and models
9. Exceptional OE-Level functionality from comprehensive OBDII diagnostics & services to advanced ECU coding
10. Complete capabilities for codes, live data, active test, ECU information, adaptation, matching, coding etc.
11. Smart AutoVIN technology for identifying vehicle easily
12. Uniquely integrated TPMS service application designed for triggering known OEM TPMS sensors, programming Autel MX-Sensor and performing TPMS sensor relearn procedure.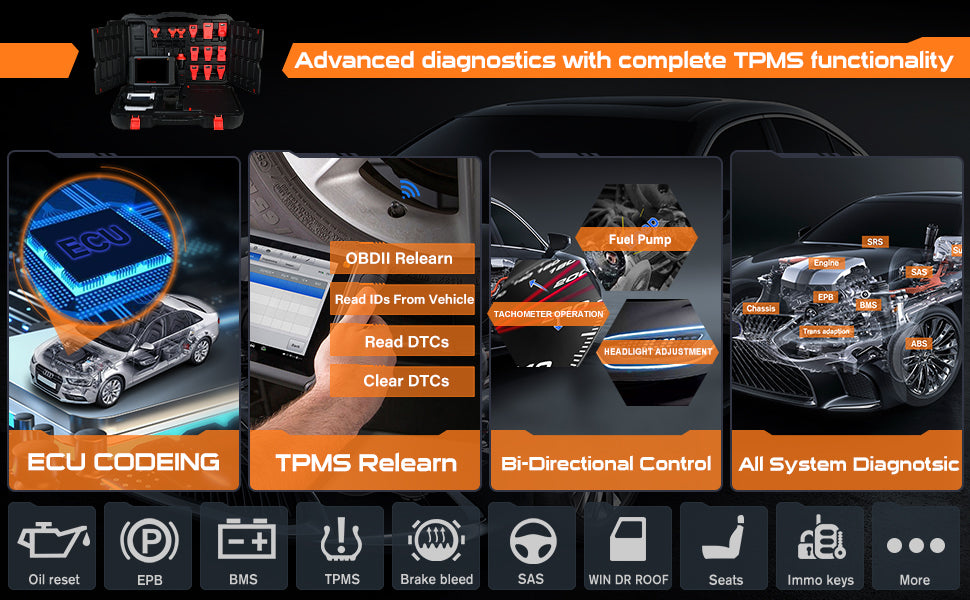 ECU Coding
Comes with advanced ECU coding function. ECU Coding allows you to establish a data link to the electronic control system of the test vehicle via the VCI device for vehicle diagnosis, service or coding. You can operate functional tests, retrieve vehicle diagnostic information such as trouble codes, event codes and live data, and perform ECU coding, for various vehicle control systems, such as engine, transmission, ABS and more. But it does NOT have ECU Programming capability.
Comprehensive TPMS Services
Autel MaxiSys MS906TS TPMS service tool comes with comprehensive TPMS functions. It features embedded TPMS antenna to activate all known TPMS sensors, one-step check TPMS sensors health status, TPMS diagnose to read and clear DTCs and show DTC description on the screen, TPMS sensors relearn and program MX-sensors.
A

ctivate TPMS sensors

TPMS diagnose, one step for complete TPMS health check

Read/clear TPMS DTCs; on-screen DTC description

Scan TPMS sensor ID and copy ID into MX-Sensor

Program MX-Sensor by auto creating sensor ID

Read Sensor ID by OBD and copy ID into MX-Sensor

Relearn by OBD function

Relearn procedure guide on the tool

Check Key FOB
30+ Service Function Meet Your Demand
Oil Reset
EPB Service
SAS Calibration
DPF Regenerationt.
ABS/SRS Services

Bi-Directional Control
MS906TS comes with bi-directional control capability to perform active tests to determine the integrity of a system or parts like ABS, window, door, roof, by reading the ECU data, or by monitoring the operation of the actuators, such as switching a solenoid, relay.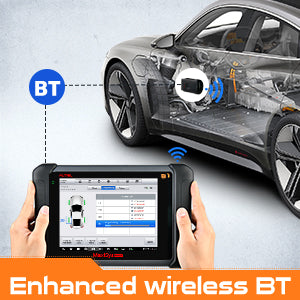 Wireless Diagnosis
The Autel MaxiVCI allows the diagnostic scanner to communicate with the DLC via wireless VCI and lined USB connection. With an ultra long working range of about 164 feet(about 50m), you can perform vehicle OE-Level All Modules diagnosis and services remotely without worrying about the cable might not be long enough or the limited space and hot air in your car.
Support Vehicles Up to 2019, 2020 and Some Up to 2021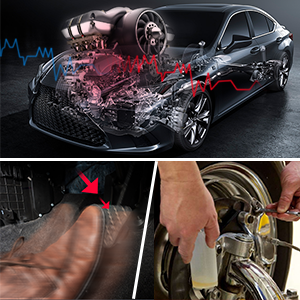 ABS Auto Bleed
MS906TS diagnostic scanner tool comes with useful ABS Brake Bleeding hot function that enables technicians and home mechanics to bleed air out of the ABS module and saves you time and money taking your baby to a dealership or shop.
Note: You still need to bleed the air manually in the brake lines after ABS brake bleeding.
Note: This function is not universally compatible with all vehicles.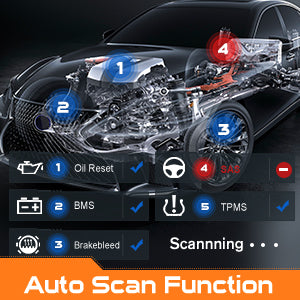 Auto VIN Scan
Autel MaxiCOM MS906TS auto diagnostic scanner comes with the latest VIN-based Auto VIN Technology that enables technicians or home mechanics to identify vehicle information, like brand, year, make, model and etc, at a single touch to perform all systems diagnosis accurately and efficiently.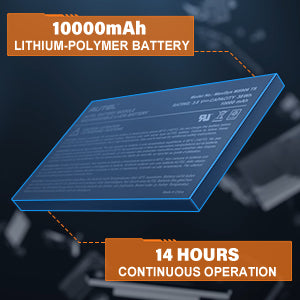 Up to 14 hours of continuous operation.
Built-in rechargeable lithium-polymer battery for up to 14 hours of continuous operation.
Power and Battery
10,000 mAh 3.7 V lithium-polymer battery, Charging via 12 V AC/DC power supply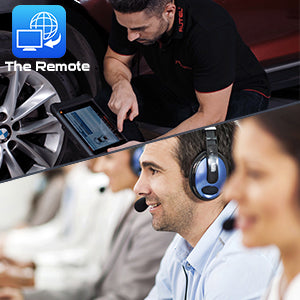 1-Year F-r-e-e Software Updates
MS906TS comes with 1 YEAR FREE software updates and 1 Year w-arranty.
24-hour online team is available for your any help!
24-hour online team is available for your any help
MS906TS comes with unmatched vehicle coverage of more than 80 American, Asian and European vehicle makes.
Autel Maxisys MS906TS Hardware Specification:

Operating System
Android™ 4.4.2, KitKat
Processor
Samsung Exynos T5260 6-Core Processor (1.3 GHz quad-core ARM Cortex-A7 + 1.7 GHz dual-core ARM Cortex-A15)
Memory
2 GB RAM & 32 GB ROM
Display
8.0" LED capacitive touch screen with 1024x768P resolution
Connectivity
Wi-Fi (802.11 b/g/n)
USB: 2.0
Mini USB 2.0
Wireless BT V2.1+EDR
Class1
HDMI 1.4a
SD Card (support up to 32 GB)
Camera (rear)
Rear-facing, 8.0 Megapixel, AF with Flashlight
Sensors
Gravity Accelerometer, Ambient Light Sensor (ALS)
Audio Input/Output
Microphone, Single Speaker, 3-Band 3.5 mm stereo/standard headset jack
Power and Battery
10,000 mAh 3.7 V lithium-polymer battery
Charging via 12 V AC/DC power supply
Input Voltage
12 V (9-35 V)
Power Consumption
5 W
Operating Temperature
-10 to 55°C (14 to 131°F)
Storage Temperature
-20 to 70°C (-4 to 158°F)
Housing
Rubberized outer protection and rugged internal housing
Dimensions (W x H x D)
270.8 mm (10.0") x 176.0 mm (6.9") x 36.0 mm (1.4")
Weight NW
1.10 kg (2.42 lb.)
Warranty
1 Year
Updates
2 Year free updates online
Autel MS906TS Package List:
1x AC/DC Adapter (12V)
1x Adapter for Benz-14 (Europe Only)
1x Adapter for Chrysler-16 (America Only)
1x User Manual
1x Carrying Case
1x MaxiVCI V100
1x Quick Reference Guide
1x Lighter Fuse
1x Adapter for GM/Daewoo-12
1x Adapter for BMW-20
1x Adapter for Benz-38
1x Adapter for Kia-20
1x Adapter for Mitsubishi/Hyundai-12+16
1x Adapter for Nissan-14
1x Adapter for Honda-3
1x Cigarette Lighter
1x Adapter for VW/AUDI-2+2
1x Soft Cloth
1x Packing List
1x Mini USB Cable
---