---
Autel MaxiSys MS906BT
 MS906BT wireless automotive diagnostic scanner enables technicians and home mechanics to access and diagnose all available vehicle modules remotely at OE-level with the best possible coverage.
With ECU coding, complete capability for codes and a series of most commonly used service and special functions, the MS906BT automotive scanner tool covers everyday tasks of automotive repair and DIY, including Key Coding & Programming, Functional tests/Active tests/Bi-Directional Control, ABS brake bleeding, Oil Rest, SAS calibration, DPF Regeneration, Battery Registration, Reset brake pads after replacement, adaptations and etc.
Top 6 Reasons to Buy Autel Maxisys MS906BT
No IP Limit - Global Version, No IP Blocking Problem.
Advanced Version for MS906 -

 

MS906BT

 supports both wireless via Bluetooth and lined connection for data transmission and wireless OE-Level all modules diagnosis.

Extensive Vehicle Coverage - The most extensive complete system coverage for more than 80 US, Asian and European makes and models
31+ Service Functions - It has 31 service function options, including Oil Reset, EPB service, TPMS ID Relearn, ABS Auto Bleed, SAS Calibration, DPF Regeneration and so on.
High-Quality Hardware Configuration - 8-inch touch screen easy-to-use comprehensive vehicle diagnostics and analysis scanner, With Android 4.4.2 Operating System for fast boot-up and multitasking, Support OE-Level Vehicle coverage and functions

1 Year Free Update Online - We provide one-year free software online update( activated from the day you log in to the diagnostic tablet) for Autel MS906BT. When the free update expires, you can still use the last update software to work on your car.
AUTEL MS906BT ADVANTAGES:
31+ Hot Service Functions
If you are a car driver, just by following the regular maintenance schedule, you can keep several vehicle problems at bay. When you are traveling in your vehicle, the last thing you want is a car breakdown. Also, preventive car care reduces wear and tear of the engine and other components that extend the life of your vehicle.
If you are a repair shop owner, Autel Scanner MS906BT helps you win more clients and enormously improves your working efficiency. It is competent to perform more than 31 service functions such as Oil Reset, EPB, ABS Bleed, SAS, DPF, BMS, low graded-IMMO, Injector, Suspension, Throttle, VGT, Trans Adaptation, Win/Dr/Roof, and more.
Oil Reset: Reset the oil change calculator in the engine and automatic transmission
EPB: Replacement of brake pads on vehicles with an electric parking brake
SAS: Adaptation of the sensor to the angular position of the steering wheel
DPF: Regeneration of diesel particulate filter
Brake Bleed: ABS Brake Bleeding
IMMO: Immobilizer keys functions(All keys lost, add new keys)
​​BMS: Battery registration and reset
OE-Level All System Diagnosis
MaxiSys MS906BT is a professional diagnostic scanner that can scan available vehicle modules such as SRS(Airbag), Engine, Transmission, Brake Systems, PCM, ECM, EPS, PDM, TPM, BCM, ABS and SCCM. It performs OE-Level wireless diagnosis on all car systems with complete capabilities of reading/clearing codes, live data, active test, ECU information, adaptation, ECU coding, etc.
Autel MS906BT Vehicle List
MS906BT has the most extensive complete system coverage for more than 80 US, Asian and European makes and models, including BMW, Chrysler, Dodge, JEEP, Benz, Ford, VW, Fiat, Volvo, Ferrari, Toyota, Mazda, Land Rover, Porsche, etc 80+ Vehicle Makes. Detailed coverage list (select MS906BT from the drop-down).
With 9 OBDI adapters included in the package, MaxiSys MS906BT has a much wider vehicle coverage than other scan tools in the market.
Autel MS906BT Add-on Functions:
Maxisys MS906BT is a diagnostic scanner with various interfaces that can access more Add-on like Inspection Camera, HDMI Projector, Phone, PC, USB Memory Stock, Headset, Oscilloscope, Extend SD Card etc.
MS906BT connects to an MV108 / MV105 inspection camera turning into an inspection scope, allowing you to examine difficult-to-reach areas normally hidden from sight. It is capable of recording digital still images and videos, which offers you an economical solution to inspect machinery, facilities, and infrastructure in a safe and quick way.
MS906BT works with Autel MP408 oscilloscope providing you an insight into the inner workings of a vehicle's electronic circuits. Featuring the user-friendly UI design combined with the unrivaled hardware specs is able to measure and test virtually all the electrical and electronic components and circuits in any modern vehicle.
More Highlights of MS906BT:
Bi-directional control
MS906BT automotive diagnostic scanner comes with bi-directional control capability to perform active tests to determine the integrity of a system or parts like ABS, window, door, roof, by reading the ECU data, or by monitoring the operation of the actuators, such as switching a solenoid, relay. This function is quite practical in determining whether the ECM responds to command well.
Advanced ECU Coding
Autel MS906BT professional auto scanner comes with an advanced ECU coding function. This function allows you to establish a data link to the electronic control system of the test vehicle via the VCI device for vehicle diagnosis, service or coding. You can operate functional tests, retrieve vehicle diagnostic information such as trouble codes, event codes and live data, and perform ECU coding, for various vehicle control systems, such as engine, transmission, ABS and more.
50 m Bluetooth Wireless Diagnosis
The Autel MaxiVCI allows the diagnostic scanner to communicate with the car wirelessly. With an ultra-long working range of about 164 feet(about 50m), you can perform vehicle OE-Level All Modules diagnosis and services remotely without worrying about the cable being too short or the limited space and hot air in your car.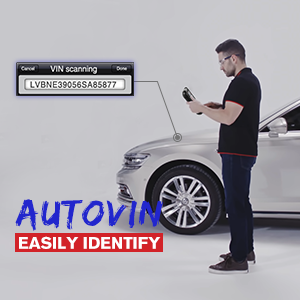 Auto VIN Scan
The MaxiSys MS906BT scanner tool features the latest VIN-based Auto VIN Scan function to identify vehicles in just one touch, which allows the technician to quickly detect vehicles, scan all the diagnosable ECUs on every vehicle and run diagnostics on the selected system.
Advanced Hardware Support
The Autel MS906BT is equipped with an 8-Megapixel Rear Camera & 32G memory, Android OS and Exynos 6-core processor for amazing multitasking abilities. The high capacity 1000Amh battery brings you up to 14 hours of continuous use.
Upgrade Ver. of MS906 DS808 
As the upgraded Ver. of MS906 DS808, MS906BT has the same functions as MS906 but it is more portable and twice the battery life and it supports oscilloscope and digital inspection camera add-ons while MS906 does not. 
Car maintenance is not always supposed to be costly.
This easy-to-use, high-tech tool can interface with your car's computer system to check all the electrical components to find out exactly where the problem lies. 
If you have a little know-how, this may even be something you can fix yourself, which could save you a lot of time and money you'd otherwise spend on the experts having to physically check and diagnose the problem.
Autel MS906BT Features:
 • Extraordinarily powerful Samsung Exynos Hexa-core processor
• 8.0" 1024x768 LED-backlit glossy Multi-Touch capacitive display with IPS technology for ultra-mobility
• 802.11b/g/n Wi-Fi to access your favorite web resources
• Built-in rechargeable lithium-polymer battery for up to 14 hours of continuous operation
• Open source Android Operating System for fast boot-up and multitasking
• Easy and intuitive navigation makes finding what you need simple and fast
• The most extensive complete system coverage for more than 80 US, Asian and European makes and models
• Exceptional OE-Level functionality from comprehensive OBDII diagnostics & services to advanced ECU coding
• Complete capabilities for codes, live data, active test, ECU information, adaptation, matching and coding, etc.
• Smart AutoVIN technology for identifying vehicles easily
• Automatic system and software updates with real-time push message notifications via the internet.
• Cloud-based MaxiFix online community provides a vast database of diagnostic and repair tips and proven filed fixes.
• Interactive Data Logging sessions enable direct contact with Autel Technical Support for first-hand troubleshooting of diagnostic bugs and errors.
• One-stop multitasking designed for ideal management of workshop operations to keep all data files, customer info, and vehicle records well organized.
• Enhanced wireless BT connectivity between the display tablet and VCI device allows greater mobility and ease at work.
• Convenient data management system for managing internal program applications and reviewing data.
AUTEL MS906BT VS. AUTEL MS906
Comparison of MS906BT, MK906BT and MS906
Comparison
MS906BT
MK906BT
MS906
Price
$1149
$1195
$1049
Software
All Systems DTC Scan
√
√
√
Bi-Directional Control
√
√
√
Service Function
√
√
√
Data Manager
√
√
√
Auto VIN Technology
√
√
√
ECU Coding
√
√
/
ECU Programming
/
/
/
Multilanguage
/
√
/
Wireless Connection
√
√
/
Hardware
Display Size
9.7"
8"
8"
Wireless VCI
MaxiFlash Elite
MaxiVCI V100
/
Battery Life
10000 mAh 3.7 V
10000 mAh 3.7 V
5000 mAh 3.7 V
Memory Storage
64GB
64GB
32GB
Autel MS906BT Specifications:
Operating System
Android™ 4.4.2, KitKat
Processor
Samsung Exynos T5260 6-Core Processor (1.3 GHz quad-core ARM Cortex-A7 + 1.7 GHz dual-core ARM Cortex-A15)
Memory
2 GB RAM & 32 GB ROM
Display
8.0" LED capacitive touch screen with 1024x768P resolution
Connectivity
Wi-Fi (802.11 b/g/n) USB: 2.0, Mini USB 2.0
Wireless BT V2.1+EDR, Class1, HDMI 1.4a
SD Card (support up to 32 GB)
Camera (rear)
Built-in 8-Megapixel Rear Camera
Autofocus & Flashlight
Sensors
Gravity Accelerometer
Ambient Light Sensor (ALS)
Audio Input/Output
Microphone
Single Speaker
3-Band 3.5 mm stereo/standard headset jack
Power and Battery
10,000 mAh 3.7 V lithium-polymer battery 
(up to 14 hours of continuous operation)
Charging via 12 V AC/DC power supply
Input Voltage
12 V (9-35 V)
Power Consumption
5 W
Operating Temperature
-10 to 55°C (14 to 131°F)
Storage Temperature
-20 to 70°C (-4 to 158°F)
Dimension
(W x H x D) 270.8 mm (10.0") x 176.0 mm (6.9") x 36.0 mm (1.4")
Weight
NW: 1.05 kg (2.3lb.)
Downloads
Autel MS906BT User Manual
Autel MS906BT Package List:
Maxisys MS906BT main unit
AC/DC Adapter (12V)
Adapter for Chrysler-16 (America Only)
Adapter for GM/Daewoo-12
Adapter for Benz-38
Adapter for Mitsubishi/Hyundai-12+16
Adapter for Honda-3
Adapter for BMW-20
Adapter for Kia-20
Adapter for Nissan-14
Adapter for VW/AUDI-2+2
Cigarette Lighter
MaxiVCI V100
Lighter Fuse
Soft Cloth
Mini USB Cable
User Manual
Packing List
Carrying Case
Quick Reference Guide
 Product Display
---
Shipping Time:
Your orders will be shipped out in 5 hours from US/CA/UK Warehouse whichever is closer to you, and it takes about 3 to 5 days(US local address) to deliver - check more shipping details
Return Policy:
 If for any reason you are not completely satisfied with your purchase from Diagmart.com, simply return it in brand-new condition with the original packaging, along with your original purchase receipt within 30 days, and we will gladly give you a refund. - check who pays for the return shipping
Contact Us:  Quick Contact Form
Email: sales@diagmart.com    
Phone: +86 19129541097
Whatsapp: +86 18378704424  
Our professional support team will help you online 24/7.
---
The MS906BT is a robust diagnostic tool that more than serves my personal mechanical needs. I primarily use it to service 2 high performance Mercedes Benzes and a Dodge Ram pickup. This unit has been a real godsend, especially for the 2 Mercedes, in particular, since these vehicles demand highly sensitive diagnostics to maintain properly. Already, the MS906BT has literally paid for itself since I was able to avoid taking the cars to the dealership by performing several repairs and scheduled maintenance myself.
The unit arrived extremely well-packaged — neatly doubled-boxed. The manufacturer's attention to detail really shows.
Autel Maxisys MS906BT Kit OBD2 Scanner Complete Automotive Diagnostic System with Advanced ECU Coding, +TS501 Kit same as MS906TS
Autel Maxisys MS906BT Kit OBD2 Scanner Complete Automotive Diagnostic System with Advanced ECU Coding, +TS501 Kit same as MS906TS
I own a small auto repair shop and this scanner is the primary scanner that we use. It is simple enough to use that even those with little diag experience should be able to catch on quickly. The effectiveness does vary depending on vehicle make and model, so you cant expect the same level of capabilities with every vehicle. For example you can't do a vin rewrite with a Ford ecoboost but you can with some Chryslers of the same era. You also can't do much with the Ford security systems but if you are working on a Ford 6.0 diesel it actually has several features that help to pinpoint the issues. It is very competent with many GM models as well, but falls short with some of the older Japanese makes and models. I would recommend this scanner overall, just don't expect it to be without glitches.
Everything works. As it should